Summer is the time for some fun in the sun, but it's also time to put some summer hair care practices in place. During summer, your hair can be vulnerable to high humidity levels, excessive UV exposure, and chlorine-filled pools, leaving your hair dry, brittle, and dull.
Thankfully, there are steps you can add to your hair care routine to prevent damage during the summer.  
Here are five summer hair care tips to live by this season.
1. Cover Your Hair
Did you know that you can get a sunburn on your scalp? If you have any thinning around your scalp, you can be exposed to harsh UV rays that can cause your skin to burn and increase your risk of developing skin cancer. 
Another reason to cover up in the sun is if you have color-treated hair. Excessive sunlight will fade your hair dye, so it's best to protect your hair color by not exposing it to too much sun.  
     Hair Tips for Summer
To protect your hair, you can try a hair sunblock (yes, they exist!) from your local drugstore, or you can opt for a head covering. Try a wide brim hat to help shield your face from UV rays, or try a silk scarf that can help keep down frizz.
2. Rinse With Fresh Water
Whether you're hitting the beach or diving in the pool, you'll want to rinse off your hair with fresh water. Salty ocean water can be harsh on your hair, causing breakage and knots to form. 
Pool water isn't much better with its heavy amounts of chlorine. The high amounts of chlorine can be especially damaging if you have blonde hair. Copper, commonly present in most swimming pools, oxidizes with chlorine and creates a green tint. Since blonde hair has such light hues, it's more likely to look green.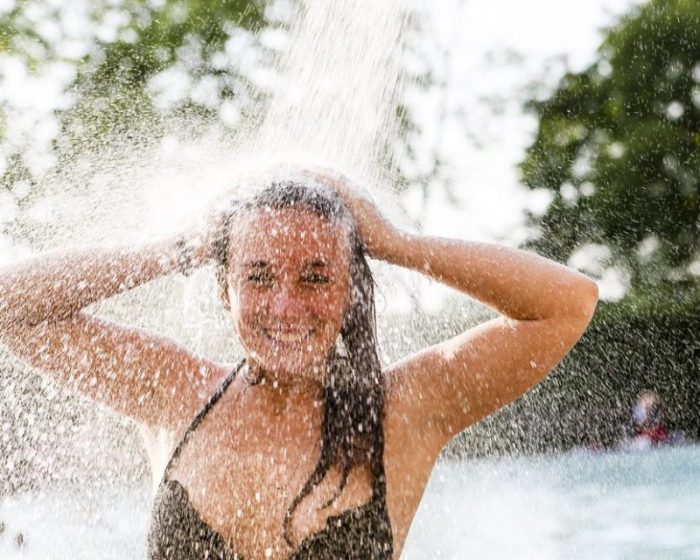 Hair Tips for Summer
      The best way to prevent saltwater breakage or green hair is to rinse your hair with cool, fresh water before and after. Rinsing before will help keep the chemicals from absorbing into your hair. Rinsing afterwards helps remove any chemicals or salt and keeps your hair feeling fresh.
3. Skip the Bleach
We know how tempting it is to get new highlights or treatments for summer, but you may want to skip it this season. Using harsh chemicals like bleach dries out your hair and can cause breakage or split ends. 
     Hair Tips for Summer
      During the hot summer months, give your hair a break. If you notice your roots growing in, try using Toppik Hair Building Fibers. It's available in nine shades that can be mixed to match virtually any hair color.
4. Oil up Your Tresses
Hot air in the summer can cause dryness, breakage, and frizz in your hair. The best way to combat this is to invest in deep conditioning treatments. 
     Hair Tips for Summer
      We recommend using overnight oiling treatments. Before you go to bed, soak your hair in oil with most of the concentration at your ends and cover with a shower cap. Coconut oil is a good option for most hair types. For a more lightweight oil, try argan or jojoba oil. When you wake up, wash out the oil and feel how soft and conditioned your hair is. 
5. Go Natural With Styling
Keep your hair natural this summer and forgo using heating tools to prevent your hair from drying out or splitting.
     Hair Tips for Summer
     Go natural with your hairstyle. This is a perfect time to let your natural texture come through. If you still want some styling, try heatless tools like heatless rollers or ribbons. Use hydrating styling products or try out hair accessories like scarves or headbands. 
– – –
What are your summer plans? Tell us in the comments below!