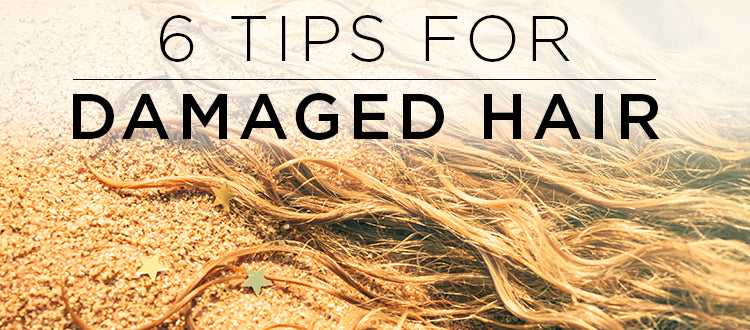 Caring for Damaged Hair During the Summer
Summer can be a cruel time for hair.
While it may be the perfect time to show off your gorgeous, shiny locks, if you're not properly caring for your hair during these hot months, you can actually cause significant long-term damage. Since falling temperatures follow summer, it's important to make sure you're treating hair now, so that damaged hair isn't a part of your winter look.
The biggest culprits during the summer are also your best friends on warm days: the sun and water. Both can cause hair breakage by leading to faded color, split ends and a dry, brittle texture. Chlorine and salt water can also strip away any expensive treatments you might have had done, such as a coloring or keratin treatment. This makes hair look dull and dehydrated – probably not the look you were thinking of when you envisioned your summer hair.
Not to worry though, there are plenty of ways to take care of your hair during the summer to ensure it will look healthy, radiant, and luminous. We'll walk you through the different ways you may be damaging your hair, what to do to make sure your hair survives the summer, and also show you some of the best hair products to use when trying to revitalize damaged hair.
If you're ready to get beautiful, sun-kissed hair, keep reading…
How You Might Be Damaging Your Hair
Unfortunately, damaged hair can be caused by a number of different reasons, and it's especially easy to damage hair without even knowing it. Here are some basic tips to think about the next time you shower, style, or use product on your hair.
Using Old Combs & Brushes
Don't let your hair pile up in your hair brush, this can be a breeding ground for germs and bacteria. Make sure to clean your hair out every week, and deep clean your hair brush once a month.
Tip: Clean your hair brush or comb with baking soda and water, this will remove oil and product that builds up over time.
Going Too Long Without A Haircut
If you want healthy hair, make sure you're getting regular trims to avoid split ends. Split ends can move up the hair shaft until you not only have split ends, but a completely damaged hair shaft. This eventually leads to weakened locks and even thinning hair.
Tip: The right trim is ½ inch each month, or every other month if you are trying to grow your hair longer.
Brushing Wet Hair Incorrectly
This is one we're sure many people are guilty of, even us. When hair is wet the cuticle scales can lift, causing hair strands to become more delicate and in turn more susceptible to hair breakage.
Tip: Make sure you always use a wide-tooth comb when brushing through damp or wet hair.
Using Too Much Product
Using too many products on your hair can cause build up and strip your hair of its natural oils. Especially if you have thinning hair, using too many products at once can end up weighing hair down. Even if you have thicker hair, you would be surprised at how little product you actually need.
Tip: If you want to use more product or you're not sure if you're using too much, apply the product to wet hands first to thin the product out before applying to your hair.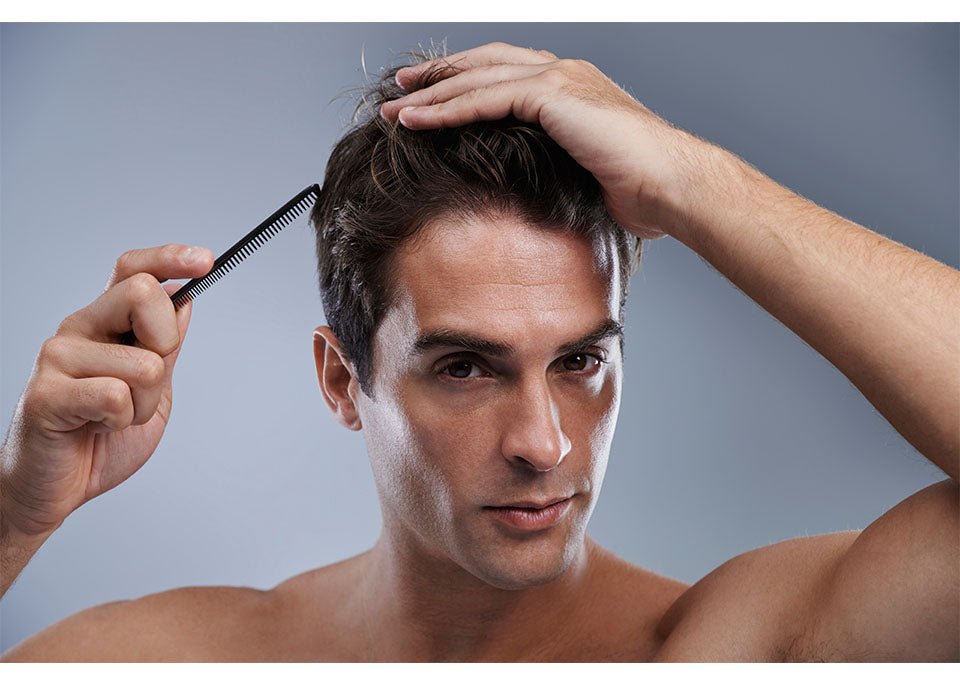 Shampooing Incorrectly
It's essential to your hair care routine that you understand how often you should be washing your hair. Knowing your hair and scalp type will help you pick out the correct shampoo and also help you figure out how often you should be washing your hair. For instance, if you have a dry scalp, you may want to shampoo less frequently so that your hair has more time to produce its natural oils. Buying shampoo based on your hair type – straight, curly, wavy, colored, thin, etc. will also ensure you're treating your hair properly.
Tip: When your hair starts to become oily, that's your sign that it's time to wash your hair.
Overheating Your Styling Tools
Heated styling tools, such as hair dryers, curling irons, and straighteners, can cause hair to dry out or even burn off. Overtime, excessive heating can cause so much damage that it can only be fixed with scissors. Using heating tools too often can also lead to thinning hair and split ends.
Tip: Many put heat styling tools on the highest setting without even thinking about it. Remember to set yours to the lowest setting, and you'll do less damage to your hair.
To learn about more ways to protect and take care of your hair, visit our blog post on how to create a healthy hair care routine.
End of Summer Detox
Summer is supposed to be about fun in the sun, but if you have to worry about damaged hair and constantly treating it, it might ruin how you feel about spending time outdoors during these beautiful months.
Hair can be harmed by a number of factors during the summer, including overexposure to the sun's rays, sweat, humidity, and spending time in chlorinated or salt water. With a little preemptive care though, you'll be on your way to healthy-looking and feeling hair in no time.
Get a Haircut (or Color) Before Summer
Summer dries out your hair, and coloring or leaving split ends in your hair can make it even worse. It's best to get a trim or color before summer starts, so you can get rid of any dead or dry hair and prevent hair breakage. This will make sure your hair is in the best shape possible when summer comes around.
Protect Your Hair From the Sun
Your skin and scalp aren't the only things that can get sunburned, your hair can actually get sunburned as well. Wearing a hat, scarf, or cap while you're outside will not only prevent a sunburn but will also make sure your hair doesn't dry out. If hats aren't your thing, you can also use products that are designed to help shield your hair from UV-based rays. These usually come in the form of a finishing product such as a hairspray or leave-in conditioner. Just make sure to apply them when the hair is wet so they have a chance to soak in!
Prep Hair for Swimming
You've probably heard by now how damaging chlorinated and salt water can be to your hair, (anyone ever seen blonde hair that turned green?) but there actually is a way to prevent these chemicals from fully soaking into your hair. Simply wet or spray hair with water before you go into a pool or ocean to give hair an extra coating. Since hair is already wet, it will dilute the chlorinated and salt water from fully absorbing into the hair.
Moisturize
This is a big one. Make sure you're using a hydrating shampoo and conditioner in the summer months. Whether you're preventing or fixing dry hair, it's important to double-check the ingredients in your shampoo and conditioner. Don't use products that have harsh sulfates, parabens or sodium chlorine in them, which will end up weighing hair down. Summer is also a great time to use a leave-in conditioner, or a nourishing hair mask once a week.
Air-Dry Your Hair
Seeing as there is already a lot of heat in the air, there's no reason to use styling tools that can cause even more damage. Try to go natural as much as possible, and avoid blow dryers, straighteners, and curling irons. Using these tools in the summer will only cause your hair to dry out more.
For especially dry hair, we love using this at-home hair mask from Michelle Phan to retain moisture and improve texture. It's especially beneficial for those of you with thin hair since bananas contain potassium, which strengthens and fixes damaged hair without weighing it down.
Ingredients:
1 banana (the riper, the better!)
1 tbsp honey (optional)
Directions:
Blend banana in a blender, making sure all chunks are smoothed out (this is VERY important! If you don't, you'll be stuck with banana chunks stuck in your hair all day)
Apply the mixture to your hair
Wrap hair in a shower cap and wait 15-20 minutes
Rinse out in the shower
Shampoo and condition as usual
We also have some of the best hair products to help make sure your summer is as worry free as possible when it comes to your hair!
The Best Shampoo & Conditioner for Damaged Hair
To care for fine and damaged hair, you need a hair care system designed to restore, repair and revitalize your strands.
Our Hair Building Shampoo & Conditioner Pack is formulated with a nourishing complex of keratin proteins for stronger, healthier and thicker-looking hair.
Toppik Hair Building Shampoo is perfect for the summer because it is made up of a lightweight formula that won't weigh hair down. It doesn't contain sulfates or parabens, so it's not going to strip your hair of any of its natural oils. It cleanses and nourishes the scalp while also providing volume and fullness, so you don't have to worry about limp, dull hair. It's the perfect shampoo for men and women looking to strengthen and repair their hair.
Toppik Hair Building Conditioner complements Toppik Hair Building Shampoo because it provides extra moisture your hair may be missing. It's nourishing complex of keratin proteins and aloe supports healthy hair and scalp, and the fact that it's also free of sulfates and parabens means it's ideal for using during the summer. Your hair will feel instantly rejuvenated and ready to take on the summer and winter months!
Are you using any of these hair care tips to protect your hair this summer? Tell us in the comments section below what's helped your hair the most!
Stay In the Know
We hope we've helped prevent some damage done by the summer months, but stay tuned next week as we talk about one of our tried-and-true products, COUVRe Scalp Concealing Lotion, and how you can use it to cover up thin or thinning hair.
If you want to be the first to know about new posts to the Hair Toppiks Blog, sign up for the Toppik VIP list to receive an email a couple times per month or check us out on Facebook!