Winter Hair Care Tips You Need Now
The official start of winter is just around the corner. But in many parts of the country, winter weather is already in full effect. Even if the weather outside is frightful, your hair can still be delightful! Follow these winter hair care tips to keep your strands looking great all season long.

What Causes "Winter Hair"?
Winter weather can be especially brutal on hair because of the cold factor. The constant shift between warm temperatures (being inside), and cold weather (going outside), can cause the cuticle layer of the hair to lift and moisture to escape from the hair, making it dry and frizzy. This can lead to dullness, breakage, split ends and staticky locks. Plus, that extra layer of a hat can leave you with tangles and "hat hair."

Luckily, you can keep you hair in tip-top condition by following some simple hair care tips for winter. Keep reading to learn more!

Hair Care in Winter: 10 Top Tips
1. Revive Hat Hair
Here at Toppik, we love hats for both fashion and function. But there's nothing fashionable about having flat, lifeless hair whenever you remove your beanie. Hats tend to lock in heat, which is great for keeping warm, but that same heat causes your hair to bend and conform to the hat's snug shape.
The key to preventing hat hair is to give yourself a little extra volume on top to combat the flattening effect. If you have long hair, you can tie your hair in a bun with a soft fabric hair tie and put your hat on top of it. All hair lengths can benefit from Toppik Hair Fattener Advanced Thickening Serum, a concentrated styling serum with a keratin formula that adds volume, thickness and shine* to hair. Just apply a small amount throughout damp hair before styling for an extra boost of volume. Now you can keep warm outside and still have great hair!
2. Deep Condition
Dry heat indoors and cold air outdoors can wreak havoc on your hair. To combat the drying effects of the dry air, treat yourself once a week to a deep conditioning treatment. A deep moisturizing mask will replenish lost moisture and shine. Just be careful not to use it too often, as too much conditioning can weigh your hair down and cause it to look limp.

Best of all? You don't need to brave the cold to buy a deep conditioning mask at the store. Instead, you can make your own with ingredients you probably already have at home. Just mix one tablespoon of honey with two tablespoons of olive oil. Apply throughout hair, paying special attention to the ends of your hair, which tend to be more dry. Let the mask sit on your hair for 20 minutes to work its moisturizing magic. Then thoroughly wash your hair with a gentle shampoo and conditioner like Toppik Hair Building Shampoo and Conditioner.

Note: When making your own hair care recipes, always do a small skin test first to check for sensitivities or allergies. And of course, if you know you have allergies or sensitivities to any of the ingredients in a recipe, don't use them!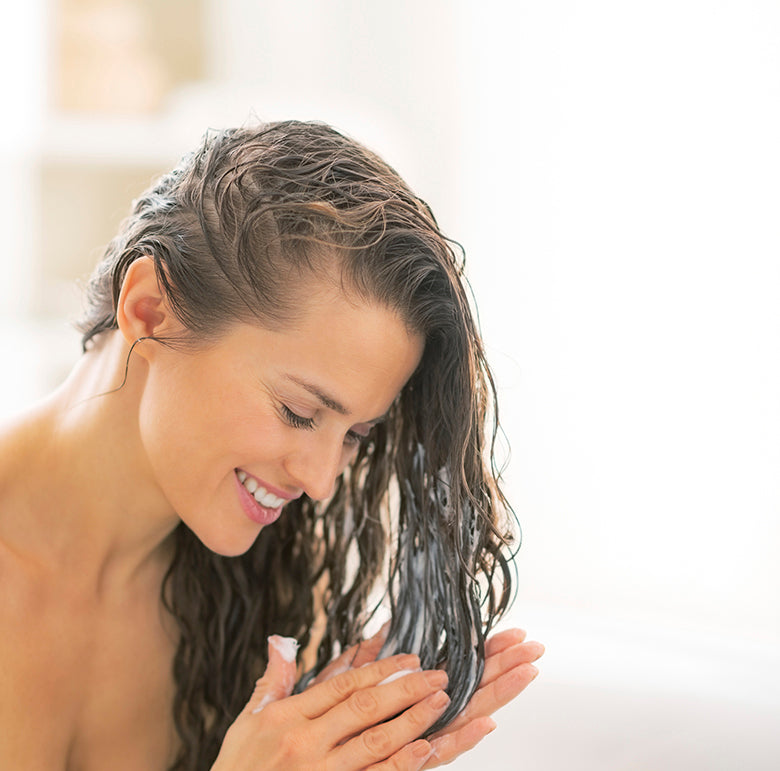 3. Wash Your Hair Less
Another remedy for dry hair is to cut down on your shampoo usage. By keeping hair washing to a minimum, you can help retain more of the natural oils that help keep your strands moisturized.

If your roots feel too oily when you skip washing then try a dry shampoo. Use a boar bristle brush to evenly distribute your natural scalp oils from root to ends. Then, apply dry shampoo at the roots and to other areas that feel or look oily.

If you must wet your hair everyday try skipping shampoo occasionally, and apply conditioner only to your ends to keep them moisturized. Or try a non-stripping shampoo, like Toppik Hair Building Shampoo, which gently cleanses hair leaving it healthier- and fuller-looking.

4. Trim Your Hair Regularly
Split, frayed ends are THE WORST. Not only do they look bad, but over time, split ends can travel up the entire hair shaft and cause breakage. This basically spells catastrophe if you're trying to grow out your hair (or even maintain your current length).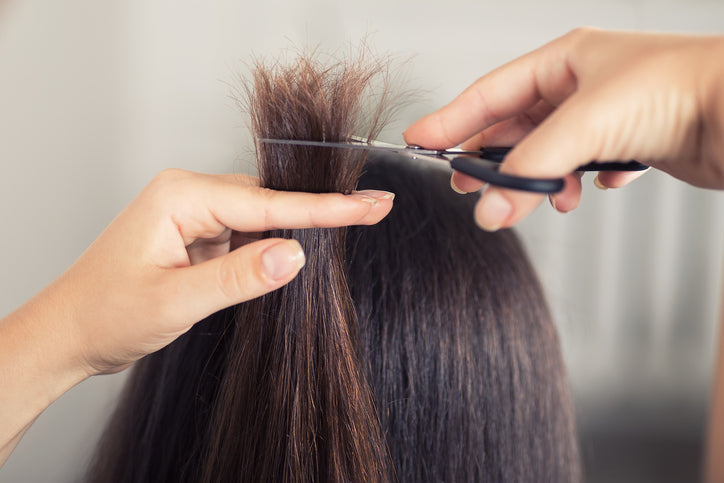 The best way to prevent out-of-control split ends is to get regular trims. Every six to eight weeks, visit your hairdresser for a "micro-trim" to remove even the smallest split ends before they have a chance to spread. Also, you can keep your hair moisturized with deep conditioning treatments and run a humidifier at night to help prevent split ends from forming in the first place.

5. Try a Pre-Bedtime Hair Routine
If your hair is extra dry, massage a hair oil into your ends before you sleep to keep the cuticles sealed and the hair shaft from splitting overnight. Apply oil before bed to give it time to sink in so that your hair doesn't look greasy during the day.

6. Add Humidity
If you also suffer from dry skin during the winter, invest in a humidifier. This will help to mitigate the dry heat from the heat in your house, and will help to retain the moisture in both your hair and skin!

7. Take a Cold Shower
Okay, not really, but try to resist the urge to take long steamy showers when it's cold outside. Hot water tends to strip the moisture from your hair, and your hair needs all the moisture it can get during the winter. Instead, try to take a warm or lukewarm shower for 10 minutes or less to prevent hair from becoming dry.

8. Go Au Naturale
The winter weather is hard enough on your hair without adding in styling tools. If you can, try to avoid using blow dryers, curling irons and straighteners as much as possible. If you do need to use them, the best hair damage solution is to apply a leave-in conditioner or heat-protective product first, and then follow with a blow-dryer on low heat.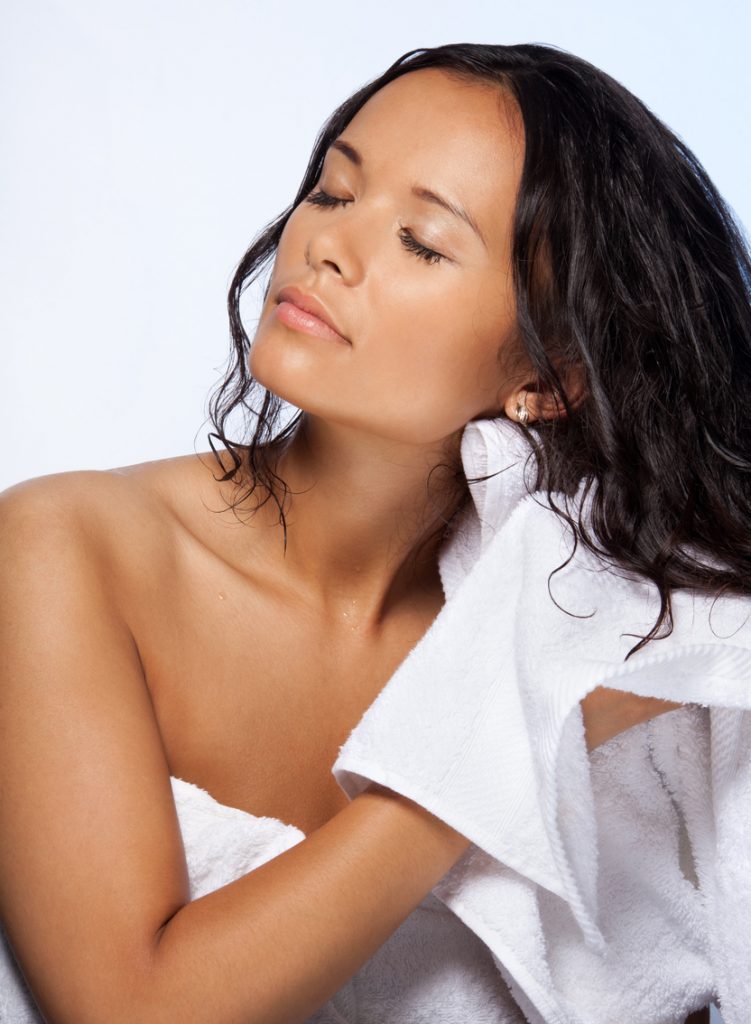 9. Reduce Winter Hair Static
Staticky, crackling hair is caused by your hair picking up an electrical charge from the dry air. You can combat the drying effects of static by switching to a gentle, moisturizing shampoo and conditioner, like Toppik Hair Building Shampoo and Conditioner.

If your static is really bad, switch to a metal comb rather than a plastic comb or plastic-bristle hairbrush. Metal conducts electricity, so it can actually help conduct that electrical charge away from your hair.

You can also rub a dryer sheet on your hair to help eliminate static cling and flyaways. Keep a small pack of sheets in your bag and rub one on your hair when you're out and about. Or wipe down your pillow with a sheet to prevent static electricity buildup while you're sleeping.

10. Prevent Tangles
Anyone who has long hair during winter is familiar with this situation: you come in from the cold, strip off your coat and scarf, and find that the whole underside of your hair has knotted up into one giant rat's nest. The friction from layers of scarves, coats, and sweaters can cause hair to tangle, particularly on the underside of your hair.

If you have long hair, try simply wearing your hair in a ponytail, loose braids or a bun to prevent snarls. Otherwise, when you go inside, flip your hair over and use a detangling spray and a wide-toothed comb to detangle.

Do you have any hair care tips for winter? Let us know in the comment section below! 
*Self-perceived results