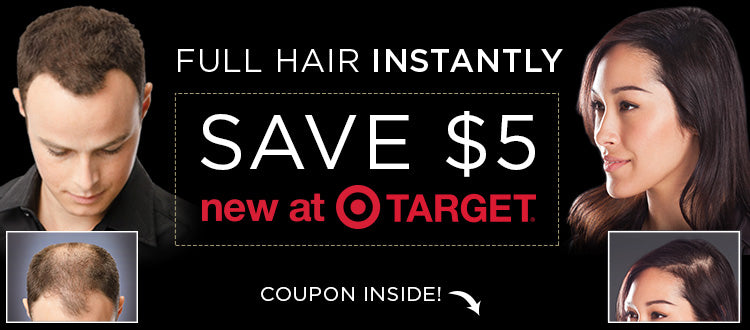 Toppik Hair Fibers Now Available at Target + Exclusive Coupon!
Coming to an aisle near you with an exclusive offer! We're happy to announce that Toppik Hair Building Fibers are now available at select Target locations.
Toppik Hair Building Fibers are the # 1 brand of Hair Fibers, made of colored keratin protein, that blend undetectably with existing hair strands to instantly create the appearance of naturally thick, full hair. Easily fill in thinning areas of your hair and conceal hair loss. Toppik Hair Fibers are available at Target in our most popular colors: Light Brown, Medium Brown, Dark Brown and Black. There is also a Starter Kit available in the following Toppik Hair Fibers colors: Dark Brown, Light Brown, Medium Blonde, and Medium Brown.
Print this $5 OFF Target coupon to save. Coupon valid in select Target Store locations only. Good on any one Toppik product. Limit one coupon per transaction. Must print by 5/10/16, coupon expires 6/15/16.
To see store locations, please click on one of the following cities: Arizona, California, Colorado, Connecticut, Florida, Georgia, Illinois, Kansas, Massachusetts, Maryland, North Carolina, North Dakota, New Jersey, New Mexico, Nevada, New York, Oregon, Pennsylvania, Tennessee, Texas, Utah, Virginia, Wisconsin.
ARIZONA
Arcadia Crossing
4515 E Thomas Rd
Phoenix, AZ-85018
(602) 952-1797

Queen Creek
21398 S Ellsworth Loop Rd
Queen Creek, AZ-85142
(480) 214-4810

Chandler West Santan
3425 W Frye Rd
Chandler, AZ-85226
(480) 281-0007

Chandler South
3777 S ARIZONA AVE
Chandler, AZ-85248
(480) 612-6101

Tempe NE
1800 E Rio Salado Pkwy Ste 120
Tempe, AZ-85281
(480) 214-2667

Peoria SW
9350 W Northern Ave
Glendale, AZ-85305
(623) 877-8440

Goodyear West
995 S Cotton Ln
Goodyear, AZ-85338
(480) 627-3275

Surprise
13731 W Bell Rd
Surprise, AZ-85374
(623) 975-4122

Tucson SW
1225 W Irvington Rd
Tucson, AZ-85714
(520) 295-1277

Tucson El Con Mall
3699 E Broadway Blvd
Tucson, AZ-85716
(520) 917-0116

Tucson NW
3901 W Ina Rd
Tucson, AZ-85741
(520) 744-3553

CALIFORNIA
Cypress
6835 Katella Ave
Cypress, CA-90630
(714) 220-2000

Norwalk
10600 Firestone Blvd
Norwalk, CA-90650
(562) 406-8870

Norwalk East
12051 Imperial Hwy
Norwalk, CA-90650
(562) 409-5036

San Pedro
1701 N Gaffey St
San Pedro, CA-90731
(310) 507-6289

Long Beach Bellflower
2270 N Bellflower Blvd
Long Beach, CA-90815
(562) 493-5411

West Hills
6635 Fallbrook Ave
West Hills, CA-91307
(818) 999-2390

Thousand Oaks
2705 Teller Rd
Thousand Oaks, CA-91320
(805) 480-9114

Northridge
8840 Corbin Ave
Northridge, CA-91324
(818) 772-0494

Granada Hills
11133 Balboa Blvd
Granada Hills, CA-91344
(818) 360-2999

Westlake Village
30740 Russell Ranch Rd
Westlake Village, CA-91362
(818) 661-2631

Woodland Hills
20801 Ventura Blvd
Woodland Hills, CA-91364
(818) 713-2707

Van Nuys North
14920 Raymer St
Van Nuys, CA-91405
(818) 922-1001

Azusa
809 N Azusa Ave
Azusa, CA-91702
(626) 629-1121

Chino
5555 Philadelphia St
Chino, CA-91710
(909) 627-8433

Rancho Cucamonga
10576 Foothill Blvd
Rancho Cucamonga, CA-91730
(909) 948-9952

Eastvale
12471 Limonite Ave
Mira Loma, CA-91752
(951) 256-5261

Montclair
9052 Central Ave
Montclair, CA-91763
(909) 624-5717

San Dimas
888 W Arrow Hwy
San Dimas, CA-91773
(909) 394-0335

Upland
1931 Campus Ave
Upland, CA-91784
(909) 985-0348

West Covina
2831 E Eastland Ctr Dr
West Covina, CA-91791
(626) 859-0221

West Covina South
2370 S Azusa Ave
West Covina, CA-91792
(626) 667-5400

Chula Vista Broadway
1240 Broadway
Chula Vista, CA-91911
(619) 425-3850

Chula Vista East
910 Eastlake Pkwy
Chula Vista, CA-91914
(619) 213-1010

Encinitas
1010 N El Camino Real
Encinitas, CA-92024
(760) 633-1406

Poway
14823 Pomerado Rd
Poway, CA-92064
(858) 679-8202

Vista
1751 University Dr
Vista, CA-92083
(760) 941-0220

Sports Arena
3245 Sports Arena Blvd
San Diego, CA-92110
(619) 223-2491

Balboa
5680 Balboa Ave
San Diego, CA-92111
(858) 309-6564

Palm Springs
67750 E Palm Canyon Dr
Cathedral City, CA-92234
(760) 321-7425

La Quinta
78935 US Hwy 111
La Quinta, CA-92253
(760) 564-0492

Fontana North
15272 Summit Ave
Fontana, CA-92336
(909) 463-9872

Hesperia
12795 Main St
Hesperia, CA-92345
(760) 949-3062

Redlands
27320 W Lugonia Ave
Redlands, CA-92374
(909) 307-1602

Victorville
15321 Palmdale Rd
Victorville, CA-92392
(760) 241-3357

Riverside Arlington
3333 Arlington Ave
Riverside, CA-92506
(951) 784-6430

Murrieta
41040 California Oaks Rd
Murrieta, CA-92562
(951) 696-7527

Foothill Ranch
26762 Portola Pkwy
Foothill Ranch, CA-92610
(949) 454-2360

San Clemente
990 Avenida Vista Hermosa
San Clemente, CA-92673
(949) 456-8668

Rancho Santa Margarita
30602 Santa Margarita Pkwy
Rancho Santa Margarita, CA-92688
(949) 459-1543

Anaheim
101 S Euclid St
Anaheim, CA-92802
(714) 422-1120

Fullerton
2920 Yorba Linda Blvd
Fullerton, CA-92831
(714) 579-3090

Fullerton South
200 W Orangethorpe Ave
Fullerton, CA-92832
(714) 992-4565

Corona
2615 Tuscanny St
Corona, CA-92881
(951) 277-3075

Ventura
4200 E Main St
Ventura, CA-93003
(805) 644-9871
Camarillo
209 W Ventura Blvd
Camarillo, CA-93010
(805) 384-0040

Moorpark
800 New Los Angeles Ave
Moorpark, CA-93021
(805) 530-0028

Oxnard West
2850 N OXNARD BLVD
Oxnard, CA-93036
(805) 288-3642

Simi Valley West
51 Tierra Rejada Rd
Simi Valley, CA-93065
(805) 416-5790

Hanford
140 N 12th Ave
Hanford, CA-93230
(559) 582-9298

Porterville
1363 W Henderson Ave
Porterville, CA-93257
(559) 719-2203

Visalia
4247 S Mooney Blvd
Visalia, CA-93277
(559) 749-0740

Bakersfield Central
2901 Ming Ave
Bakersfield, CA-93304
(661) 617-2000

Santa Maria
223 E Betteravia Rd
Santa Maria, CA-93454
(805) 922-9904

Palmdale
39440 10th St W
Palmdale, CA-93551
(661) 265-0906

Fresno Central
5740 N Blackstone Ave
Fresno, CA-93710
(559) 431-8622

Fresno North
7600 N Blackstone Ave
Fresno, CA-93720
(559) 431-0104

Fresno NW
6655 North Riverside Dr
Fresno, CA-93722
(559) 490-5567

Sand City
2040 California Ave
Sand City, CA-93955
(831) 392-1990

Redwood City
2485 El Camino Real
Redwood City, CA-94063
(650) 363-8940

Antioch Slatten Ranch
5769 Lone Tree Way
Antioch, CA-94531
(925) 752-0002

Napa
205 Soscol Ave
Napa, CA-94559
(707) 224-1058

Dublin East
2800 Dublin Blvd
Dublin, CA-94568
(925) 241-1042

Dublin
7200 Amador Plaza Rd
Dublin, CA-94568
(925) 829-8900

Walnut Creek
1871 N Main St
Walnut Creek, CA-94596
(925) 979-0083

San Rafael
125 Shoreline Pkwy
San Rafael, CA-94901
(415) 299-6112

Petaluma
401 Kenilworth Drive
Petaluma, CA-94952
(707) 775-6322

Santa Clara
2004 El Camino Real
Santa Clara, CA-95050
(669) 342-3320

Watsonville
1415 Main St
Watsonville, CA-95076
(831) 761-9194

San Jose South
5630 Cottle Rd
San Jose, CA-95123
(408) 600-3721

Lodi
2355 W Kettleman Ln
Lodi, CA-95242
(209) 369-9371

Tracy
2800 Naglee Rd
Tracy, CA-95304
(209) 833-3494

Manteca
280 Spreckels Ave
Manteca, CA-95336
(209) 823-9982

Merced
3280 R St
Merced, CA-95348
(209) 725-3482

Modesto
3405 Mchenry Ave
Modesto, CA-95350
(209) 572-3341

Modesto NW
3900 Sisk Rd
Modesto, CA-95356
(209) 543-9561

Riverbank
2425 Claribel Rd
Riverbank, CA-95367
(209) 863-1270

Turlock
3000 Countryside Dr
Turlock, CA-95380
(209) 632-0132

Santa Rosa North
950 Coddingtown Center
Santa Rosa, CA-95401
(707) 596-5587

Eureka
2525 4th St
Eureka, CA-95501
(707) 442-0201

Birdcage-Citrus Heights
5837 Sunrise Blvd
Citrus Heights, CA-95610
(916) 966-5267

Rocklin
5104 Commons Dr
Rocklin, CA-95677
(916) 251-3345

Roseville North
10451 Fairway Dr
Roseville, CA-95678
(916) 780-1020

Sacramento East
6507 4th Ave
Sacramento, CA-95817
(916) 503-3678

Yuba City
1153 Butte House Rd
Yuba City, CA-95991
(530) 671-6881

COLORADO
Lakewood
460 S Vance St
Lakewood, CO-80226
(303) 209-7749

Denver SE
7777 E Hampden Ave
Denver, CO-80231
(303) 481-2821

CONNECTICUT
South Windsor
125 Buckland Hills Dr
Manchester, CT-06042
(860) 327-0082

Newington
3265 Berlin Turnpike
Newington, CT-06111
(860) 616-0022

Meriden
474 Chamberlain Hwy
Meriden, CT-06451
(203) 634-6049

FLORIDA
Aventura
21265 Biscayne Blvd
Aventura, FL-33180
(305) 933-4616

Kendall
15005 SW 88th St
Miami, FL-33196
(305) 386-1244

Naples
2324 Pine Ridge Rd
Naples, FL-34109
(239) 435-0051

Port St Lucie
10720 SW Village Pkwy
Port Saint Lucie, FL-34987
(772) 293-6152

GEORGIA
Acworth
3378 Cobb Pkwy NW
Acworth, GA-30101
(678) 202-0996

Buford
3205 Woodward Crossing Blvd Ste B
Buford, GA-30519
(678) 482-2367

ILLINOIS
Highland Park
2099 Skokie Valley Rd
Highland Park, IL-60035
(847) 266-8022

Wood Dale
401 W Irving Park Rd
Wood Dale, IL-60191
(630) 594-5510

Bolingbrook
1188 W Boughton Rd
Bolingbrook, IL-60440
(630) 378-5544
Chicago McKinley Park
1940 W 33rd St
Chicago, IL-60608
(773) 843-3250

KANSAS
Mission
6100 Broadmoor St
Mission, KS-66202
(913) 262-2434

MASSACHUSETTS
Worcester
529 Lincoln St
Worcester, MA-01605
(508) 852-3094

Framingham
400 Cochituate Rd
Framingham, MA-01701
(508) 628-3136

MARYLAND
Glen Burnie
7951 Nolpark Ct
Glen Burnie, MD-21061
(410) 969-2257

NORTH CAROLINA
Greensboro NW
2701 Lawndale Dr
Greensboro, NC-27408
(336) 286-2511

Cary West
7129 O'Kelly Chapel Road
Cary, NC-27519
(919) 674-2214

NORTH DAKOTA
Bismarck
600 Kirkwood Mall
Bismarck, ND-58504
(701) 250-3180

NEW JERSEY
Clifton
30 Kingsland Rd
Clifton, NJ-07014
(973) 330-0002

Hackensack
630 Main St
Hackensack, NJ-07601
(201) 678-0599

East Windsor
70 Princeton Hightstown Rd
East Windsor, NJ-08520
(609) 371-2273

North Brunswick
101 Grand Ave
North Brunswick, NJ-08902
(732) 798-2558

NEW MEXICO
Albuquerque Uptown
2120 Louisiana Blvd NE
Albuquerque, NM-87110
(505) 200-3234

Albuquerque Lomas
11120 Lomas Blvd NE
Albuquerque, NM-87112
(505) 292-9110

Albuquerque NE
6100 Paseo Del Norte NE
Albuquerque, NM-87113
(505) 346-0135

Albuquerque NW
9371 Coors Blvd NW
Albuquerque, NM-87114
(505) 897-7923

Santa Fe
3550 Zafarano Dr
Santa Fe, NM-87507
(505) 471-9600

NEVADA
Las Vegas Far NW
6480 Sky Pointe Dr
Las Vegas, NV-89131
(702) 839-1591

Las Vegas Far SW
4155 S Grand Canyon Dr
Las Vegas, NV-89147
(702) 251-0330

Sparks South
1550 E Lincoln Way
Sparks, NV-89434
(775) 332-1003

Reno South
6845 Sierra Center Pkwy
Reno, NV-89511
(775) 853-8900

NEW YORK
Clarkstown
4120 Palisades Center Dr
West Nyack, NY-10994
(845) 348-6440

Westbury
999 Corporate Dr
Westbury, NY-11590
(516) 222-1003

Poughkeepsie
2001 South Rd
Poughkeepsie, NY-12601
(845) 297-0938

North Buffalo
2626 Delaware Ave
Buffalo, NY-14216
(716) 447-0094

Henrietta
2325 Marketplace Dr
Rochester, NY-14623
(585) 424-3370

OREGON
Wilsonville
25925 SW Heather Pl
Wilsonville, OR-97070
(503) 682-7781

Hillsboro
2295 SE Tualatin Valley Hwy
Hillsboro, OR-97123
(503) 693-1016

PENNSYLVANIA
Allentown
1600 N Cedar Crest Blvd
Allentown, PA-18104
(610) 398-4006

TENNESSEE
Chattanooga East
1816 Gunbarrel Rd
Chattanooga, TN-37421
(423) 490-1418

TEXAS
Addison
3730 Belt Line Rd
Addison, TX-75001
(214) 414-0025

Love Field
9440 Marsh Ln
Dallas, TX-75220
(214) 357-3980

Grapevine
1101 Ira E Woods Ave
Grapevine, TX-76051
(817) 488-1800

Houston Central
2580 Shearn St
Houston, TX-77007
(713) 331-0376

Houston Memorial
984 Gessner Rd
Houston, TX-77024
(713) 300-0227

Galleria
4323 San Felipe St
Houston, TX-77027
(713) 960-9608

Steeplechase
12701 FM 1960 Rd W
Houston, TX-77065
(281) 949-2219

Willowbrook
6801 FM 1960 Rd W
Houston, TX-77069
(281) 716-1105

Tomball Parkway
21515 Tomball Pkwy
Houston, TX-77070
(281) 655-1427

Conroe
503 I 45 N
Conroe, TX-77304
(936) 760-2663

Atascocita
6931 FM 1960 Rd E
Humble, TX-77346
(281) 318-2237

Woodlands
1100 Lake Woodlands Dr
The Woodlands, TX-77380
(281) 364-1281

Rosenberg
23912 Commercial Dr
Rosenberg, TX-77471
(281) 232-1240

Georgetown
1021 W University Ste B3
Georgetown, TX-78628
(512) 869-3163

Pflugerville
18700 Limestone Commercial Dr Ste 100
Pflugerville, TX-78660
(512) 687-2064

Round Rock
121 Louis Henna Blvd
Round Rock, TX-78664
(512) 246-7677

Lubbock West
6064 Marsha Sharp Freeway
Lubbock, TX-79407
(806) 788-3600

UTAH
Salt Lake City
1110 S 300 W
Salt Lake City, UT-84101
(801) 401-9562

VIRGINIA
Virginia Beach Pemb
4554 Virginia Beach Blvd Ste 500
Virginia Beach, VA-23462
(757) 451-7660

WISCONSIN
Waukesha
2401 Kossow Rd
Waukesha, WI-53186
(262) 784-8646