How to Fix a Receding Hairline
If you're unhappy with your hairline, you're not alone. Receding hairlines are extremely common for guys. In fact, about two-thirds of men will experience hair loss at some point in their lives. However, not all "bad hairlines" are caused by hair loss. Some people just naturally have a crooked hairline, while for others, an uneven hairline could be the result of a bad haircut. Whatever the cause, we have some five solutions to help you fix your hairline, making it look fuller and more even.
5 Ways to Fix Your Hairline
1. Get a Haircut
Whether your bad hairline is from hair loss, genetics, or a bad haircut, one of the easiest ways to fix your hairline is to visit an experienced barber. Changing your hairstyle can disguise the unevenness, making your hairline look straighter and more even. If you have a receding hairline, haircuts like a classic short buzz cut, a high and tight, or a parted undercut can help make it look better.
2. Change Your Diet
Nutrition is a huge factor in the health of your hair. Support healthy hair growth by eating a diet rich in lean proteins and healthy fats, plus plenty of fruits and vegetables. You might also consider taking a hair growth vitamin like Viviscal™ to make sure you're getting the vitamins and minerals your body needs to grow a strong, healthy hairline.*
3. Upgrade Your Shower Routine
The way you wash your hair could also be contributing to a bad hairline. Using harsh shampoos can dry out your strands, causing hair to break off. But not washing your hair enough can also create unhealthy scalp conditions that aren't ideal for hair growth.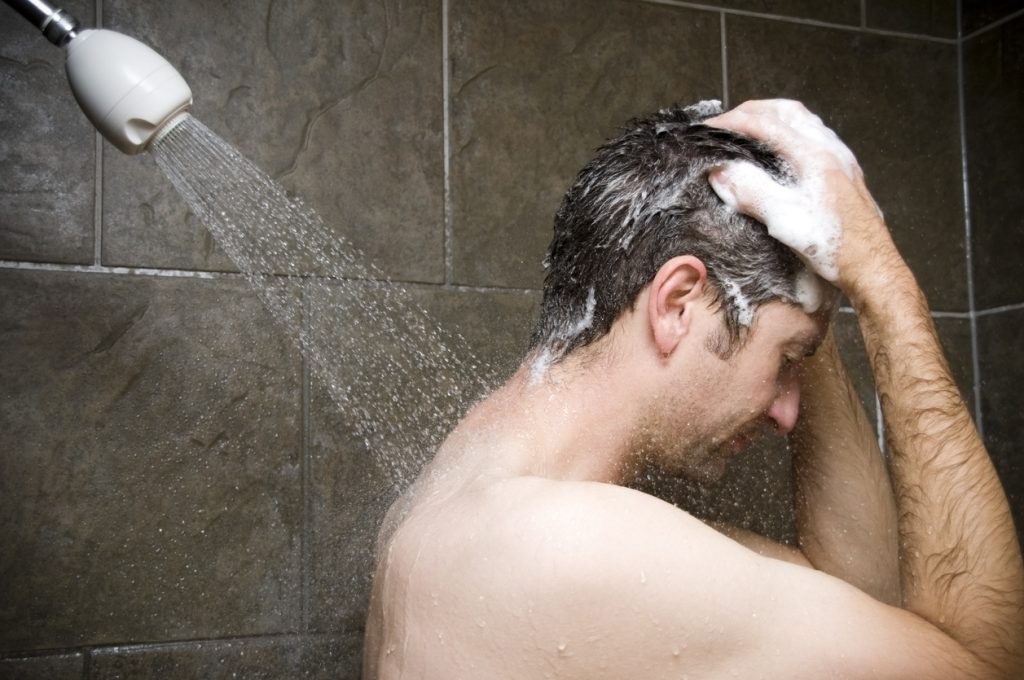 For best results, wash your hair three to four times per week using a shampoo designed to make thin strands look fuller, like Toppik Hair Building Shampoo. Always follow shampoo with Toppik Hair Building Conditioner, which hydrates hair without weighing it down.
4. Choose the Right Styling Products
Using the right kind of products can easily help you fake a fuller head of hair and disguise the appearance of a bad hairline.
After washing your hair, apply a thickening product like a mousse or a styling serum like Toppik Hair Fattener Advanced Thickening Serum to damp hair. Then blow dry hair for extra volume. Avoid heavy products like pomades, which can weigh down hair and cause further separation at the hairline, exposing more scalp.
5. Fake It with Fibers
Toppik Hair Building Fibers are pretty much a miracle worker when it comes to fixing a hairline because they work instantly to fill in receding and thinning areas. Plus, they resist wind, rain and perspiration to last through all conditions until you wash them out. Believe it or not, celebrity hairstylists use this trick all the time to conceal a receding hairline!
Before

After
To try it at home, start by selecting Toppik Hair Fibers in a shade that closely matches the color of your hair. Line up the Toppik Hairline Optimizer where you would like your hairline to be, then apply Fibers using the Spray Applicator. Finally, add a couple of spritzes of Toppik FiberHold Spray to add natural shine and lock the Fibers in place.
Do you have any tips for fixing an uneven hairline? Let us know in the comments!
*These statements have not been evaluated by the Food and Drug Administration. This product is not intended to diagnose, treat, cure or prevent any disease.