How to Style Shaved Hair Designs for Thin Hair
Who says short hair has to be boring? If you love a bold look, try the undershave design trend. Shaved hair designs work for all hair types – even fine or thin hair! Keep reading for our favorite shaved hair design ideas, and how Toppik Hair Building Fibers can help you to style an undershave.
What Is a Shaved Hair Design?
Shaved hair designs are patterns that are cut into a shaved area of hair. Most women who opt for a shaved hair design either shave one or both sides of their hair (a side shave) or underneath their hair at the nape of the neck (an undershave).
So, how do you get a shaved hair design? First, your hairstylist will trim the desired area down with clippers. Then they will use a variety of techniques to cut the design into your hair, including razors and clippers.
But be aware: not every hairstylist has the experience necessary to create this unique look. You may need to find a barber or hairstylist who specializes in short haircuts. Do an internet search of barbers in your areas, and make sure to check out pictures of their work to see if they have the skills to pull off your favorite shaved hair design.
6 Shaved Hair Design Ideas for Females
1. Classic Side Shave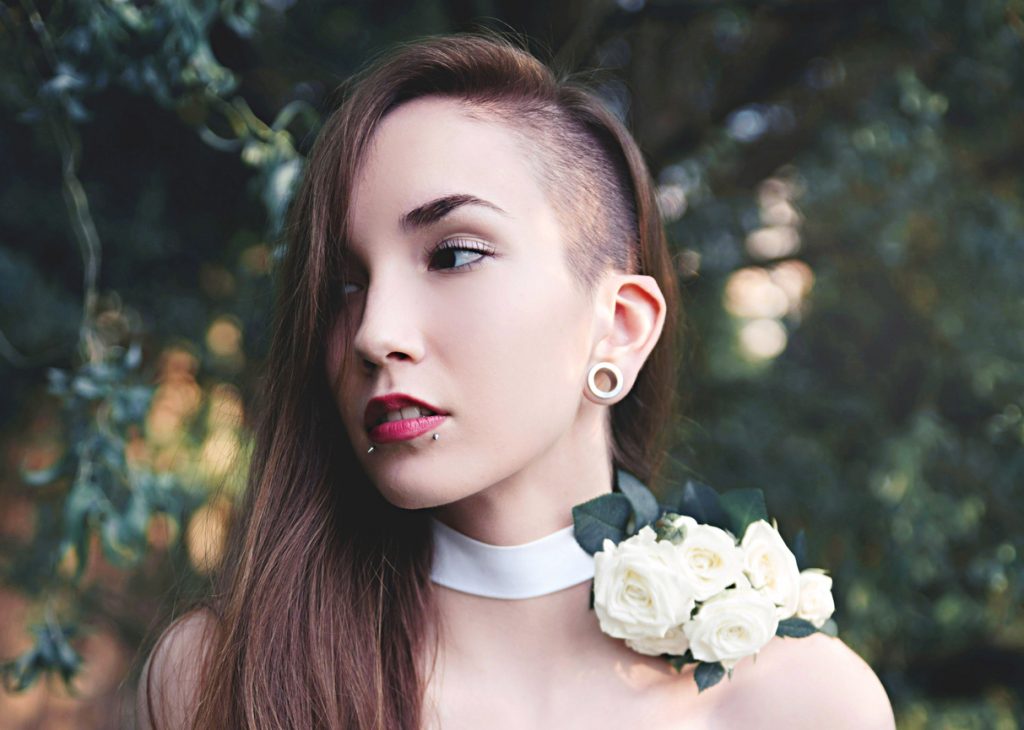 If you're dipping your toes into the side shave trend for the first time, try the classic side shave first. Your hairstylist can help you decide how much hair you want to shave. Our advice? Start with a little bit and work your way towards a bolder look over time. The less hair you cut, the easier the shaved area will be to disguise if you decide you're not in love with the look after all.
2. Geometric Shaved Hair Design with Color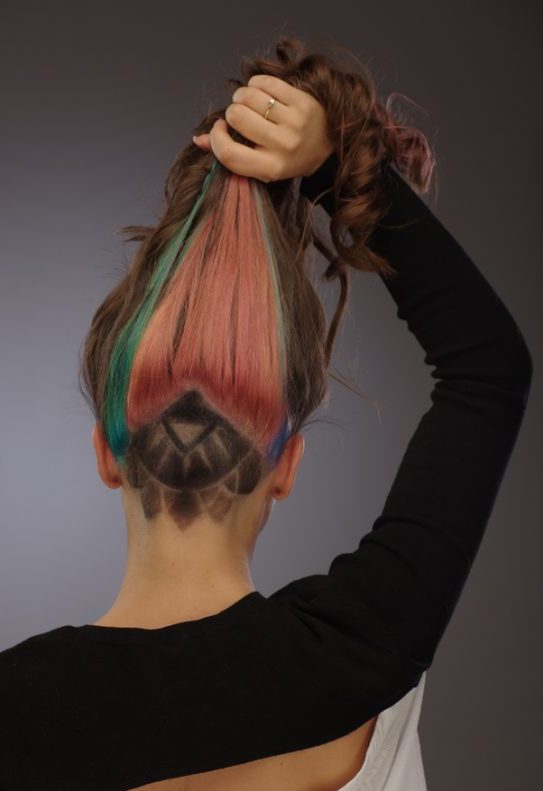 Undershaves are fun ways to experiment with your look. This undershave has a geometric design with rainbow color accents. We love this shaved hair design because it's so easy to cover up, which is perfect if you want an edgy hairstyle but also need to dress conservatively for work.

3. Simple Shaved Hair Part
If you love the look of a side shave but want to try something different, ask your hairstylist to add an elegant shaved part.

4. Shaved Hair Swirls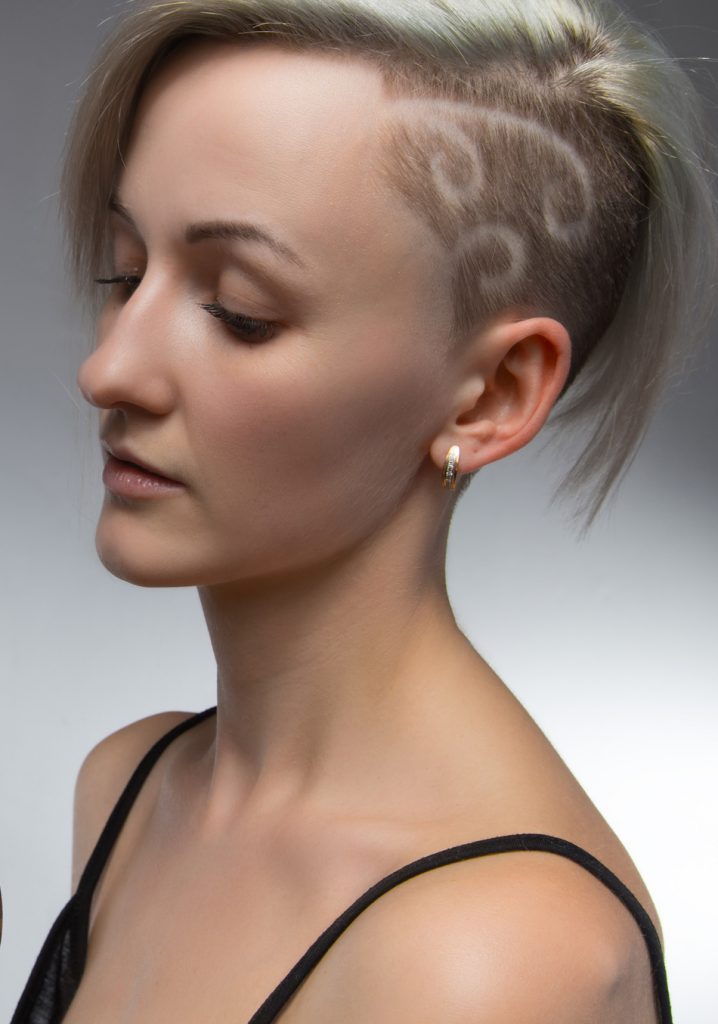 Looking for something a little more creative? Try this swirl side shave design!

5. Shaved Hair Stars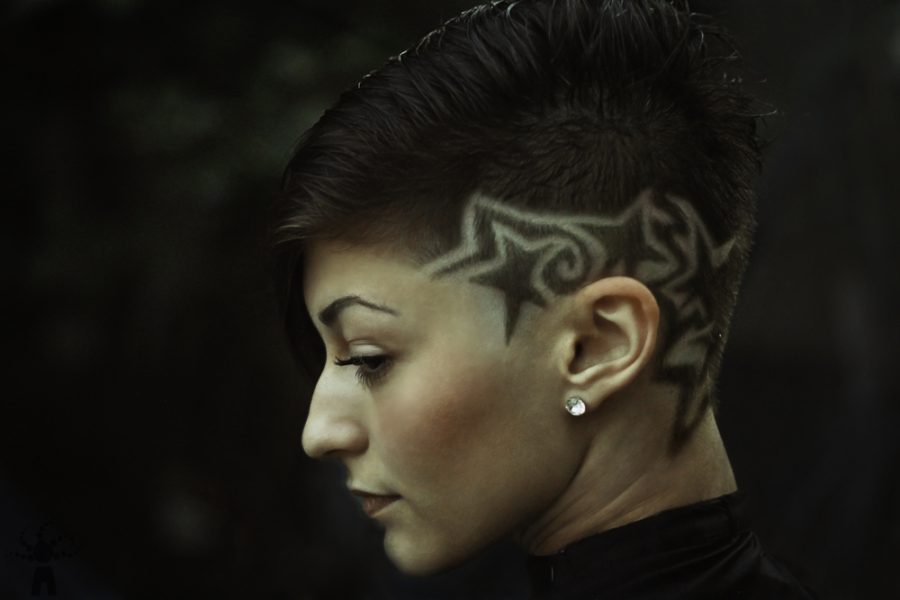 Have a special event coming up? This side shave design featuring stars is guaranteed to shine!

6. Spiderwebs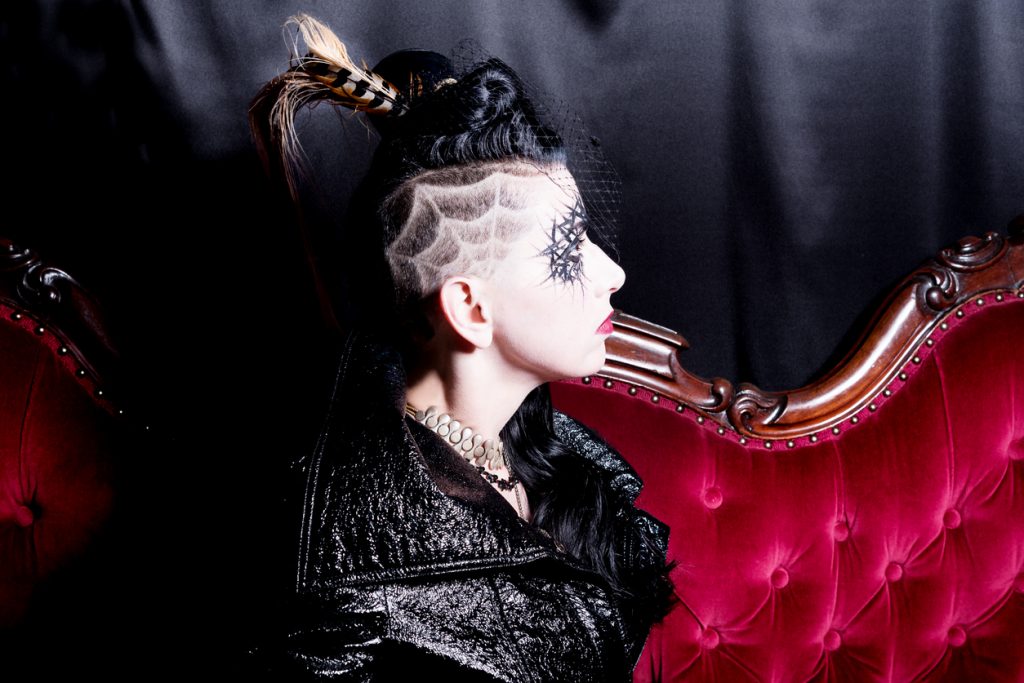 Now this is what we call a bold shaved hair design! But if you love it, we say rock it!
Tips for Styling Shaved Hair Designs
Keep It Fresh
Shaved hair designs look best when they're freshly cut, so expect to make bi-weekly trips to your hairdresser a part of your routine if you want to maintain your look.
Define It with Hair Fibers
Between trims, you can use Toppik Hair Building Fibers to help define your shaved hair design. This method also works if your hair is on the thin side! Just choose a shade of Toppik Hair Fibers that matches your root color, then use the Spray Applicator to spray fibers into place. Toppik Fibers are made from salon-quality keratin and have a static charge, so they cling to your hair instantly, and make it look naturally thicker and fuller. If you have a geometric hair design, you can use a piece of paper when applying fibers to help define the edges of your design.
Pump Up the Volume
Since you're literally shaving off an area of your hair, you'll probably need to put in a little extra effort to maintain the hair volume and body that you're used to.
To maximize your hair's volume, start by washing hair with Toppik Hair Building Shampoo, which has a lightweight formula that doesn't weigh down hair. Follow with Toppik Hair Building Conditioner, which nourishes and revives hair with a blend of keratin proteins and aloe vera. Gently wring excess water from your hair, then apply Toppik Hair Fattener Advanced Thickening Serum to add volume, body, and thickness to your locks. For best results, blow dry hair upside down until dry, and then style as usual.
Would you ever try a shaved hair design? Let us know in the comments!