Does Pumpkin Oil Help Hair Growth?
We love everything pumpkin-flavored for fall: pumpkin lattes, pumpkin bread, and even pumpkin spice hair! Luckily, pumpkin is often touted by health experts as a superfood thanks to its high vitamin content. And some people even claim that pumpkin oil can help with hair growth. While there's no doubt that pumpkin is delicious, does it really help make your hair grow faster? Keep reading to find out if you can use pumpkin oil for hair growth, and tried-and-true ways to make your hair look thicker and fuller.

Pumpkin Oil for Hair Growth: The Facts
If you're a pumpkin lover, you might be excited to hear that there's some early scientific evidence that supports pumpkin oil for hair growth and prevention, particularly in men.

But before you go out and bulk-buy pumpkin spice lattes, keep in mind these theories are based on a few small studies. More scientific research is needed to prove that pumpkin oil promotes hair growth.
How to Make a Pumpkin Hair Mask
Even if the jury's still out on eating pumpkin oil for hair growth, you can still include pumpkin in your hair care routine. Like other hair-friendly oils such as coconut oil and avocado oil, you can use pumpkin oil to make a moisturizing mask. Keeping your hair properly moisturized can help keep it strong and healthy and prevent breakage that leads to thinning.

The instructions for making your own pumpkin hair mask couldn't be simpler:

Using a microwave or a double boiler, gently warm ¼ to ½ cup of pumpkin seed oil. Use more pumpkin oil for longer hair. The oil should be warm, but not scalding. Test the oil temperature on the inside of your wrist before applying to hair.
Use your fingertips to gently massage the oil into your scalp and hair.
Wrap your hair in a towel or shower cap and let the oil sit in your hair for 30 minutes.
Then wash out with a lightweight shampoo like Toppik Hair Building Shampoo.
You can use this mask up to once a month. But be careful! Before trying any at-home beauty or hair care recipes, always do a small skin test first. If you do have allergies or sensitivities to any of the ingredients, don't use them.
A Proven Method for Thicker-Looking Hair
If you're looking for thicker, fuller-looking hair right now, try Toppik Hair Building Fibers. Toppik is the #1 selling cosmetic solution* for women and men to instantly transform fine or thinning hair. Toppik is made with salon-quality, naturally derived keratin proteins that are almost identical to human hair. So they blend undetectably with existing strands, instantly concealing hair loss and making hair look naturally thick and full. The statically charged fibers create a magnetic effect, clinging to even the tiniest hairs, for a natural look that lasts until you wash your hair. They're made for both men and women, and work with every hair type, texture, and color.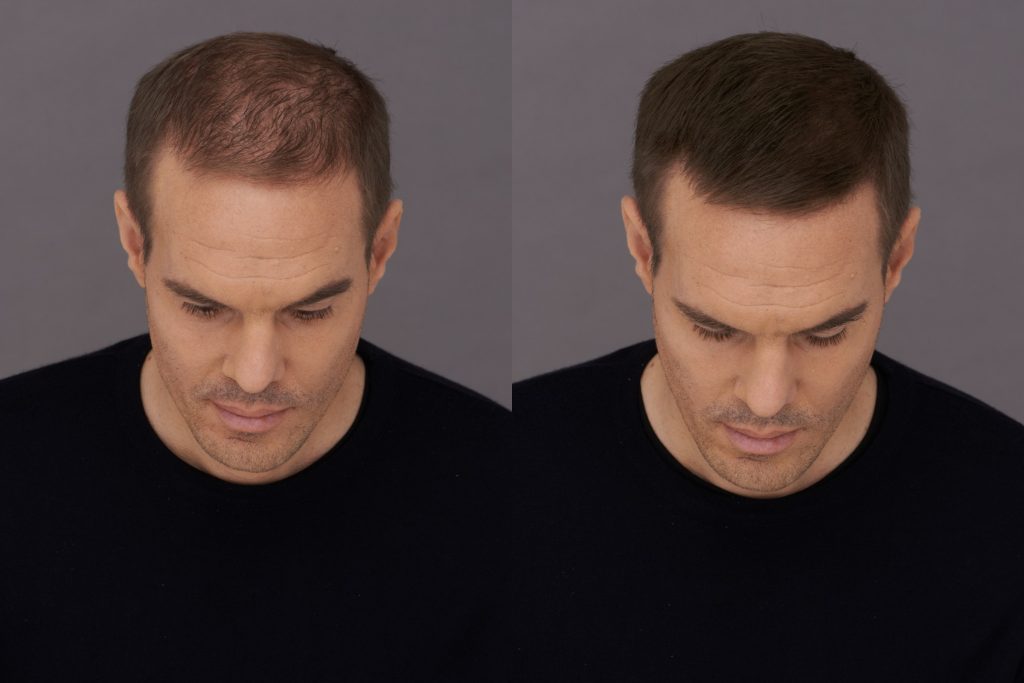 How to apply Toppik Hair Building Fibers:

Dry or style hair as usual. Then shake Toppik Hair Building Fibers onto thinning areas.
Gently pat hair to disperse Toppik Fibers. If desired, lightly comb, brush or style hair after applying.
For longer-lasting results, follow with the Toppik FiberHold Spray.
For more precise application, use with the Toppik Spray Applicator attachment.
For natural-looking application along the hairline, use with the Toppik Hairline Optimizer.
Have you ever tried pumpkin oil for hair growth? Let us know in the comments section below!
*Nielsen Measured Channels AOC Latest 52 Wks—W/E 02/24/18