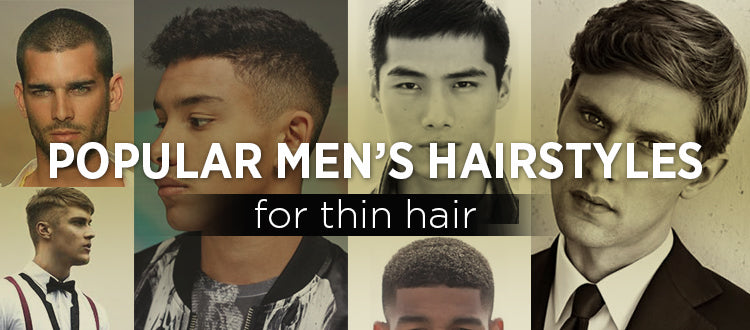 Popular Men's Hairstyles for Thin Hair
Your dad and the other men in your life probably have a great influence on your perspective of hairstyles for men.
Whether they have good or bad hairstyles is another story, but however the important men in your life wear their hair, it has most likely had an impact on the way you view hairstyles for men.
Your hair type may also be the same as or similar to your father's hair, and probably influences the cut or style of the hair you have now. If your father has or had thin hair, you can thank him for passing that one down to you.
Not to worry though, because we are always here to help you out in the hair department. Just because you can't rock a man bun doesn't mean you can't have a great hairstyle, and we'll show you why the most popular men's hair trends for 2015 confirm this.
In celebration of Father's Day, we're taking a look at past hairstyles, popular hairstyles today, and giving you a glimpse of Toppik employees with their fathers! Whether your dad has short hair, long hair, a crazy 'do, or no hair at all, it's time to celebrate him and that hair!
First, let's take a stroll down memory lane and check out hairstyles of years past…
A Stroll Down Memory Lane
It's hard to believe these hairstyles for men were all the rage back in the day, but they do make for some pretty entertaining pictures when you look back on them.
1. The Bowl Cut

Credit:Reddit Postalworker; Theoctopus
Quite literally, the bowl cut involved cutting your hair so that it looked like you had a bowl for hair. To make the edges perfect, hairdressers would even use an actual bowl! This hairstyle was simple and especially easy to pull off if you had shorter hair. It also worked well for thinning hair men because as long as you could grow the hair out, the cut itself would make your hair appear thicker.
2. The Mullet

Credit: http://menshaircutstyle.com/
"Business in the front, party in the back." The mullet may be the most cringe-worthy of all the horrible hairstyles from the past. While some say it dates back as far as the Roman Empire, you've probably mostly seen this hairstyle in television shows and movies. Not an easy haircut to pull off, depending on the hair you have the mullet can take anywhere between half a year to a year to grow out. That's dedication!
3. The Combover
Now this is a hairstyle we might have been able to get behind. Even though it's not the greatest look, it was created to help hair thinning men cover their exposed scalp, so we can't fault anyone for that. We just wish they had had some Toppik Hair Building Fibers to help make their hairstyle appear more natural!
4. Metal Hair
This hairstyle for men became popular with the emergence of 70's and 80's rock bands. Maybe a blessing in disguise, this hairstyle was not easy to pull off for thinning hair men. The time, effort, and upkeep for this mens haircut rivaled any womens haircut or style of the time. With as big of a statement as this mens hairstyle makes, we're glad it's no longer making a statement in 2015.
Will popular mens haircuts and hairstyles today look as goofy to future generations as some of these dated hairstyles do to us now? We're hoping not, but it's hard to say what future hairstyles for men will look like…
Popular Hairstyles for Men in 2015
Whether you're looking for a new style or cut, or just want to see some inspiration, hairstyles for thinning hair are finally in and easier than ever to maintain and pull off in 2015.
While longer hair will always be around, we're happy to report that the man bun is no longer considered a top hairstyle for men. The new hair trends for 2015 want you to embrace shorter hair, and we can't think of better news for hair thinning men!
Let's take a look at some of the top hairstyles for men for 2015…
1. The Buzz Cut
This classic hairstyle is becoming popular again, so if you've been thinking about going shorter, now is the time to give this mens haircut a try. This haircut is said to suit men with a strong, square face shape best, but talk with your hairstylist if you'd like to give it a try, as he or she may have a few tricks to making this haircut work for any face shape. You can also decide whether you want this cut to be all the same length, or if you want it to be slightly different on the sides or back. If you're looking for a low maintenance hairstyle, we recommend giving the buzz cut a try!
2. The Fringe
If you have slightly longer, thin hair, the fringe is a great 2015 hair trend to try. It became popular after being seen on all the fashion runways this year, and hairstylists predict we'll see it again come Fashion Week in September. You can pull hair forward or sweep it across your forehead; the look is versatile and fun. Be aware that it will require a little more upkeep – since you'll need to keep your hair from falling into your eyes, but we think it's worth it if you like this look.
3. Disconnected Sides
This is a great hairstyle for all types of hair. A normal disconnected hairstyle features a sharp transition from short to long hair, so it's easiest to achieve if you have the hair on the top slightly longer than the sides. This hairstyle works well for hair thinning men because the hair on the top of the head can be thin as long as it's long. If you're not able to grow your hair out to this length, you can still pull off this hairstyle by keeping the hair on the top short, but slightly longer than the sides, similar to the images above.
What do you think of these 2015 hair trends for men? We've got more hair inspiration below if you're still looking to try a new hairstyle…
Famous Dads with Great Hair
While these celebrity dads aren't necessarily men with thinning hair, it's still great to see what hairstyles they are rocking, especially for inspiration!
Jay-Z and Blue Ivy
Tim McGraw with wife Faith Hill and their three daughters

Credit: www.celebritybabies.people.com/
Gerard Piqué with wife Shakira and their son Milan

Credit: http://www.celebritybabyscoop.com/
Chris Hemsworth with daughter India
With all these new hair ideas to try, we wanted to share our own photos with you, to remind you of where your great hair comes from!
Our Dads!
In honor of Father's Day, we wanted to share some of our photos of our fathers with you. We hope you'll take the time to celebrate the important men in your life today!
We hope you learned some new hairstyles to help with thinning hair, (and got a laugh looking at past hair trends) but if you know of any tips or tricks that we didn't mention, let us know in the comments section!
Stay In the Know
Do you know what makes our Hair Fibers stand out from the rest? Check back with us next week as we discuss the differences in our Hair Fibers, and why Toppik is still number one in the Hair Fibers category.
If you want to be the first to know about new posts to the Hair Toppiks Blog, sign up for the Toppik VIP list to receive an email a couple times per month or check us out on Facebook!