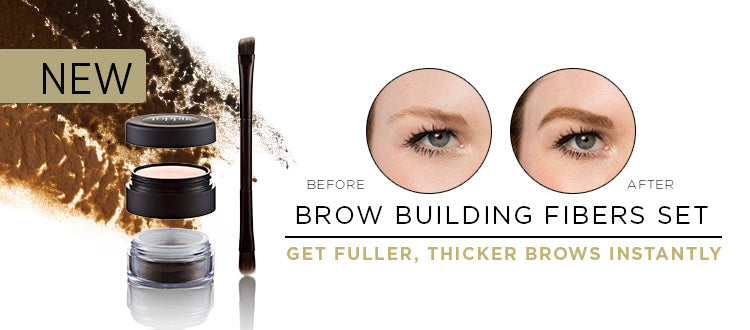 NEW FROM TOPPIK: Get Natural-looking, Full Brows with the Brow Building Fibers Set
Over the years, many Toppik customers have found creative ways to use their Toppik Hair Building Fibers – see some of them here!
We love seeing and hearing about the unique ways Toppik customers use our Hair Fibers and other products, and we kept hearing about one way in particular that stood out to us. As the bold brow trend spreads across the internet, magazines, fashion models, and overall abundance of new brow products on the market, it's no surprise that our customers wanted a product that they could use on their brows.
Since Toppik Hair Fibers are designed to make thin hair look thick and full, we found that many customers were using Hair Fibers on their brows as well as on their hair to help fill in any patchy areas and create fuller-looking brows. This led us to create our newest Toppik product, the Toppik Brow Building Fibers Set!
Now you can easily fill in and shape eyebrows correctly with this 3-piece kit.
While there are many eyebrow gel and eyebrow powder products available, Toppik is the first to offer completely natural hair fibers as a way to define, shape, and fill in brows.
If you've been looking for a brow product, look no further than the Toppik Brow Building Fibers Set. It's going to be a game-changer in the beauty and cosmetic world.
Keep reading to learn more about this innovative and unique product, and why the brow trend is only going to get bigger.
The Brow Trend
The brow trend has taken off in the past couple of years, with thick, bold brows being the latest beauty obsession.
Women didn't always want thick, full brows though. If you remember the 90's and celebrity trends, thin eyebrows were actually in. Women tried to get eyebrows like Gwen Stefani and Kate Moss, and the results were not as flattering as thick brows. This is because women figured out that thin brows actually age you. Take a look at the photos below and the differences in the before and after pictures. Don't you think these celebrities look younger and have a more natural, soft look to them now than they did with their thin eyebrows?

Stephen Shugerman / Getty Images / Dimitrios Kambouris / Getty Images

Gareth Cattermole / Getty Images / Jason Merritt / Getty Images

Evan Agostini / Getty Images / Alberto E. Rodriguez / Getty Images
Enter new, young celebrities like Cara Delevingne, Lily Collins, and Keira Knightley, who all have bushy, natural brows that are thick and full. They've literally changed the eyebrow game, making every woman spend time, energy, and money trying to get thick brows like them.

IMAXTREE / www.harpersbazaar.co.uk
We realize that gorgeous, bold brows are the latest beauty craze, and that it can be hard to find the right product for your brows. That's why we developed a ground-breaking product that will transform your brows.
Ready to get full, natural brows with Toppik's newest product? Keep reading to find out why this is the best product for your brows if you want thick, bold brows without looking overdone.
Ground-breaking Innovation in Brow Building and Filling
Introducing the 3-piece Toppik Brow Building Fibers Set that lasts longer than eyebrow powder and looks more natural than eyebrow gels and pencils.
The Toppik Brow Building Fibers Set makes even the thinnest eyebrows instantly thick, full and natural-looking. Whether you want to fill in patchy areas or really make your eyebrows pop, the Toppik Brow Building Fibers Set is the best eyebrow makeup for full, natural brows. The 3-piece kit includes a brow wax to shape eyebrows, Brow Building Fibers and a custom dual-end brush for wax and fibers application.
You can finally learn how to shape eyebrows correctly with this 3-piece kit. The three key components make this groundbreaking brow set unique.
The Brow Conditioning Wax sets and defines the shape of your natural brows
The Brow Building Fibers adhere to brows, fill in patchiness, and give brows long-lasting thickness and color
The Dual-End Brush ensures simple and precise application
The Brow Building Fibers Set is available in three versatile shades that work with nearly all brow colors.
We also made sure the Brow Conditioning Wax and Brow Building Fibers were made to help your hair and skin. The Brow Conditioning Wax is made with nourishing Mango, Shea and Cocoa Butters to condition the skin and brow follicles. Avocado and Jojoba Oils in the wax also add moisture and help tame unruly brows.
The Brow Building Fibers are made of colored keratin protein, the same type of protein that is found in your hair. They have a natural static charge that binds the Brow Building Fibers to your hair, creating a completely natural look and feel.
We'll show you how to get your best brows yet with our collection of tips, tricks, and how-to information below!
How to get Your Best Brows
It's not just about finding the right product to help you create bold, beautiful brows, but you also have to know how to shape eyebrows as well.
We've collected our favorite tips and tricks below to show you how to take your eyebrow game to the next level.
First, it's important to know what type of face shape you have, so that you can set the look and arch of your brow. This is the first step to defining your brows and figuring out how and where you should wax, thread or pluck your eyebrows.
One helpful tip to keep in mind is if you're plucking, fill in your brows before you pluck, so that you don't get rid of too many hairs.
Also remember to take a step back from the mirror so that you can survey your work from afar. Sometimes standing too close to the mirror can cause you to forget about the shape you're trying to create. For more general guidelines, see the image below from Gurl.com.
Once you know the shape that you are going for, the next step is to think about where you want your eyebrows to start and stop. As a general rule of thumb, your eyebrows should start and stop at the points below. It's easiest to line a pencil or tweezers up along your nose and follow the lines to the points on your brows.
Next, make sure you're using the right color on your brows. If you're going for a softer look, the fill-in color you use should be one shade lighter than your natural brow color. If you're going for a bolder, more noticeable look, a darker brow color will make your face and eyebrows stand out more.
Once you've figured out your brow shape, how to properly create and maintain that shape, and what brow color you should be using, then you can pick your brow product. The Toppik Brow Building Fibers Set is easy to use and will give you the most natural-looking, full brows. We've created a step-by-step process so you can see how to use this product and how easy it is to get thick, bold brows!
We're very excited to share this new innovative brow product with you, and to help show you how well it works, we're running a brow Instagram contest now through 9/30/15!
WIN $100 from Toppik!
It's time to show off your gorgeous brows for a chance to win $100 to Toppik.com!
Upload a photo or video of you on Instagram using the new Toppik Brow Building Fibers Set with the hashtag #ToppikBrows for a chance to be 1 of 5 winners to receive $100 to Toppik.com.
CONTEST RULES: Entrants must upload a photo or video on Instagram by 9/30/15 using the Toppik Brow Building Fibers Set and include #ToppikBrows for a chance to win; only US residents eligible; winners will be sent a direct image/message via Instagram by 10/9/15 and must confirm their prize via email by 10/16/15 by providing a valid email address or another winner will be selected; 5 winners will receive a $100 credit toToppik.com which may only be redeemed by calling 1-800-THICKEN (844-2536); $100 credit will expire 12/31/15.
Are you ready to get thicker, bolder brows naturally? Leave us a comment in the section below and let us know what you think of this ground-breaking new product!
Stay In the Know
Now that we've made sure your eyebrows will always look flawless, next week we'll be talking about caring for damaged hair and what you can do now that the end of summer is approaching.
If you want to be the first to know about new posts to the Hair Toppiks Blog, sign up for the Toppik VIP list to receive an email a couple times per month or check us out on Facebook!