Men's Grooming Tips for Thin Hair
Most men will experience hair thinning at some point in their lives. But just because you have a little hair loss doesn't mean you should throw in the towel and give up on getting thicker hair! There are some simple men's hair grooming techniques that can help you make the most of the hair that you do have. Keep reading for our favorite men's hair grooming hacks for fine and thin hair.

Men's Hair Grooming: 9 Ways to Style Thin Hair
1. Cut It Short
Many men with thin hair try to grow out their hair or part it differently to cover bald spots. But actually, shorter hairstyles are way more flattering for thin and fine hair.

This is because long hair is heavy, so it has less volume at the roots. Short hair, on the other hand, is more lightweight, so it looks good in volumized styles. Men tend to lose their hair on top, so keeping the hair shorter on the sides helps to blend everything together and make those thin areas less apparent.

Men who have a bit more hair to work with should ask their barber for a hairstyle with short sides and a little more length on top. If you're further along in your hair loss journey, ask your barber for a close crop.

2. Wash Your Hair Often
Most guys with thinning hair are afraid to wash their hair too often. Unfortunately, too-greasy hair clumps together, creating more scalp show-through. But don't worry, it's a myth that washing your hair too often makes it fall out! In fact, washing your hair can help make your hair look thicker by reducing the oiliness that weighs down strands, giving hair more volume.

Just make sure to select a gentle shampoo that won't dry out your hair or scalp, like Toppik Hair Building Shampoo. This lightweight formula doesn't weigh hair down and leaves it healthier and fuller-looking. For best results, follow with Toppik Hair Building Conditioner after shampooing.

3. Try Dry Shampoo
Dry shampoo is a great option for guys who don't have time to wash their hair every day. Dry shampoo works by absorbing excess oil to add volume to fine and thin hair.

Just make sure to give hair a good scrubbing the next time you wash it, since products like dry shampoo can create a buildup on your strands that will eventually weigh them down.

4. Use a Thickening Serum
Adding a thickening serum to your daily styling routine can mean a big difference for your hair's appearance. Toppik Hair Fattener Advanced Thickening Serum has essential nutrients that maximize every hair strand to create noticeably fuller, thicker hair. For an extra boost of volume, apply Toppik Thickening Serum to wet hair and then blow dry.

5. Choose the Right Hair Products
Stay away from products that are too greasy or waxy, which will weigh hair down. Definitely avoid hair gel at all costs, since it can cause strands to separate, leaving your scalp more visible. Instead, choose lightweight products with hold like light pastes, pomades or mousses.
6. Put Down the Comb
Styling hair with a comb or brush can make hair look more limp and flat. Instead, try styling your hair with your fingers to add texture and volume.

7. Blow It Out
Blow drying is a great way to give fine or thin hair some added volume. As you dry your hair, rough it up with your fingers for more texture. Just be careful not to turn the temperature up too high, since heat damage can cause breakage and damage that can make hair look even thinner.

8. Grow Facial Hair
Do you shave daily? Consider taking a break! Growing some facial hair or even a full beard can draw focus towards your face and away from thinning hair.

9. Try Hair Fibers
Toppik Hair Building Fibers are the best way to add the look of instant fullness to fine or thinning hair. Toppik Hair Fibers work by clinging to even tiny strands through an innate static charge, creating the appearance of thicker and fuller-looking hair. They're made with premium natural keratin fibers similar to human hair, so they blend undetectably to build natural-looking thickness. And they resist wind, rain and perspiration for long-lasting results, and they wash out easily with shampoo!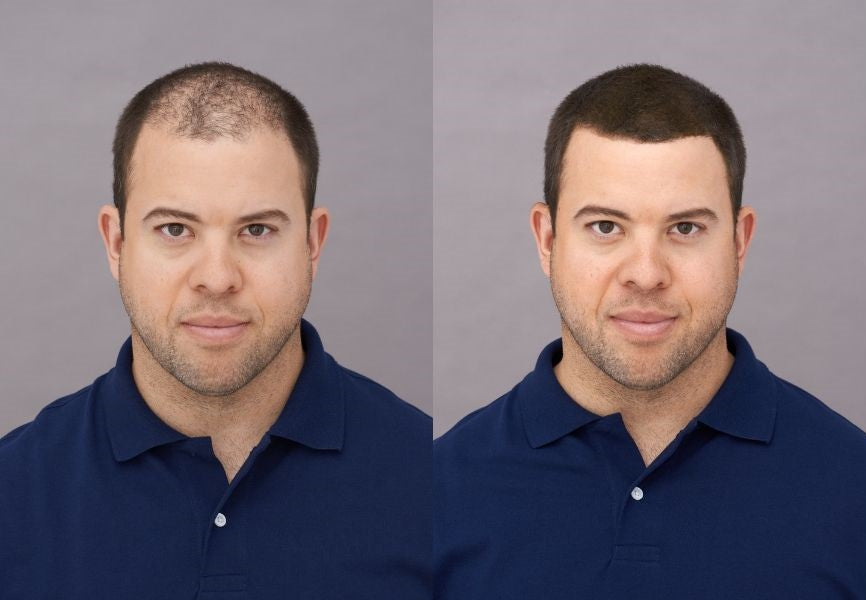 How To Apply:
Dry or style hair as usual. Then shake Toppik Hair Building Fibers onto thinning areas.
Gently pat hair to disperse Fibers. If desired, lightly comb, brush or style hair after applying.
For longer-lasting results, follow with the Toppik FiberHold Spray.
For more precise application, use with the Toppik Spray Applicator attachment.
For a soft, natural-looking application along the hairline, use the Toppik Hairline Optimizer when applying.
Adding just a couple minutes to your hair grooming routine can go a long way towards making your hair look thicker and fuller.

Do you have any men's grooming tips for thin hair? Let us know in the comments!