Do you have stringy hair? Stringy hair is caused by too much sebum (the natural oil of the scalp) on the hair shaft. This sebum makes the hair stick together, causing it to resemble strands of string. Stringy hair is a common issue for people with fine or thin hair with a straight or wavy texture, since it's easier for the natural oils to travel down the hair shaft. However, even curly hair can be stringy if not cared for properly. If you're struggling with stringy hair, keep reading for our stringy hair-solving tips!

7 Ways to Fix Stringy Hair

1.Use a Thickening Serum
One of the best ways to eliminate stringy hair is to use a thickening serum like Toppik Hair Fattener Advanced Thickening Serum. This concentrated hair styling serum has a keratin formula that adds volume, thickness, and shine to hair*.
To use, rub a very small amount between your hands, and then apply to damp hair. Use a wide-tooth comb to distribute evenly. For maximum volume and body, blow dry your hair upside down until completely dry. Then brush out.
2. Use the Right Shampoo & Conditioner for Your Hair Type
If you have fine or thin hair, it's important to use a shampoo and conditioner that's formulated specifically for your hair type. Otherwise, you could end up with stringy hair. Why? Because many cleansing products are designed to moisturize thicker, coarser hair. While that's great if your hair is thick or coarse, all that moisture will just weigh down your fine hair. The result? You guessed it – stringy hair.
To avoid stringy hair, we recommend using Toppik Hair Building Shampoo & Conditioner, which gently cleanse and provide hair with lightweight moisture. Hair is left looking naturally thicker and fuller.
3. Follow the "Ear Rule" of Conditioning
Even if you use a conditioner for fine or thin hair, you could still wind up with stringy hair if you apply the conditioner to your roots. Your roots are naturally moisturized by your scalp's oils, so they don't need the extra moisture from your conditioner. Thus, applying conditioner to your roots will just leave you with stringy hair. Instead, follow the "ear rule" and only apply conditioner to your hair beneath your ear level.
4. Be Careful with Styling Products
When it comes styling products, a little goes a long way on fine or thin hair. Just as a too-heavy conditioner will leave fine hair lifeless, so too will too much product in the hair.
When applying products, use a light hand (think a dime-size amount of serums and gels) and always use a comb to distribute that product evenly. But look on the bright side – using less product means you won't need to buy new styling products nearly as often!
5. Use Dry Shampoo
If your hair starts to look stringy in between washes, spray dry shampoo at the roots. Dry shampoo absorbs excess oil, giving your hair extra bounce and body. For extra volume, quickly blast your roots with the blow dryer after applying dry shampoo.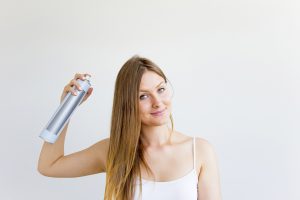 6.Use a Boar Bristle Brush
Consider swapping out your plastic hair brush for one made out of natural boar bristles. These natural bristles help to distribute the scalp's oils evenly through your hair, which keeps your hair moisturized and prevents stringiness. Plus, a boar bristle won't leave your hair staticy like a plastic one.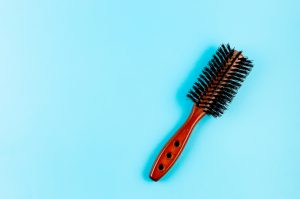 7. Get a Trim
The longer that fine, thin hair gets, the flatter it lays. To avoid long stringy hair, visit your hairstylist for a new cut. It doesn't have to be drastic – you may find that getting just a few inches cut off is your perfect solution for stringy hair! Cutting your hair into a collar bone-length lob or shoulder-length lob will make your hair look thicker and fuller with very little effort.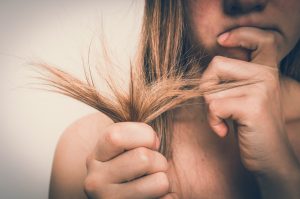 Do you have any tips for fixing stringy hair? Let us know in the comment section below!
*Consumer perceived