DIY Hair Masks for Thicker-Looking Hair
Why buy deep conditioning masks when you probably have all the ingredients for a homemade hair mask right in your kitchen? If you're looking to indulge in a little self-care, you might try one of these DIY hair mask recipes that may help your hair look thicker and healthier.
Hint: When making your own beauty and hair care recipes, always do a small skin test first to be sure you're not sensitive to any of the ingredients before fully applying the mixture to your skin or hair. And of course, if you have known allergies or sensitivities to any of the ingredients, please don't use them.
Coconut Oil & Honey
Coconut oil has fatty acids that moisturize hair to help prevent breakage, which can help hair look like it's growing faster. And honey is a natural humectant, which means it helps to hold moisture in your strands. So the combination of coconut oil plus honey in this mask can help boost hydration to parched, damaged strands.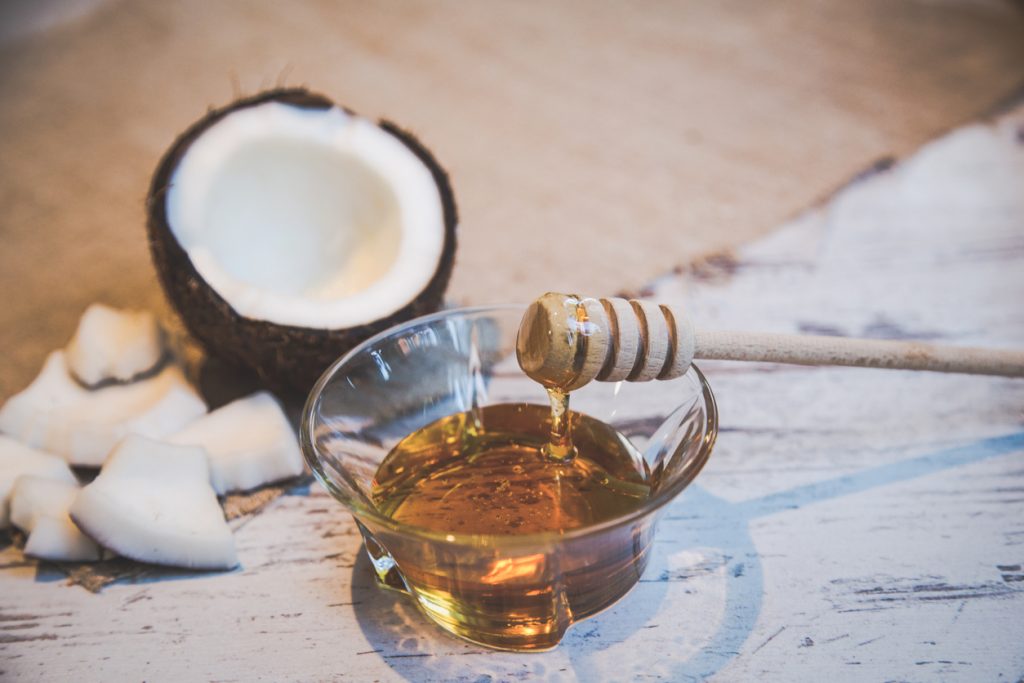 Directions:

Mix 1 tablespoon of melted extra virgin coconut oil with 1 tablespoon of honey.
Apply evenly to hair from roots to tips, then cover with a shower cap.
Allow the mixture to soak into hair and work its magic for 20 to 30 minutes.
Wash hair with Toppik Hair Building Shampoo, then enjoy softer and more moisturized hair.
Milk & Honey
If your hair is thin or fine, coconut oil might be too heavy for your tresses. Instead, this homemade hair mask utilizes milk as a lighter-weight moisturizing ingredient.

Directions:

Pour 2 cups of low-fat milk in a microwave-safe bowl and heat until it's room temperature.
Then, add 2 teaspoons of honey and 1 teaspoon of flour to thicken the homemade hair mask.
Divide hair into sections, then pour the mixture over each section of hair (you'll want to stand in the bathtub for this part!). Make sure to thoroughly saturate each section of hair.
Wait 20 minutes, then shampoo and condition hair as usual using Toppik Hair Building Shampoo and Toppik Hair Building Conditioner.
Tip: You can also try this mask if you have thick or coarse hair. Just swap out the low-fat milk for whole milk or half-and-half.

Egg Yolks
While you can't do much to affect your hair growth rate, you can help prevent breakage with a little extra TLC. By stopping breakage in its tracks, your hair will appear to grow faster. One solution for preventing breakage is this DIY egg yolk hair mask. Eggs contain protein and lecithin, which help to strengthen hair. Plus, the olive oil helps moisturize hair to reduce dryness and brittleness.

Directions:

Mix 2 whole eggs with 2 tablespoons olive oil.
Apply the mixture to dry hair and allow to sit for 30 minutes.
Rinse hair with lukewarm water, then shampoo and condition as usual.
An Easier Way to Get Thicker-Looking Hair Now
DIY hair masks can be messy. Plus, it takes time to mix them, apply them to hair, and then wash them out. They're fun for a night in, but what if you want thicker-looking hair right now?

Try Toppik Hair Building Fibers! Toppik Hair Fibers are statically charged, salon-quality fibers that create a magnetic effect, clinging to even the tiniest hairs, for a natural look that lasts until you wash your hair. Use Toppik Hair Building Shampoo, followed by Toppik Hair Building Conditioner, which helps revitalize strands with a nourishing complex of keratin proteins and aloe that leaves hair looking stronger, thicker and healthier. That's why Toppik has built a strong reputation among celebrity stylists as Hollywood's best-kept secret!

Do you have a favorite homemade hair mask? Share your recipe with other readers in the comment section below!