Thinning Part? Get Thicker-Looking Hair Now
If you've started seeing your hair thinning at the part, you might feel like the only woman in the world with hair loss. But believe it or not, female hair loss is very common. In fact, the Cleveland Clinic reports that about half of all women will have noticeable hair loss at some point in their lives. So if you're seeing your hair thinning at the part or your ponytail is looking a little thinner, you are definitely not alone. Luckily, there are a few easy fixes to disguise a widening part and hair thinning. Keep reading to learn what you can do now.

Why is My Hair Thinning at the Part?
There are many reasons why women experience female hair loss. Whether your thinning is linked to aging, genetics, nutritional deficiencies in your diet, hormonal changes (think: post-pregnancy or menopause), overstyling, or a combination of other factors, significant hair thinning is stressful. But it can also be a very normal stage in a woman's life.

For most women, the most obvious signs of female pattern hair loss are a widened part and a smaller ponytail, and more rarely, some may see thinning at the temples. In many cases, female hair loss is just temporary and after a few months, your hair will grow thicker again on its own. But if you're experiencing serious or long-term thinning , ask your dermatologist about your possible causes and treatment options.

How to Disguise Hair Thinning at the Part
Lots of women experience female pattern hair loss. Probably more than you realize! However, with a few styling tricks, you can actually conceal hair thinning at your part.

But before we get to the styling, we recommend visiting your hairstylist. Why? Because one of the easiest ways to create the illusion of thicker hair is just getting a few inches cut off! Shorter hair isn't weighed down by extra lengths, so it has more volume and bounce. Plus, face-framing layers can make your hair look fuller.

Once you have your new 'do, follow this simple routine to help you disguise hair thinning using the right hair products, blow-drying and styling tips, and Toppik Hair Building Fibers:

Start by washing your hair with Toppik Hair Building Shampoo. This gentle shampoo nourishes thinning hair while cleansing, to give it the look of more volume and fullness. Then follow by applying Toppik Hair Building Conditioner from ear-level to your ends. This conditioner has a lightweight formula which adds much-needed moisture and nutrients to revitalize thin locks.
While hair is still wet, work a small amount of Toppik Hair Fattener Advanced Thickening Serum from roots to ends. This hair styling serum adds volume and thickness to maximize every hair strand. Plus, it adds shine so your hair looks healthy.
Scrunch and air-dry your hair, or rough blow dry with your head upside to speed up the process, and add more volume at the roots to boot! When hair is about 90% dry, twirl small sections of hair around a round brush and blow dry hair in the opposite direction of where it naturally falls. Finish each section with a quick blast of cool air to set the style.
Finally, it's time to break out the Fibers! Choose a shade that matches your root color. Toppik Hair Building Fibers have an innate static charge, so they naturally cling to even the tiniest hairs and blend undetectably to make your hair look instantly thicker.
To disguise hair thinning at the part, shake the Fibers along your part. Then gently pat the Fibers into place with your fingers. For hair thinning at the temples, use the Spray Applicator attachment and the Hairline Optimizer tool. Use your thumbs to gently push up on the shaker top to remove it from the Fibers bottle. Then screw the Spray Applicator onto the bottle. Hold the Hairline Optimizer horizontally along your hairline at the temples and gently squeeze the Spray Applicator to apply the Fibers precisely where you want them. The Hairline Optimizer creates a softer, more natural-looking hairline with the Fibers for a flawless look.
Finally, spray hair with FiberHold Spray to strengthen the bond between Fibers and hair strands. FiberHold Spray will give you long-lasting results plus add shine.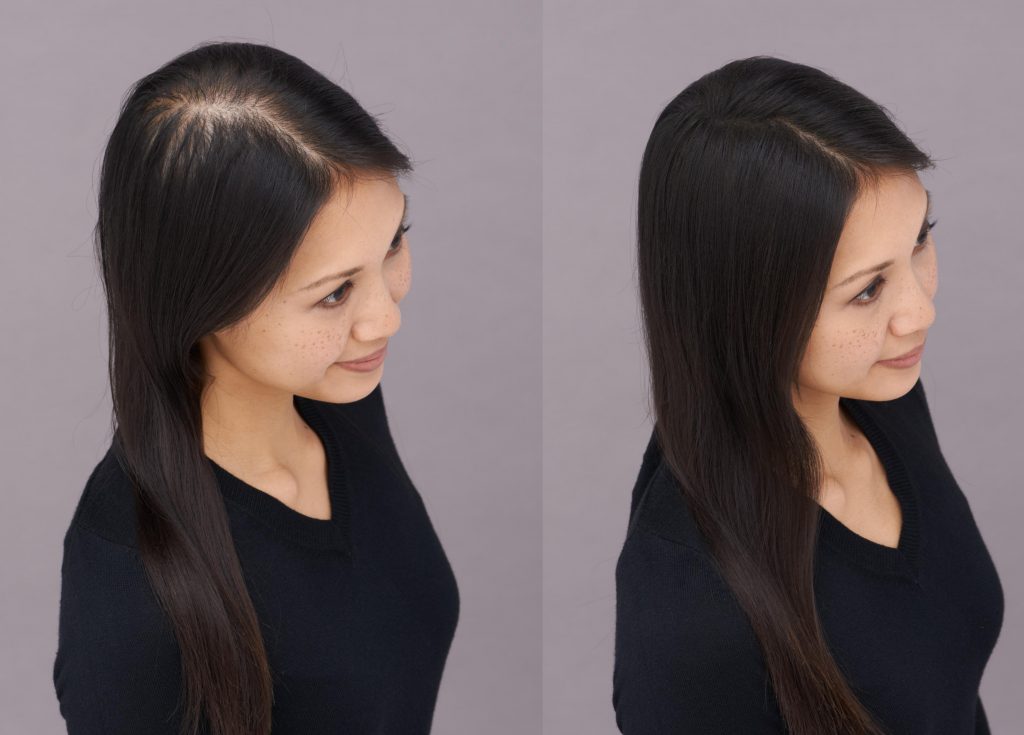 Do you have tricks for disguising thinning hair? Share your tips and tricks with other readers in the comment section below!