Causes of Hair Loss in Teens
Originally posted on February 27th, 2018
While not uncommon, hair loss in teens can be frustrating and cause severe self-doubt. It can occur suddenly, and understanding the root cause can be difficult.
Here are five causes of hair loss in teenage males and females, along with tips for dealing with hair loss.
5 Possible Causes of Hair Loss in Teenage Females
    1. Hormones
Polycystic ovary syndrome (PCOS) is a common health issue in teenage girls. One of the symptoms of PCOS is hair loss. PCOS is a hormone disorder that overproduces androgens. Androgens can cause body and facial hair may begin to grow, but they can also cause thinning hair on the scalp. 
    2. Medication
Certain medicines, like antidepressants, acne medication, and even birth control pills, can cause hair fall in teenage females. Progestin is the main ingredient in many birth control pills and has been linked to hair loss in women. There can be a higher risk of hair loss if you're sensitive to hormone changes. 
    3. Alopecia Areata
If you have balding patches around your scalp, you may have alopecia areata. Alopecia areata is an autoimmune disorder that attacks the cells in your hair follicles, causing hair to fall out in clumps. Certain topical steroids may help prevent this type of hair loss. 
    4. Hair Treatments
Dyeing your hair and trying new hairdos can be fun, but doing it too often might cause your hair to break or fall out. Try to go longer between processing and use conditioning treatments to help preserve your hair health. 
    5. Traction Alopecia
Traction alopecia can occur from styling your hair in tight hairstyles. Tight ponytails, buns, or braids pull on your hair and can damage your follicles. Try to wear your hair looser and avoid sleeping with it in a tight style.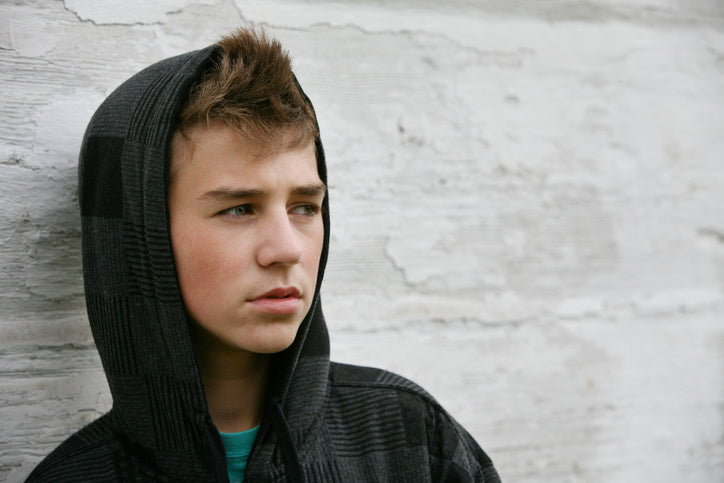 5 Possible Causes of Hair Loss in Teenage Males
    1. Health Issues
Certain conditions, like thyroid conditions and lupus, have been shown to cause hair loss. Another cause of hair loss in teenagers is tinea capitis, or ringworm, and it occurs more commonly in children. Talk to your doctor about getting tested for these conditions.
    2. Medication
If you are taking antidepressants, mood stabilizers, acne medication, or even antibiotics, it can potentially be a reason for your hair loss. These can cause medication-induced alopecia and result in hair fall in teenagers. Consult with your doctor to see if a certain medication you take has hair loss side effects. 
    3. Alopecia Areata
Alopecia areata occurs in both teen males and females, and it can severely impact their self-esteem. Thankfully, the effects may not be permanent, as the hair tends to grow back. Alopecia areata is quite common and affects 1 in every 500 to 1,000 people in the United States. 
    4. Traction Alopecia
If you have long hair and wear it in tight braids or buns, you could be causing hair loss around your hairline. Pulling your hair in tight styles can damage your follicles or lead to hair breaking off, so give your hair a break. If you don't have long hair, you can still cause friction-related traction alopecia by wearing tight helmets or hats.
    5. Androgenetic Alopecia
Androgenetic alopecia is a type of hair loss in teenage males that appears as thinness around the hairline or crown. Also known as male pattern baldness, androgenetic alopecia occurs when higher-than-normal testosterone levels affect the follicle health and cause hair to fall out. Androgenetic alopecia can occur in women, but it is more likely to be present in men. 

3 Ways to Combat Hair Loss in Teens
    1. Reduce Stress
Stress plays a big part in your overall health. Prolonged stress can contribute to health conditions, sleep deprivation, appetite changes, and more. Managing your stress levels is key to maintaining your health and reducing your chances of hair loss. 
    2. Talk to Your Doctor
Medical issues are a large reason for hair loss in teens, and it usually requires more than at-home care. Your doctor may be able to offer solutions and treatments for hair loss.  
    3. Conceal While Regrowing Hair
Hair loss can have a major impact on self-esteem. Using Toppik Hair Building Fibers to conceal hair loss can help stop the cycle of self-doubt and restore confidence to women and men of all ages and all hair types.
– – – 
What other methods do you use to combat hair loss? Tell us in the comments below!
 1Quinn M, Shinkai K, Pasch L, Kuzmich L, Cedars M, Huddleston H. Prevalence of androgenic alopecia in patients with polycystic ovary syndrome and characterization of associated clinical and biochemical features. Fertil Steril. 2014 Apr;101(4):1129-34. doi: 10.1016/j.fertnstert.2014.01.003. Epub 2014 Feb 15. PMID: 24534277.
2Graves KY, Smith BJ, Nuccio BC. Alopecia due to high androgen index contraceptives. JAAPA. 2018 Aug;31(8):20-24. doi: 10.1097/01.JAA.0000541476.24116.c4. PMID: 29979329.
3Vincent, M., & Yogiraj, K. (2013). A Descriptive Study of Alopecia Patterns and their Relation to Thyroid Dysfunction. International journal of trichology, 5(1), 57–60. https://doi.org/10.4103/0974-7753.114701
 4Concha, J., & Werth, V. P. (2018). Alopecias in lupus erythematosus. Lupus science & medicine, 5(1), e000291. https://doi.org/10.1136/lupus-2018-000291
5Leung AKC, Hon KL, Leong KF, Barankin B, Lam JM. Tinea Capitis: An Updated Review. Recent Pat Inflamm Allergy Drug Discov. 2020;14(1):58-68. doi: 10.2174/1872213X14666200106145624. PMID: 31906842.
6Mercke Y, Sheng H, Khan T, Lippmann S. Hair loss in psychopharmacology. Ann Clin Psychiatry. 2000 Mar;12(1):35-42. doi: 10.1023/a:1009074926921. PMID: 10798824.
7U.S. National Library of Medicine. (2020, August 18). Alopecia areata: Medlineplus genetics. MedlinePlus. Retrieved April 28, 2022, from https://medlineplus.gov/genetics/condition/alopecia-areata/#:~:text=Alopecia%20areata%20affects%201%20in,%2Dpattern%20baldness%20in%20women).
8Piraccini BM, Alessandrini A. Androgenetic alopecia. G Ital Dermatol Venereol. 2014 Feb;149(1):15-24. PMID: 24566563.