Hair Extensions: What You Need to Know
When we see celebrities, we often notice how great their hair looks and wonder how we can achieve a similarly picture-perfect mane. We'll tell you a secret: it's hair extensions!
It may or may not come as a shock, but most celebrities have damaged hair and need hair extensions to make their hair look the way it does. Even if they don't have damaged hair, most Hollywood hairstylists add extensions to their clients' hair to make it look thicker and fuller. 
If you've never thought about hair extensions, they have some great benefits. For instance, they can make thin hair look fuller and more voluminous and make short hair instantly longer. In addition, for anyone who has trouble growing their hair, hair extensions can be a great solution to getting longer without having to wait months or years for hair to grow.
However, there are a few downsides to hair extensions. One thing to consider is that hair extension damage is a common issue, so it's essential to understand what you are getting yourself into before you take the plunge. Also, hair extensions are not cheap, and once you start using them, it can be hard to go back to the hair you had before you started using them.
We're here to help you decide if hair extensions are right for you and guide you through what to do if extensions have already damaged your hair. Keep reading to learn more about hair extensions. 
Types of Hair Extensions
There are six main types of hair extensions:
1. Clip-In Extensions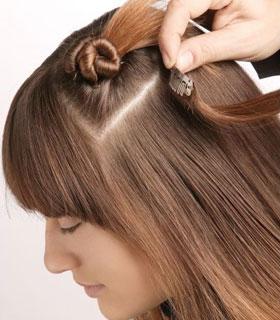 Clip-in extensions might be a great way to dip your toe in the water if you've never tried extensions. They are temporary extensions you can put in and take out whenever you want, and you don't have to have a professional put them in your hair. They're also great if you're on a budget, as most extensions can cost anywhere between $275 to $2,500! Clip-in extensions, on the other hand, are usually in the $50-$150 range.
Even though we said you don't need a professional to put in clip-in extensions, if it's your first time, it might benefit you to bring them to your hairstylist and have them cut the extensions and show you how to apply for the first time. Then, when you're ready to trade them in for new ones, you'll already be a pro at clipping them in!
2. Keratin (Fusion) Extensions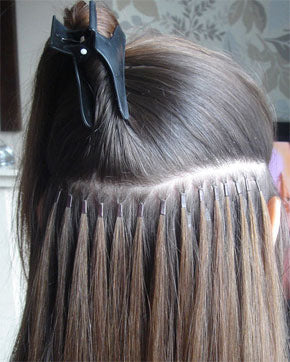 Keratin hair extensions are on the other end of the spectrum from clip-in extensions. They are one of the most popular extension methods and one of the more traditional. They are sometimes referred to as "hot fusion" or "glue-in," although not all hair professionals use glue to apply them. 
The extensions feature a keratin protein bond at the top, which is solid until melted with a hair extension tool. The hairstylist will then shape the melted keratin around the hair, and when it cools, the keratin hardens and creates a durable bond. This type of extension can last anywhere from three to six months and needs to be removed by a hair professional. It's also an excellent hair extension method if you have fine or thin hair!
3. Micro Link Extensions
Another great option for someone who has fine or thin hair and wants extensions are micro link extensions. Micro link extensions are applied strand by strand to hair and contain a coating on the inside that helps the link grip the hair. The coating is perfect for thin hair because it makes sure the links do not slip once they're attached to the hair. 
You'll need to have a professional apply these extensions. Your hairstylist will weave your natural hair and the extensions into each link. You will have to get these adjusted every six weeks or so to accommodate hair growth, so remember to take that into account when thinking about which hair extensions you want to get.
4. Hair Weft Extensions (Weave or Sew-In)
A hair weft (hair curtain) is another type of hair extension. It is commonly known as a hair curtain because of its appearance. It is usually seen as long sections of hair glued to the scalp or attached in another manner. Your hairstylist will often braid your natural hair into cornrows and sew the wefts in your braids. Most hair wefts cover a limited area, so four to six are usually needed to create a uniform appearance.
5. Tape-In Extensions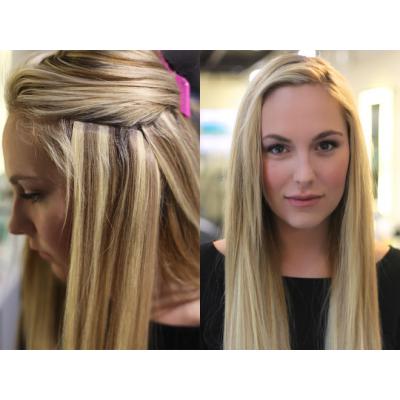 Tape-in extensions are a relatively new method and are getting positive reviews. You can be in and out of the salon in about an hour, and there's no stress on the scalp because the tape lays flat and isn't uncomfortable. They are also a good compromise in size between the large clip-in extensions and the small micro link extensions. Unfortunately, these extensions aren't ideal for high buns or ponytails because the tape is applied horizontally and is visible when the hair is in an updo. 
6. Halo Hair Extensions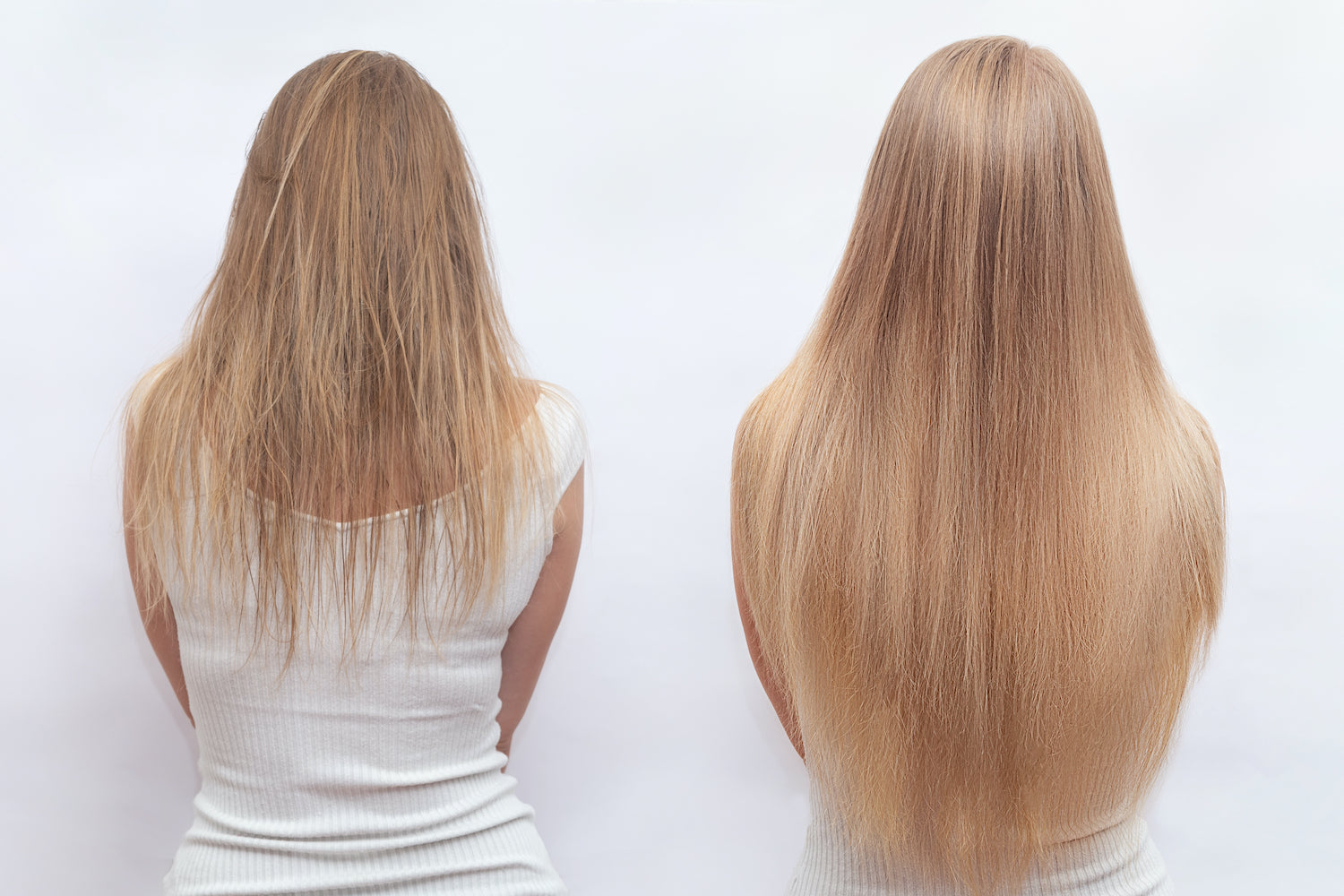 Halo hair extensions are another excellent option for those who want temporary length and thickness with minor damage. The hair extensions are attached to a "halo" worn at the crown (much like a headband). When you first get halo hair extensions, you'll need to visit your hairstylist to cut them so they blend seamlessly with your natural hair. But after that, halo extensions are low-maintenance and easy to wear. 
Real Human Hair Extensions Vs. Synthetic Hair Extensions
Hair extensions can be made from two types of hair: synthetic hair and real human hair. 
Synthetic hair is ideal for anyone dipping their toes into extensions because it's far less expensive than human hair. Synthetic hair allows experimentation with extensions before investing in the real deal. 
While synthetic hair has come a long way in terms of quality, it's still not as versatile and long-lasting as human hair. For example, synthetic hair is made of plastic and cannot be heat styled. Synthetic hair extensions are also usually coated in silicone, giving the hair a glossy sheen. However, after the silicone layer wears away, the extensions look dull and tangle easily. 
Real human hair extensions vary in quality and fall into two main categories:
Remy (Remi) Hair or Cuticle Intact
This type of hair has never been processed. Remy hair has a soft, silky texture that works well for hair extensions. However, remember that this term is not regulated, and some Remy hair is poor quality or comes from dubious sources. Thus, thoroughly researching a brand before investing in this type of hair extension is essential. Read reviews of the brand's hair; if you're still unsure, ask your hairstylist for recommendations. 
Natural Hair
Natural hair is still human hair, but it's not as high quality as Remy. It may have been colored or otherwise chemically processed. 
Can Hair Extensions Damage Your Hair?
While hair extensions can be a major confidence booster, they can damage your hair's overall growth and health.
One thing to avoid when getting hair extensions is ensuring that the hair extensions aren't heavier than your hair. If the extensions are too heavy, they can cause your hair to break off. 
Hair extension damage can also happen when the extensions are attached too tightly. This combination of weight and strain on the hair follicles can cause the hair to fall out, a type of hair loss known as traction alopecia. When hair is frequently pulled, either by braids, extensions, or very tight ponytails, the hair around the hairline begins to recede, and permanent hair damage can occur.
To prevent traction alopecia, it's important to make regular trips to your salon so that the extensions can be removed and replaced as necessary. Even more crucial is taking hair extensions out when you see they are causing damage to your hair.
Everything in moderation, right? There's a right and wrong way to do hair extensions, and as long as your hair stays healthy, hair extensions don't have damage your hair in the long run.
Solutions for Damaged Hair
If you find that hair extensions have damaged your hair, there are different ways you can treat or hide the damage.
If the hair has broken off and is damaged around the front hairline, try Toppik Hair Building Fibers on the thin areas. These Hair Fibers look like a powder but are made of keratin protein, the same type of protein found in hair. Hair Fibers cling to existing hair and make it appear fuller and thicker. For the best results, use the Toppik Spray Applicator and the Toppik Hairline Optimizer to target the part line and create the most natural-looking front hairline.
If the hair extension damage is more significant than just around the part line or hairline, try a hair concealer that covers larger areas of hair loss. Toppik Colored Hair Thickener has a spray formula in five colors that match almost every hair color. Simply spray the formula where you would like to cover thinning hair or hair loss, and the area will blend in with your existing hair and cover the area of hair loss until you need to wash your hair. 
Remember to take care of your hair and watch for any signs of breakage or damage to keep your hair healthy and beautiful while using extensions!
Have you ever tried hair extensions? Tell us if you've tried them before and what you did to keep your hair healthy in the comments section below.
This article was originally published on October 27, 2015. It has been updated with new information.