Why Men Should Use Hair Conditioner
This article was originally published on Feb 12, 2019
What's your hair washing routine? If you've always been a shampoo-and-go kind of guy, it's time to add conditioner to your shower lineup. Keep reading to learn why hair conditioner is necessary for men, and how to choose the best hair conditioner for men.
Is Hair Conditioner for Men Necessary?
In short: Yes, most men should use hair conditioner. If you have hair on your head, you should be using a hair conditioner for men every time you shampoo.
Why? Because while shampoo is great for cleansing dirt and oil from your hair and scalp, it can also leave your hair brittle and dry. Most shampoos are formulated to be used in conjunction with a conditioner. So, if you're not using a conditioner for men after shampooing, you're not using the product as intended.
Conditioner works by infusing nutrients and moisture into the outside cuticle of your hair strands, keeping them looking healthy and great. Think of conditioner as like lotion for your hair. Lotion hydrates your skin, and conditioner hydrates your hair. Keeping your hair hydrated is important because hydrated hair is healthy hair, and healthy hair looks good!
Hair conditioner for men also mitigates damage from combing, styling, the sun, and pollution, all of which can dry out your hair. If you don't use conditioner, your hair may look straw-like and dull and become difficult to style. In some cases, hair can become so dry and brittle that it breaks off.
This is an easy step to add to your routine — think of conditioner as another grooming tool you can use to look your best.
And yes, this means you! Unless you shave your head, conditioner is essential for keeping even short hair healthy.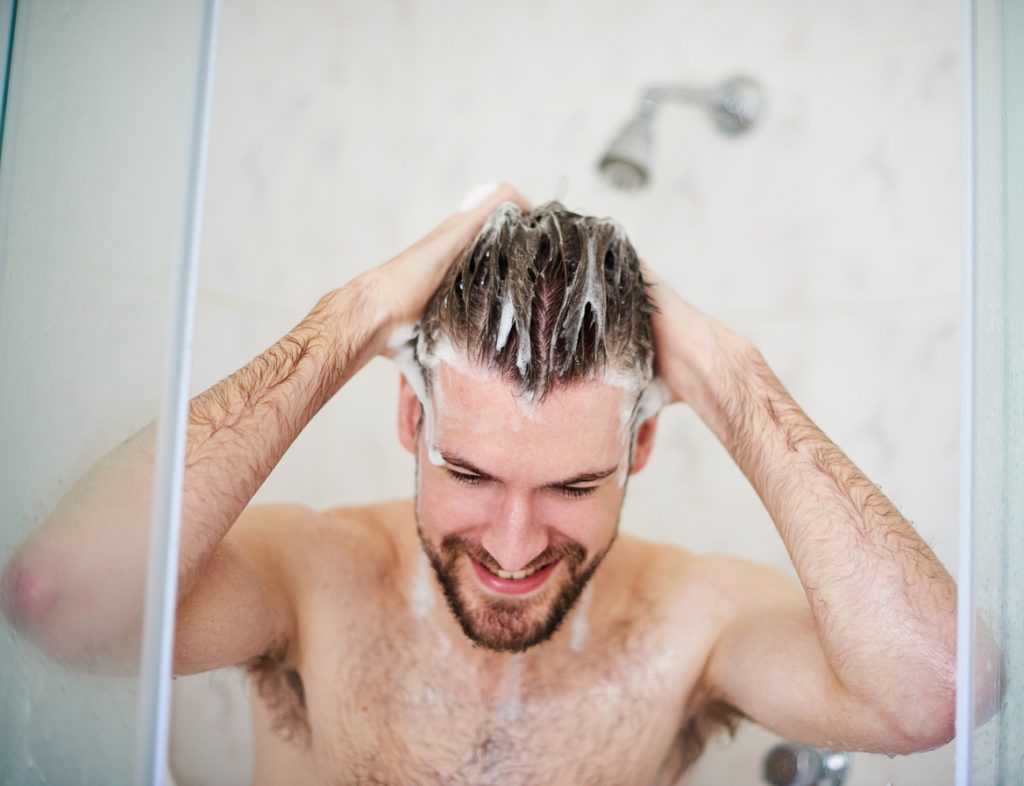 Choosing the Best Hair Conditioner for Men
Not all conditioners are created equally. Most conditioners can be divided into three types:
Rinse-Out Conditioner
This is the most common type of hair conditioner. Just apply after shampooing your hair and then rinse it out with lukewarm water.
Deep Conditioner
Sometimes called a hair mask, this is an ultra-moisturizing treatment for your hair. You leave deep conditioners on your hair longer than traditional rinse-out conditioners – usually somewhere between 5-20 minutes.
Most hair experts recommend using deep conditioner treatments once or twice a week to keep hair healthy and hydrated. However, if you color your hair, you'll want to use deep conditioning treatments more often.
Leave-In Conditioner
Leave-in conditioners often have a more watery formula and usually are packaged in spray bottles. You apply leave-in conditioner to wet hair after you get out of the shower. And as the name implies, you don't rinse it out.
Leave-in conditioner helps to detangle hair, which makes it a particularly helpful product for men with longer hair.
You can purchase a ready-made leave-in conditioner. Or make your own by mixing equal parts rinse-out conditioner and water in a spray bottle.
The Best Conditioners for Men by Hair Type
Choose the right hair conditioner for you based on your hair type. Find your hair type below to discover which hair conditioner will work for you.
The Best Men's Conditioner for Fine or Thinning Hair
Men with fine or thinning hair should avoid heavy conditioners that weigh down hair.
However, that's no excuse to skip the conditioner altogether! After all, without that hydration, hair can become brittle and break off. And that's the last thing you want when your hair is thinning. Choose a lightweight conditioner made with hydrating ingredients like aloe vera.
The Best Men's Conditioner for Dry Hair
Dry hair is brittle and especially prone to breakage. Dry hair can be genetic or caused by excessive processing. Either way, dry hair can benefit from more frequent deep conditioning treatments. Look for rich moisturizing ingredients like plant oils (coconut, argan, avocado, etc.), shea butter, and vitamin E.
The Best Conditioner for Men with Oily Hair
Men with oily hair should also use a lightweight conditioner. Even if your hair is oily, you still need hydration after shampooing. You may also benefit from a men's conditioner formulated with tea tree oil or rosemary, which can help combat excessive greasiness.
Hair Conditioner for Men: How to Use
So how do you use hair conditioner for men? Follow these simple steps.
Step One: Shampoo
Start by washing your hair with your favorite shampoo. Hint: use lukewarm water. Scalding hot water dries out your hair and may leave it looking dull and frizzy.
Step Two: Condition
Apply the conditioner evenly throughout the hair. If you have a dry scalp, apply the conditioner to your scalp as well. If your scalp is oily or you have thinning hair, don't apply conditioner to your scalp. Leave the product on for two to three minutes before rinsing.
Step Three: Rinse
Rinse the conditioner thoroughly from your hair. It's important that you don't leave any product in your hair, especially if you have thin or oily hair.
Step Four: Style
Blow dry your hair or allow it to air dry. Finish styling by applying Toppik Hair Building Fibers. Toppik Fibers are made from keratin protein and cling to existing hair with an electromagnetic charge. The result? Hair looks thicker, fuller, and more polished – instantly.
Do you use hair conditioner for men? Let us know in the comments!