How to Grow Your Hair Faster
Is a too-short haircut making you wish your hair would grow faster? We've all been there. Of course your hair will eventually grow out, but is there a way to increase your hair growth speed and make hair grow faster? If you're wondering how to grow hair faster, keep reading!
Determining Hair Growth Speed
You can definitely take steps to maximize your hair growth by preventing breakage, but you will be limited by your hair growth speed. At most, hair grows one-half inch per month. That's only six inches per year, and that's only with perfect hair retention (more on that later).
Everyone's hair grows at different rates. The rate at which your hair grows during the anagen phase of the hair growth cycle is determined by a number of factors, including genetics, age, hair type and overall health. Sadly, science has yet to find a way to improve your natural hair growth speed.
Unfortunately, most people's six inches of hair growth per year don't equal six inches of hair length. Being deficient in certain hair-healthy nutrients could mean that your hair follicles aren't producing hair that is as thick or strong as it could be. But even if your follicles grow six inches of hair per year, you might not be retaining all of that hair. And if you aren't following proper hair care habits, you could be losing some of that length to split ends and breakage.
Hair Growth Tips: How to Help Hair Grow
To maximize your hair growth and reduce breakage, follow the hair growth tips below:
Hair Growth Tip #1: Shampoo Less
You don't need to shampoo every day, even if you work out. After a gym session, simply rinse your hair with warm water and massage your scalp with your fingertips. If your hair is feeling oily between washes, try a dry shampoo. Spray the dry shampoo into roots and blast with cool air from your blow dryer to absorb the oil and give your hair extra lift.
When you do wash your hair, always use a gentle shampoo like Toppik Hair Building Shampoo that is SLS-free and paraben-free. Toppik Shampoo is specially formulated to gently cleanse fine and thinning hair, giving it volume and fullness. Focus your attention on your scalp where most buildup occurs, and avoid the lengths of your hair to prevent dryness.
Hair Growth Tip #2: Limit Heat Styling
If you want to grow longer, healthier hair, you'll have to say goodbye to your heat tools, or at least save them for special occasions only. Heat tools make your hair look great temporarily, but in the long run they cause more damage than they're worth.
Luckily, there are many different ways to style your hair without heat. Learn to French braid your hair or how to pull off a topknot. Invest in sponge rollers or learn how to pin curl. Just be careful not to do the same hairstyle every single day, as this can also cause damage to your hair.
And when you do break out your heat tools for a special occasion, always use a heat protectant to defend hair against any unnecessary damage.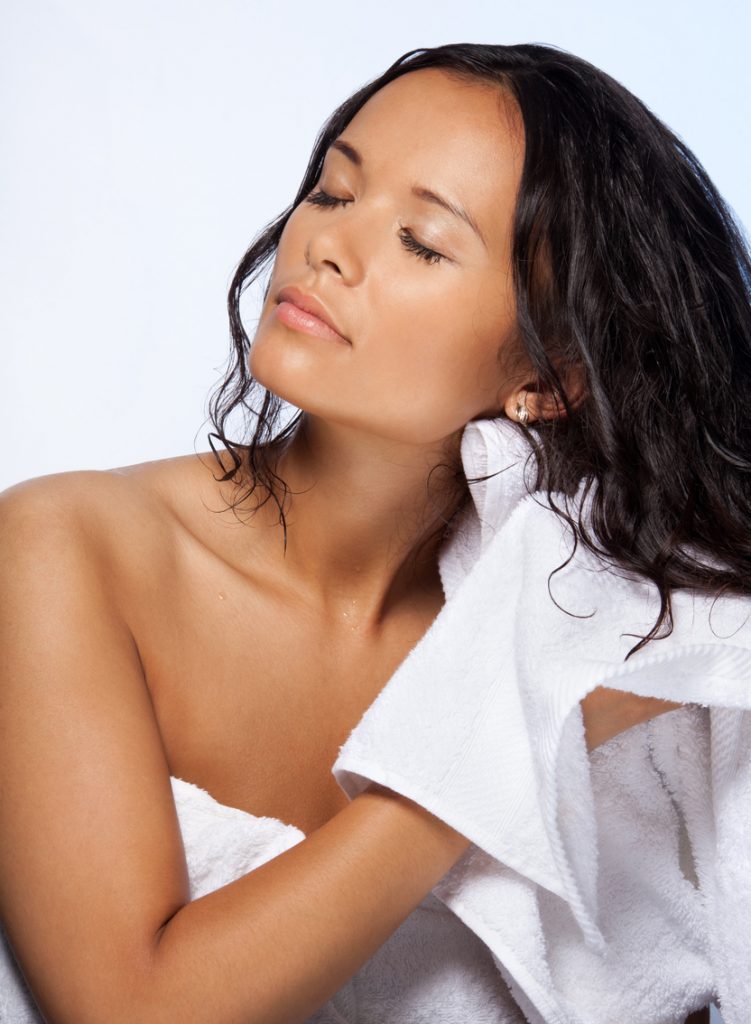 Hair Growth Tip #3: Assemble a Team of Conditioners
To prevent breakage, it's essential that you keep your hair moisturized. Remember, dry hair = breakage and split ends. To keep your hair looking lustrous, you will need a few different types of conditioners in your hair care arsenal.
Regular Conditioner
Although we don't recommend that you wash your hair every day, when you do wash it (or wet it after the gym!) you'll need a gentle, high-quality conditioner like Toppik Hair Building Conditioner to add lightweight moisture to your hair. Toppik Conditioner is formulated with a nourishing complex of keratin proteins and aloe to leave hair looking stronger, thicker and healthier.
Leave-In Conditioner
After shampooing and conditioning your hair, apply a leave-in conditioner for extra moisture. You might also try a hair-friendly oil on your wet hair, like coconut oil or argan oil.
Deep Conditioner
Once a week, swap out your everyday conditioner for a heavy-duty deep conditioner or hair mask. This type of treatment will make a big difference in your quest for long, healthy hair by helping to protect strands against split ends. For extra dry hair, apply conditioner to damp hair the night before you shampoo and sleep with hair in a towel or shower cap to allow extra time for the product to work its magic.
When assembling your team of conditioners, experiment to find the right products, application techniques, and timing for your unique hair type. Everyone's hair is different, so what works for your friend might not necessarily work for you.
Hair Growth Tip #4: Be Gentle When Brushing Your Hair
We can't repeat this enough: be GENTLE with your hair. Be careful any time you're brushing your hair to prevent breakage. Only use a wide-tooth comb to detangle wet hair. Always begin at the ends and slowly work your way towards the roots, gently teasing apart knots as you go. If possible, try to only brush your hair once a day to limit breakage.
Hair Growth Tip #5: Change Your Bedtime Routine
This simple bedtime routine will help protect strands, allowing you to grow longer, healthier hair:
Gently brush hair with a boar-bristle brush to distribute oils from your scalp along the lengths.
Apply dry shampoo or sprinkle cornstarch onto your roots to absorb any oils while you sleep.
Apply argan oil or coconut oil to the ends of your hair to keep them moisturized overnight.
Braid hair to prevent tangles during the night.
Sleep on a silk or satin pillowcase OR wrap your head in a silk or satin headscarf to prevent friction to strands, which can cause dryness and breakage.
Hair Growth Tip #6: Eat a Hair-Healthy Diet
We've all heard the phrase "you are what you eat," and that phrase applies to your hair as well. Your body considers your hair to be "non-essential," so if you're not getting the right mix of nutrients into your diet, your body will redirect the nutrients you do eat to more essential parts of your body. A healthy hair diet consists of plenty of protein, healthy fats, vitamins and minerals. Avoid cleanses and other extreme diets, as they can shock your body and actually cause your hair to fall out.
Hair Growth Tip #7: Take a Hair Growth Supplement
Even with a healthy diet, you may be missing vitamins and minerals that are helpful for hair growth and health. To fill in any gaps, try a supplement that's specifically designed to nourish hair from the inside. Our favorite is Viviscal™, which contains biotin, zinc, iron and other nutrients in a formula that's clinically proven to promote existing hair growth in three months.*
How to Make Hair Look Instantly Thicker
As you already know, hair can take a long time to grow. Luckily, there are a few easy styling tips that can make hair look thicker while you wait to reach your hair growth goals:
Style with a hair thickening serum. Toppik Hair Fattener Advanced Thickening Serum adds volume, thickness and shine+ to hair. If you're looking for some extra oomph for your 'do, look no further.
Blow-dry hair upside down. This simple styling trick costs nothing, but has big results. When blowdrying your hair, flip your head upside down and blast the roots. Drying the roots in this position will create loads of bouncy volume and make hair look thicker.
Use hair extensions. Hair extensions can make hair look thicker and longer—at a price. Longer-lasting extensions require professional installation and can be quite expensive. Clip-ins are more affordable, but must be removed each night. But watch out: hair extensions can pull out and damage hair, so choose an appropriate weight for your hair type. If you're not careful, your hair could look even shorter and more damaged after you remove them, tempting you to re-install them even sooner to cover the damage, and the vicious circle continues!
Try Toppik Hair Building Fibers. Toppik Hair Fibers are the best way to create the appearance of thicker, fuller hair immediately. Spray or sprinkle Fibers into sparse areas, then pat and finish with Toppik FiberHold Spray. Your hair will look instantly thicker, and no one will know! Plus, Toppik Fibers don't damage existing hair, so you won't risk slowing down your hair growth progress.
It takes a long time to grow long healthy hair. However, if you're committed to the process and follow these hair growth tips, we predict that long, luscious locks are in your future!
+Self-perceived results
*These statements have not been evaluated by the Food and Drug Administration. This product is not intended to diagnose, treat, cure or prevent any disease.