How to Pick the Right Eyebrow Color For You
From fluffy soap brows to super sleek arches and everything in between, the internet has been obsessed with eyebrows over the past few years. We've come a long way from the over-plucked look of the 90s and early aughts; take a quick peek around social media and you'll see dozens of different eyebrow looks to try. Before you hop onto the latest trend though, it can be helpful to know your correct eyebrow color. Today we'll go over how to find the right eyebrow shade for you!
2 Steps to Pick the Right Eyebrow Color
So how are you supposed to pick the right eyebrow shade the next time you hit up the makeup counter? First, you'll want to start by understanding your skin and hair tone.
1. Find Your Skin Tone and Undertone
While super dark and bold eyebrows definitely had their moment circa 2016, not everybody looks great with this style of brow. Instead of instinctively reaching for the darkest pot of pomade, it's important to understand your skin and hair's tone and undertone first. Tone is pretty easy to understand. Either you have a fair, medium, or dark skin tone. Undertone is where it can get a bit trickier for people.
Undertone is exactly what it sounds like, the tone under your skin color. Your undertone is either warm, neutral, or cool. To figure out your undertone, first, you can try looking at the veins in your hand. If they're blue, you have a cool undertone. More on the green side? Warm undertone. If they're somewhere in the middle, you have a neutral undertone.
Fortunately, eyebrow makeup comes in dozens of different shades, so matching your preferred shade to your skin's tone and undertone should be simple. In fact, some brands even have an eyebrow shade finder that will help you find the right color based on your skin and hair.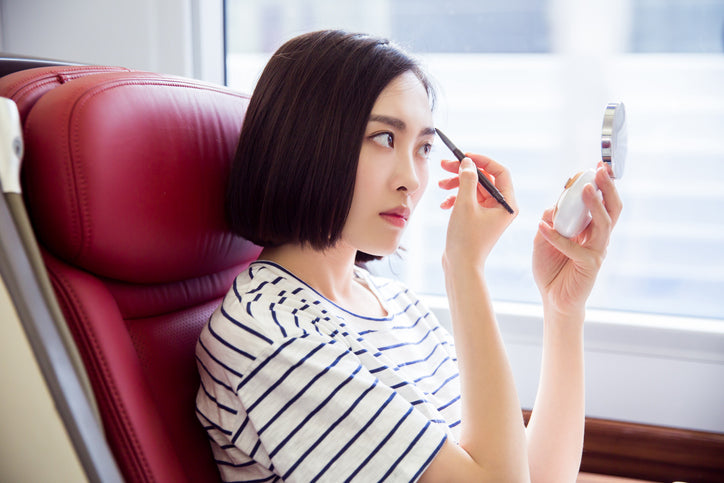 2. Go One Shade Lighter Than You Might Think
Now that you understand your tone and undertone better, you can start looking for a great match. The catch is, while it might sound counterintuitive, you'll want to pick a shade that's slightly lighter than your natural eyebrow color.
Why? Because the best eyebrow shade should mimic the color of the shadow cast by your natural hairs. This will help ensure the product looks the most natural, and that your finished brows will look full instead of painted on. If you're looking to try permanent eyebrow makeup, this is a great tip to keep in mind so you're not left with overly dark eyebrows.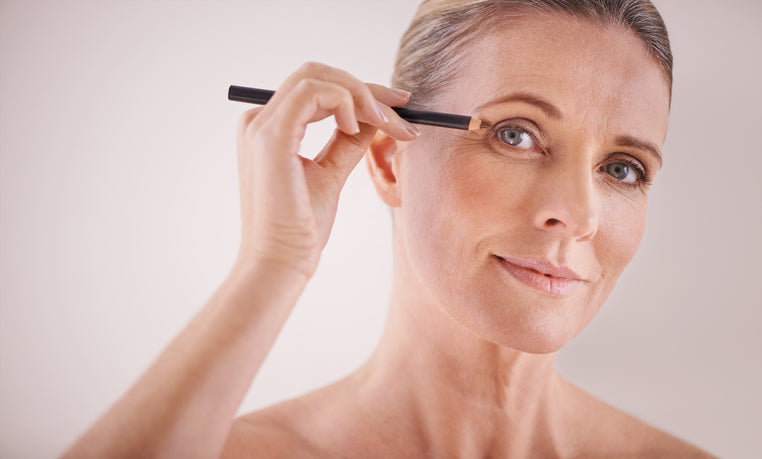 The Right Eyebrow Color for Gray Hair
So what if you have gray eyebrow hair? There are still great shades out there for you. Depending on whether or not you have darker or lighter gray hair, you'll want to try an ashy gray or light ash color, or a cool, gray-brown, like charcoal, to help fill in your brows without looking too dark.
And here's a secret: using a gray-ish shade can actually be super flattering on a variety of people with more cool-toned skin. Consider it a super-shade that works great with people with platinum, gray, pastel, or brunette hair (or for people who want to help transition a few grey brow hairs that are coming in).
While the eyebrow color you choose is ultimately up to your own personal taste, understanding how your skin and hair's tone and undertone work together can help you pick a shade that looks the most flattering.
Hint: Toppik Hair Building Fibers can actually be used on brows! Toppik Hair Building Fibers are made from natural keratin that clings to existing hair, making it look thicker and fuller – instantly. To use Fibers on brows, just remove the sifter top from the bottle and use a makeup brush to apply. 
What's your favorite tip for picking the right eyebrow shade? Let us know in the comments below!