What Is DHT and Male Pattern Baldness?
Androgenic alopecia, also known as male pattern baldness, caused by the hormone DHT, is by far the most common type in men, accounting for more than 95% of all male hair loss.1 While the odds of having male pattern baldness are slim as an adolescent or teen, the risk increases with age and by age 35, two-thirds of American men will have at least some noticeable hair loss.1 So what is DHT and why does it cause men's hair loss? Keep reading to find out!
What Is DHT?
Dihydrotestosterone (DHT) is an androgen hormone, a type of male sex hormone found in both men and women. Androgens are responsible for biological male characteristics like body hair, increased muscle mass, and a deeper voice.
How Does DHT Cause Male Pattern Baldness?
How exactly DHT hair loss occurs isn't fully understood, but it's thought that DHT attaches to androgen receptors on the hair follicles. Then DHT causes the hair follicles to shrink. As a result, the anagen, or growing, phase of the hair growth cycle decreases in length, while the telogen, or resting, phase of the hair cycle is extended.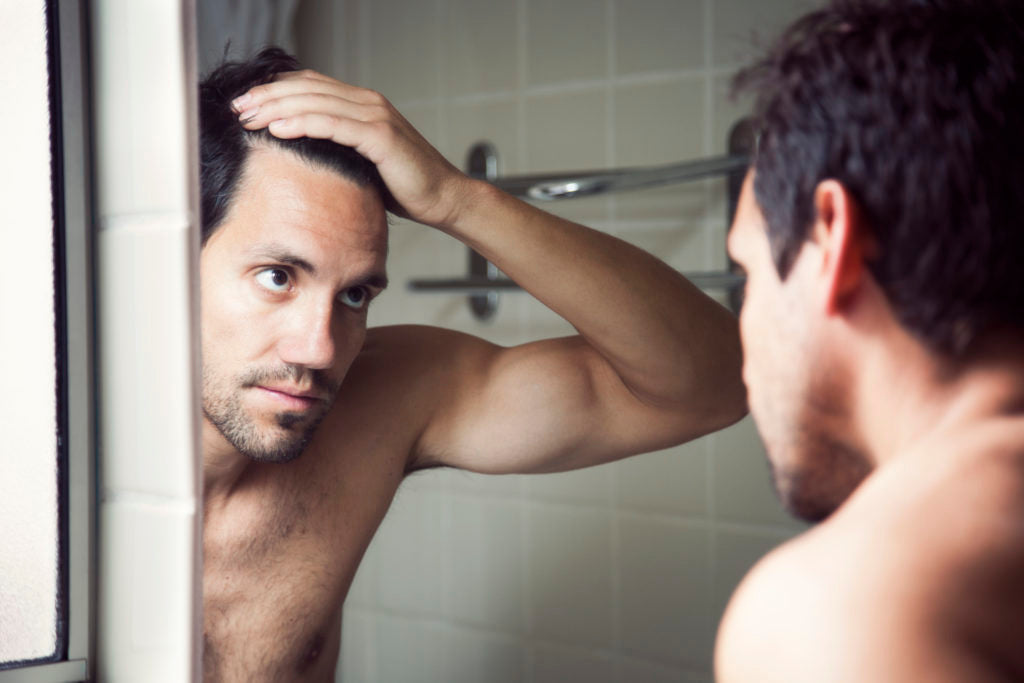 The anagen phase continues to become increasingly shorter over time, until eventually new hairs no longer grow past the scalp line. The hair shaft also will become thinner as the hair follicle shrinks, leading to thinning, weakened hair that is more prone to breakage.

The extent to which your hair is affected by DHT is very influenced by genetics. Hair loss in men tends to begin at the temples and crown, leading to a receding hairline. Eventually, these thinning areas will expand to form a bald spot and a horseshoe-shaped pattern.

Why Do Some People Have DHT Hair Loss?
Everyone of every gender has DHT in their bodies, but only some people have DHT hair loss. For the most part, DHT hair loss is related to genetics. But for people without a genetic cause, researchers have postulated a few characteristics that may cause it in some individuals:
More androgen receptors on the hair follicles
Increased DHT levels in the body
Higher sensitivity to androgens
What Causes DHT to Increase?
Since DHT is converted from testosterone, more testosterone in the body means higher DHT levels. Your body's glands naturally control your testosterone levels to keep your body in balance.
Keep in mind that testosterone is a healthy and necessary part of your body's systems. That's why healthy activities like exercise, eating a balanced diet, and minimizing stress can raise testosterone levels.
So even if you would like to stop DHT hair loss in its tracks, lowering your testosterone levels isn't the right way to go about it. That's why some people recommend DHT blockers to help with hair regrowth for men.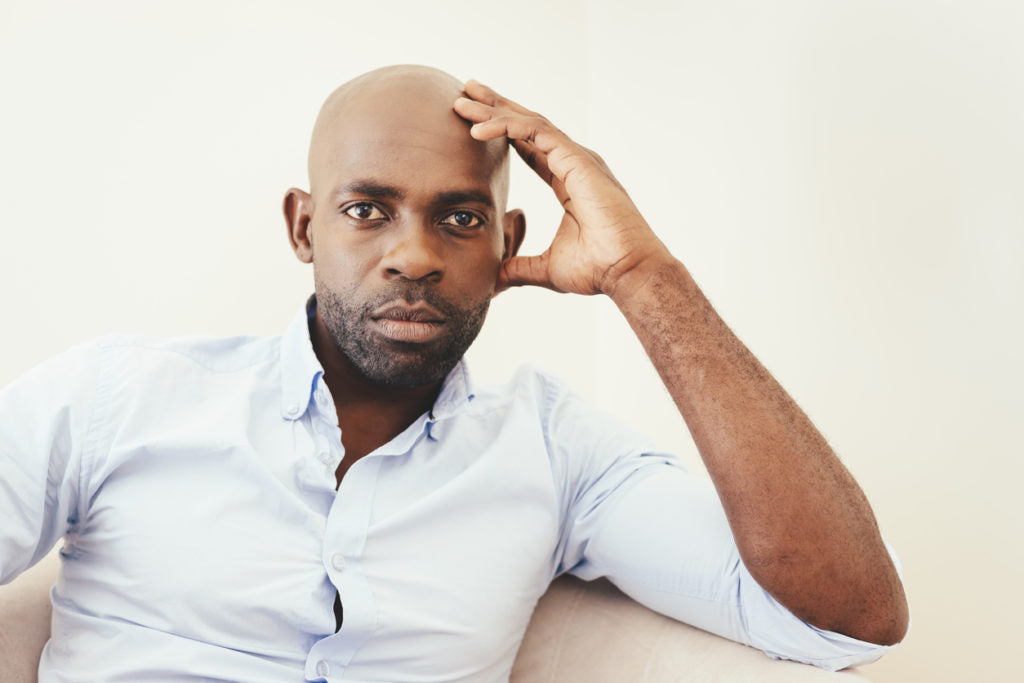 What Is a DHT Blocker?
Some medications have the ability to lower levels of DHT, helping to slow or even reverse DHT hair loss.
Finasteride is a DHT blocker that diminishes the enzyme that converts testosterone to DHT, effectively lowering levels of DHT in the body. However, since DHT is so important to reproductive operations of the body, finasteride can have serious side effects like loss of libido.
Some researchers have identified herbal remedies that may be possible DHT blockers, such as saw palmetto, stinging nettle, and reishi mushrooms. However, more research is needed to determine how effective these treatments truly are in reversing DHT hair loss.
3 Ways to Disguise DHT Hair Loss
When it comes to hair regrowth for men, there are lots of medical options. However, these treatments are costly and only a temporary fix since there is no cure for DHT hair loss. That's why many men choose to disguise their hair loss with these tips.
Get a Flattering Haircut
Just because you have thinning hair doesn't mean you don't have plenty of options. As a general rule, keeping your hair on the short side is going to be the best option.
Switch to Products for Thinning Hair
Use a shampoo and conditioner that clean buildup from hair while adding volume and body. Our picks? For a shampoo, we recommend Toppik Hair Building Shampoo, which gently cleanses fine and thinning hair. Follow with Toppik Hair Building Conditioner, which is formulated with a nourishing complex of keratin proteins and aloe to leave hair looking stronger, thicker and healthier.
You'll also want to retire heavy styling products like gels and pomades. Instead, opt for texturizing sprays or a thickening product like Toppik Hair Fattener Advanced Thickening Serum. This concentrated hair styling serum has a keratin formula that adds volume and shine to hair.*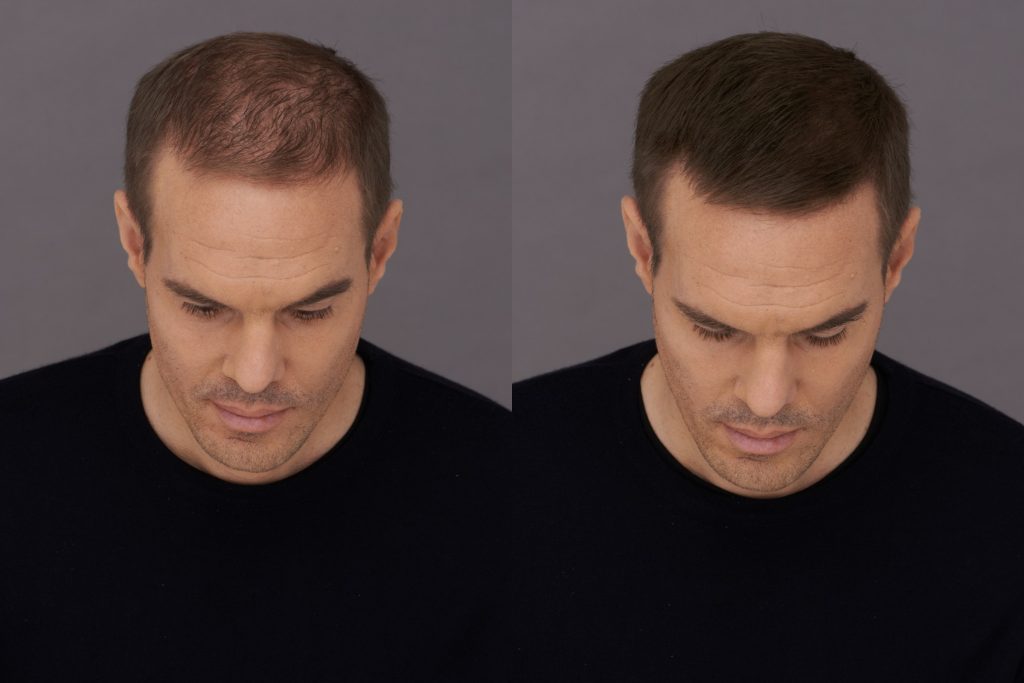 Add Hair Building Fibers to Your Styling Routine
A simple way to instantly reverse the appearance of hair loss is to use Toppik Hair Building Fibers. Made from keratin proteins similar to your hair, these fibers cling to your hair, creating an instantly fuller look. Plus, they're completely undetectable.
Just apply Fibers anywhere hair looks a little sparse and gently pat to evenly distribute. Then follow with Toppik FiberHold Spray for natural-looking shine.
Remember, if you're losing your hair, you're in good company! Most men will struggle with hair loss at some point in their lives. Besides, hair doesn't make the man. Whether you choose to treat your hair loss, disguise it with a new 'do, or rock a shaved head, confidence is the best look of all!
1American Hair Loss Association. Men's Hair Loss, Introduction. (www.americanhairloss.org)
*Self-perceived results