Anti-Humidity Tips for Hair
There's lots to love about warm weather. But humidity that causes frizzy hair is not one of them! No matter how much time we spend styling our hair, it seems like whenever the weather is humid, our hard work is undone in less than 30 minutes. Luckily, you can prevent humidity hair with a few key strategies. Keep reading for our favorite tips and hair care products for fighting frizzy hair.

7 Steps to Fight Humidity Hair
1. Start with a Healthy Base
Frizz happens because of a lack of moisture in the hair. Dry hair is like a sponge, and will seek moisture wherever it can find it. On humid days, when there's so much moisture in the air, your hair actually pulls moisture in from the air. This moisture "resets" hair to its natural texture, bringing out any natural frizziness, the same way that washing your hair does.
The solution? Stop frizzy hair before it begins by keeping hair healthy and moisturized. Start by washing hair with Toppik Hair Building Shampoo, which gently cleanses hair without drying it out.
Next, follow with Toppik Hair Building Conditioner, which hydrates hair with a lightweight moisturizing formula. Since it is lightweight, it won't contribute to the limp appearance that's so often an effect of humidity hair (more on that later).
2. Swap Out Your Towel
Cotton towels can contribute to frizzy humidity hair by roughing up your hair's cuticles. Swap out your cotton bath towel for a microfiber towel, which has a smoother surface. The result? Your hair will have less frizz after washing.
3. Use a Smoothing Serum
Smoothing serums provide another layer of defense against humidity hair. This hair care product seals the cuticle of the hair to protect it from environmental humidity.
Smoothing serums should always be applied to wet hair, before any frizz can form. If your hair is fine or thin, apply the serum from your ears to your ends. If your hair is thick or coarse, apply starting at the roots working to the ends.
4. Use the Right Styling Technique
A blowout is an excellent way to fight humidity hair. Keep the nozzle of the blow dryer pointed downwards to train frizzy hair to lie flat. Blast each section with cool air to seal the cuticle. And make sure to blow-dry hair until hair is completely dry because any remaining moisture will contribute to frizz.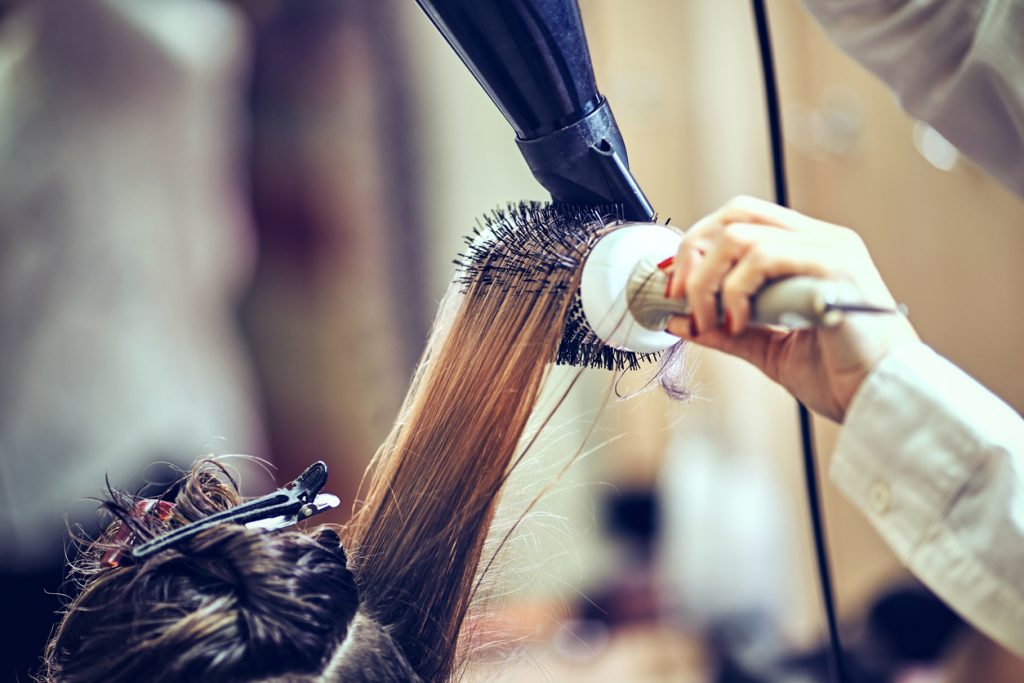 5. Fight Limp Locks
For some people, humidity hair actually is limp and lacks volume. If humidity makes your hair look flat, counteract this by styling hair with a thickening serum like Toppik Hair Fattener Advanced Thickening Serum. This styling serum adds volume, shine, and thickness to fine hair. Plus, it works on both wet and dry hair, so you can use it even on days when you don't wash your hair.
6. Reduce Frizz Overnight
You can also work to reverse the effects of humidity on hair by changing your sleep habits. Use a silk pillowcase instead of a traditional cotton one. Silk has a smoother texture that will help stop frizz and tangles from developing overnight.
Braiding your hair before bed can also help to reduce frizz while giving your hair a pretty heat-free wave in the morning.
7. Try an Updo
While it's certainly possible to reduce the look of humidity hair with hair care products, it can be a lot of work! On days when you don't feel like styling your hair, try one of these frizz-friendly updos that embrace the look of frizzy hair while keeping it contained:
Messy top knot bun
Loose side braid
Low bun
Messy ponytail
No matter which hairstyle you choose, apply Toppik Hair Building Fibers to your style to fill in the hairline and cover any areas of scalp show-through.
Do you have any tips for fighting humidity hair? Share for frizz-free strategies with other readers in the comment section below.