How to Touch Up Your Roots at Home
While hair certainly isn't at the top of the list of things to worry about during these difficult times, sometimes taking care of our personal appearance can help us to feel more normal. If you regularly have your hair colored professionally, by this point you're probably noticing some significant roots. So what are your options? Keep reading as we explore all the options, from at-home dye kits to root touch-up spray.

1. Try a Root Touch-Up Spray
If you have a video call coming up and you want to disguise your roots ASAP, Toppik Root Touch-Up Spray is your best bet. Root Touch-Up Spray has a unique airbrush applicator that provides precise, buildable coverage. With flexible color pigments, Root Touch-Up Spray effortlessly blends with your hair, instantly hiding roots and grays. It dries quickly, and it lasts until your next shampoo.
And since Toppik Root Touch-Up Spray doesn't permanently alter the color of your hair, there's no chance that you'll wind up spending hundreds of dollars for a color correction down the line.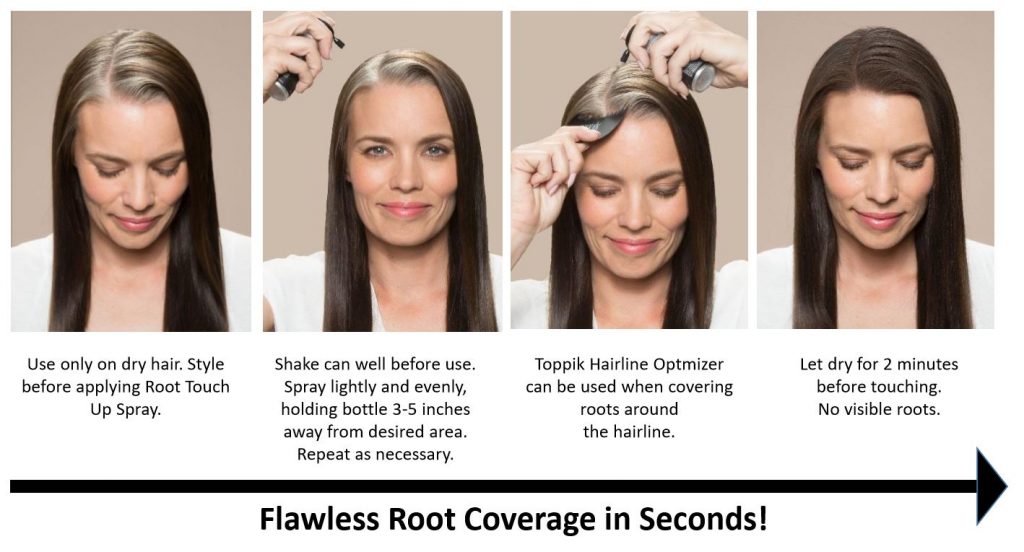 2. Reach for Fibers
Another quick fix for disguising roots is to use Toppik Hair Building Fibers. Toppik Fibers are colored keratin fibers. They have a static charge, which allows the fibers to cling to your existing hair. Typically, Toppik Fibers are used to make hair look thicker and fuller. But since they're pigmented, they have the added bonus of disguising roots!
To hide your roots with Toppik Hair Building Fibers, first remove the sifter cap and replace it with the Spray Applicator. Next, spritz Toppik Fibers along your part to cover any roots there. Then use the Hairline Optimizer to apply Toppik Fibers along your hairline. Finish the look with FiberHold Spray, and you're ready to go!
3. Experiment with a Root Touch-Up Kit
If you're looking for a more permanent solution, several major at-home hair color lines have root touch-up kits. The premise is pretty simple. The kit includes a small amount of hair color along with an application brush. After mixing together the hair color, you brush the product onto your roots along your part and hairline. Then you wash your hair as normal.
However, root touch-up kits do not color all of your roots, and they also do not remedy any fading or brassiness in your hair color. Most hairstylists do not recommend using a root touch-up kit, since they can lead to uneven hair coloring. That could mean a costly color correction is in your future.

3. Opt for a Temporary Dye Job
If you usually color your hair darker than your natural hair color, you can also try a temporary hair color. Temporary hair colors coat the outside of your strands with pigment. Since the pigment inside of the strand isn't affected, the hair color eventually washes out with shampoo.
However, some pigments, like black, tend to stick around in your hair much longer than you would like. Coloring your hair also requires a certain level of skill to apply the dye evenly. That's why you pay your hairstylist so much! Plus, coloring your hair at home is very messy. If you're not careful, you could wind up with more hair color on the floors and walls than in your own hair.
If you're going to go this route, give your hairstylist a quick call to make sure it's a good idea for you.
4. Grin and Bear It
Here's the thing: we're all in the same boat. Whether you have roots, your hair is too long, or you're in dire need of pedicure – we're all right there with you! And if you're sick of looking at your roots, you can always wear a hat until you can finally visit your hairstylist again.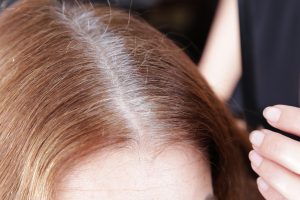 How are you handling your roots? Share your experience with other readers in the comment section below!