How to Add Volume to Thin Hair
Looking for a way to add volume to your hair? You've come to the right place. Whether you have fine hair, thin hair or both, here's how to make your hair look thicker with Toppik's best volumizing hair products for women or men.

8 Fool-Proof Hair Volume Tips
1. Get the Right Cut
First things first: you'll have a difficult time adding volume to thin hair if you don't have the right haircut. In general, shorter lengths work better for fine and thin hair. Why? Because longer hair weighs more, which makes it lays flatter. Ask your hairstylist for a shorter haircut that works with your natural hair type and texture instead of against it.
2. Use a Volumizing Shampoo
Many people use the wrong shampoo for their hair type. If you have fine or thin hair, stay away from too-heavy creamy formulas designed for curly or coarse hair types. These types of shampoos can deposit a residue on fine hair, leaving it looking more flat and limp than usual. Not what you want!

Instead, choose a shampoo formulated for fine or thin hair, which means it's lightweight enough that it won't weigh down your hair. Our pick? Toppik Hair Building Shampoo, which has a lightweight formula that leaves hair looking fuller and healthier after each and every wash. 

3. Perfect Your Conditioning Technique
You probably already know that it's important to condition your hair after every wash to add in extra hair-loving moisture. But too much conditioner can be too much of a good thing! That's why it's so important to use the correct conditioning technique for fine and thin hair.

First, select a conditioner that's designed for thin and fine hair, like Toppik Hair Building Conditioner. It has a unique formula that revitalizes thin, thinning or damaged hair with a nourishing complex of keratin proteins and aloe that leaves hair stronger, thicker and healthier looking.

Next, be careful about how you use conditioner. Apply conditioner from the ears down to make sure your hair gets moisture at the ends, where it often needs it most, without losing any volume at the roots.

4. Try a Thickening Serum
Many volumizing products on the market claim to add volume to fine hair, but Toppik Hair Fattener Advanced Thickening Serum really does what it says. This concentrated hair styling serum for fine or thin hair has a keratin formula that adds volume, thickness, and shine to strands. Just apply a small amount to damp hair from roots to ends before styling your hair. For best results, dry hair with a blow dryer (more on that below).

5. Blow Dry Upside Down
Blow drying your hair is one of the most effective methods to add volume to thin hair. But drying your hair upside down can really kick your hair's volume up to new heights. Turn your head upside down so your hair is literally standing on end. Then blow-dry hot air on your roots while they're upside down to "lock" them in this position, giving your hair more volume all day long.

6. Add Texture with Dry Shampoo
Fine hair tends to be oilier, which is bad news for hair volume. Your scalp's natural oils can weigh hair down at the roots, leaving it looking lank and flat. Dry shampoo helps absorb those extra oils, adding extra texture to hair to boot.

For best results, use dry shampoo before you need it. A quick blast of dry shampoo at the roots right after blow-drying will absorb oil and help prevent your hair from falling flat throughout the day.

7. Style with Toppik Hair Building Fibers
Toppik Hair Building Fibers are another excellent way to make hair look more voluminous. Toppik Hair Fibers blend undetectably with your existing hair strands, instantly making hair look naturally thick and full.

So how do Toppik Fibers work? Fibers are made with premium, salon-quality keratin proteins that are almost identical to human hair. The statically charged fibers create a magnetic effect, clinging to even the tiniest hairs, for a natural look that lasts until you wash your hair.

Toppik Fibers are easy to apply. Here's how to do it:
Dry or style hair as usual. Shake or spray Toppik Fibers onto any areas where you want more thickness and volume.
Gently pat hair to disperse the Fibers.
Spray hair with Toppik FiberHold Spray, which strengthens the bond between your hair and the fibers, plus adds a boost of shine.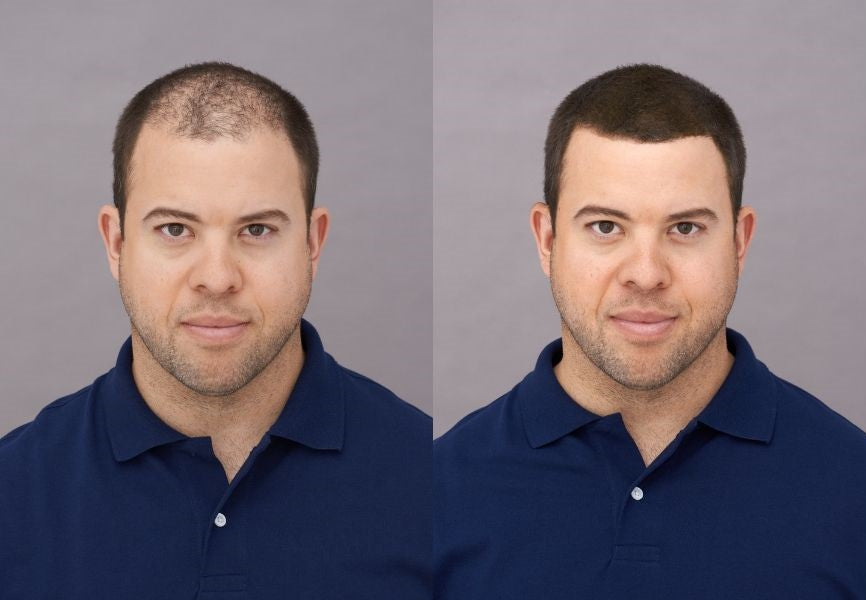 8. Change Your Part
Finally, if you're looking for a quick volume fix, try switching up your part. By parting your hair in the same place, you've trained your hair to lie flat. Changing your part makes your hair lay against the way it's trained, giving it extra lift at the roots.

All you need to do is use a comb to create a part in a new area on dry hair, and then brush hair into place. If you usually part your hair on one side, try it on the opposite side. If you usually part your hair in the center, try a deep side part to add extra volume. Then, use a little bit of hairspray to hold that volume in place.

Do you have a secret for adding volume to hair? Share your hair volume tips with other readers in the comment section below.