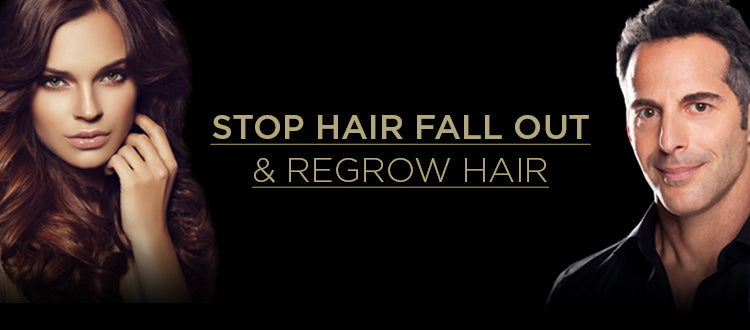 What You Need to Know About Hair Loss & How to Regrow Your Hair + Limited Time Offer!
If you've ever experienced hair loss, you know the emotional, and sometimes physical, toll it can take on you and your body.
Deciding how you want to treat the problem can also be exhausting and time-consuming as it can often be difficult to know which hair regrowth products are right for you. Products that work miracles for one person may not produce the same results for you, and as most of us probably know, it can be easy to give up on finding a solution to hair loss if we don't see immediate results.
You should know that you're not alone!
Although there are differences between the way men's and women's hair loss happens, about 40% of people can expect to experience some type of hair loss by the time they turn 40. Knowing the facts about hair loss, along with which brands to trust, can help you make an informed decision about which women's and men's hair growth products may be right for you.
At Toppik, we have a product that helps with hair regrowth for men and women, and right now we're offering a limited time deal on this product (skip down to the bottom to read all about it!). First though, we think it's important to understand how you might be losing your hair, and the different treatment options available to you.
Keep reading to see the causes associated with hair loss, and how you can get back the hair you once had…
Why do Men Lose their Hair?
Most men can expect to encounter one of these four types of hair loss at some point in their lives.
Involutional Alopecia
Involutional alopecia is the gradual thinning of the hair that occurs with age. It is a natural condition that happens as more and more hair follicles go into the telogen, or "resting" phase. In this phase, hair continues to get shorter with fewer hairs growing, and it becomes harder to regrow hair.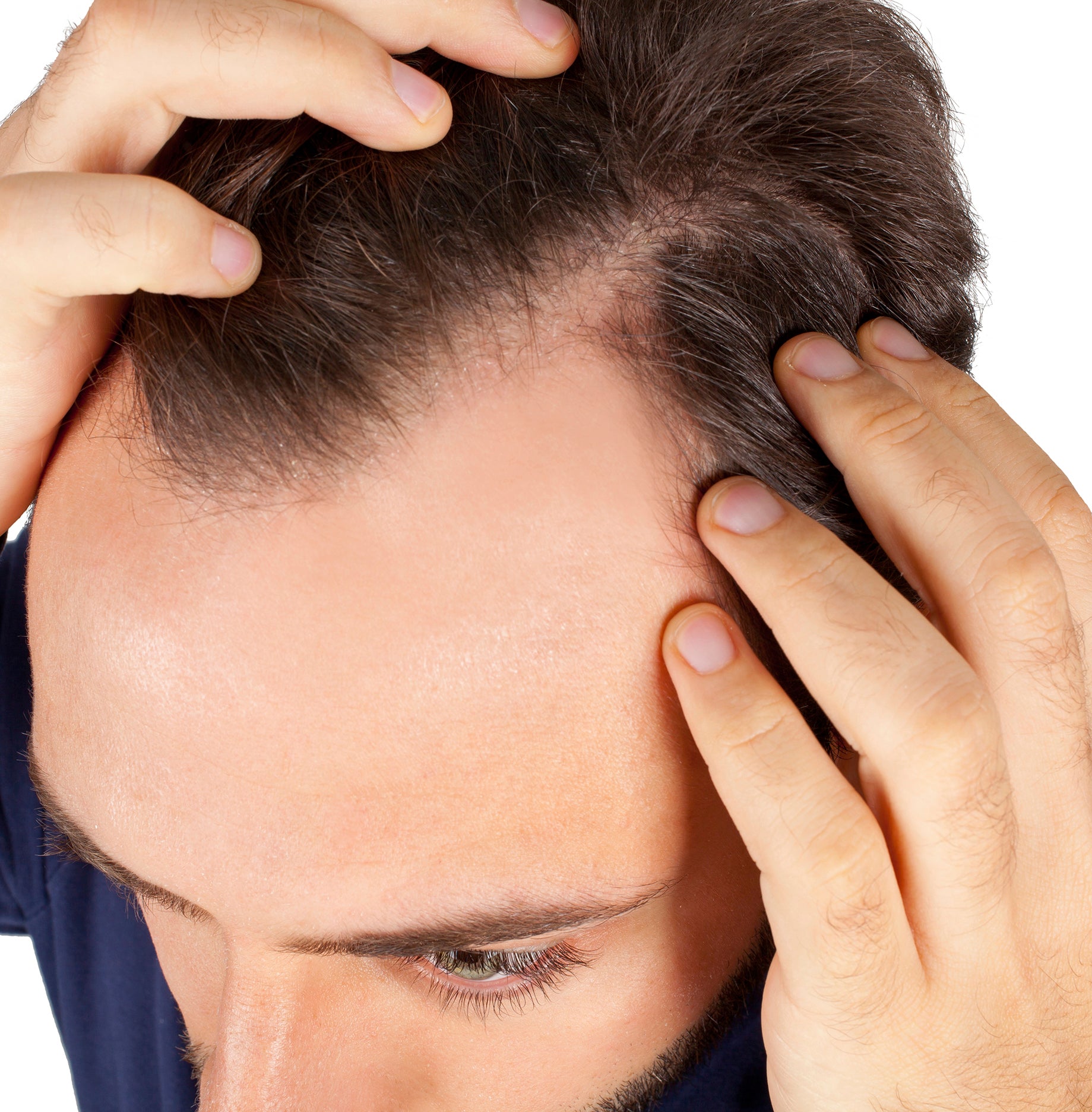 Androgenic Alopecia
Androgenic alopecia, also known as male pattern baldness, is a hereditary condition characterized by a receding hairline and gradual disappearance of the hair from the top of the scalp. This condition is responsible for the vast majority of hair loss in males. It can affect both men and women, but men can experience this type of hair loss as early as their teens or early 20's.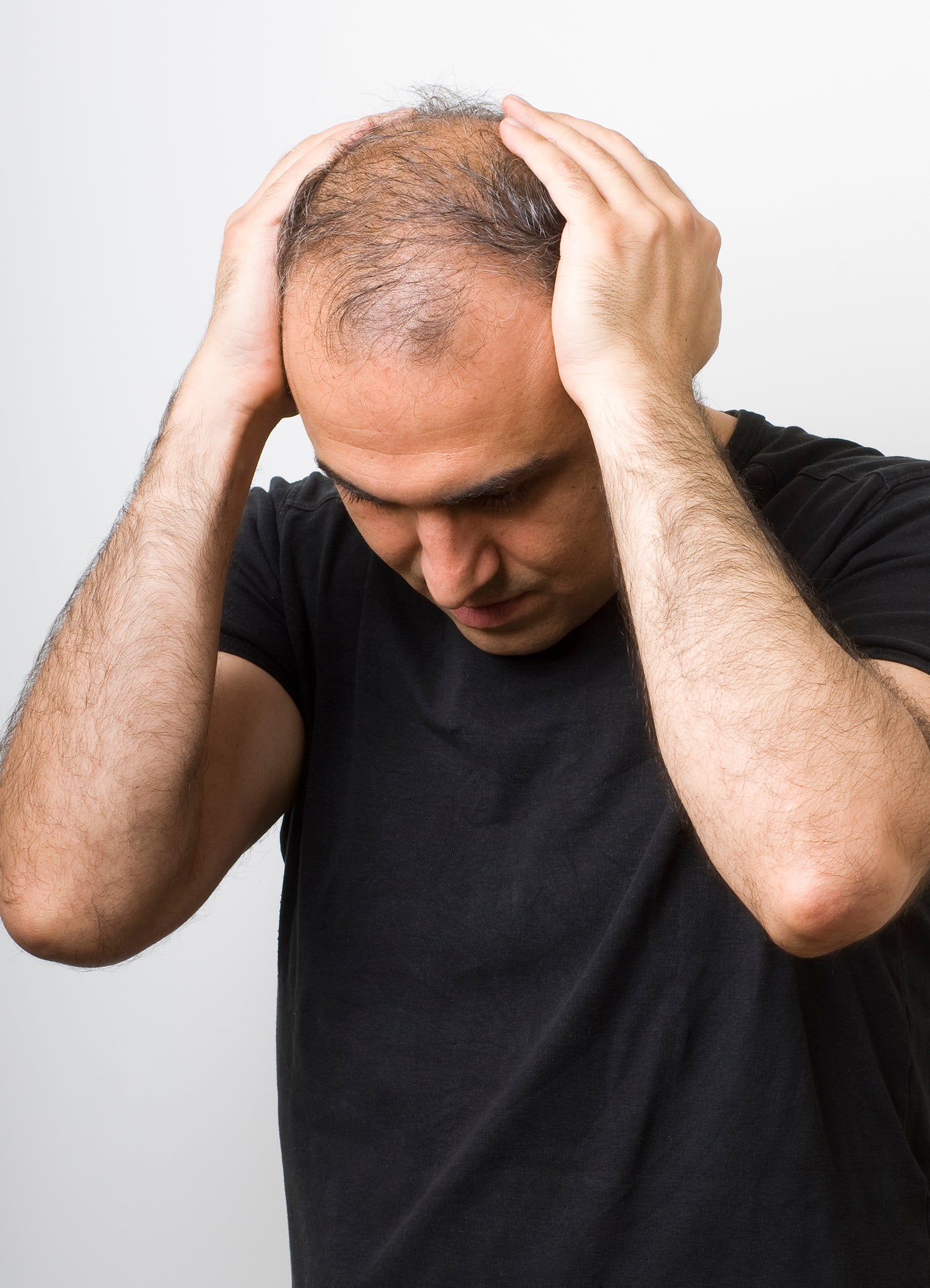 Alopecia Areata
Alopecia areata is an autoimmune skin disease that results in hair loss on the scalp and elsewhere on the body. It occurs when your immune system mistakenly attacks hair follicles, which is where hair growth begins. It is not permanent, but experts do not know the cause of the attack on the hair follicles.
Patients and doctors usually begin to notice when clumps of hair fall out, which causes small, round patches of visible and exposed scalp on top of the head. In about 90% of people with this condition, the hair may return within a few years.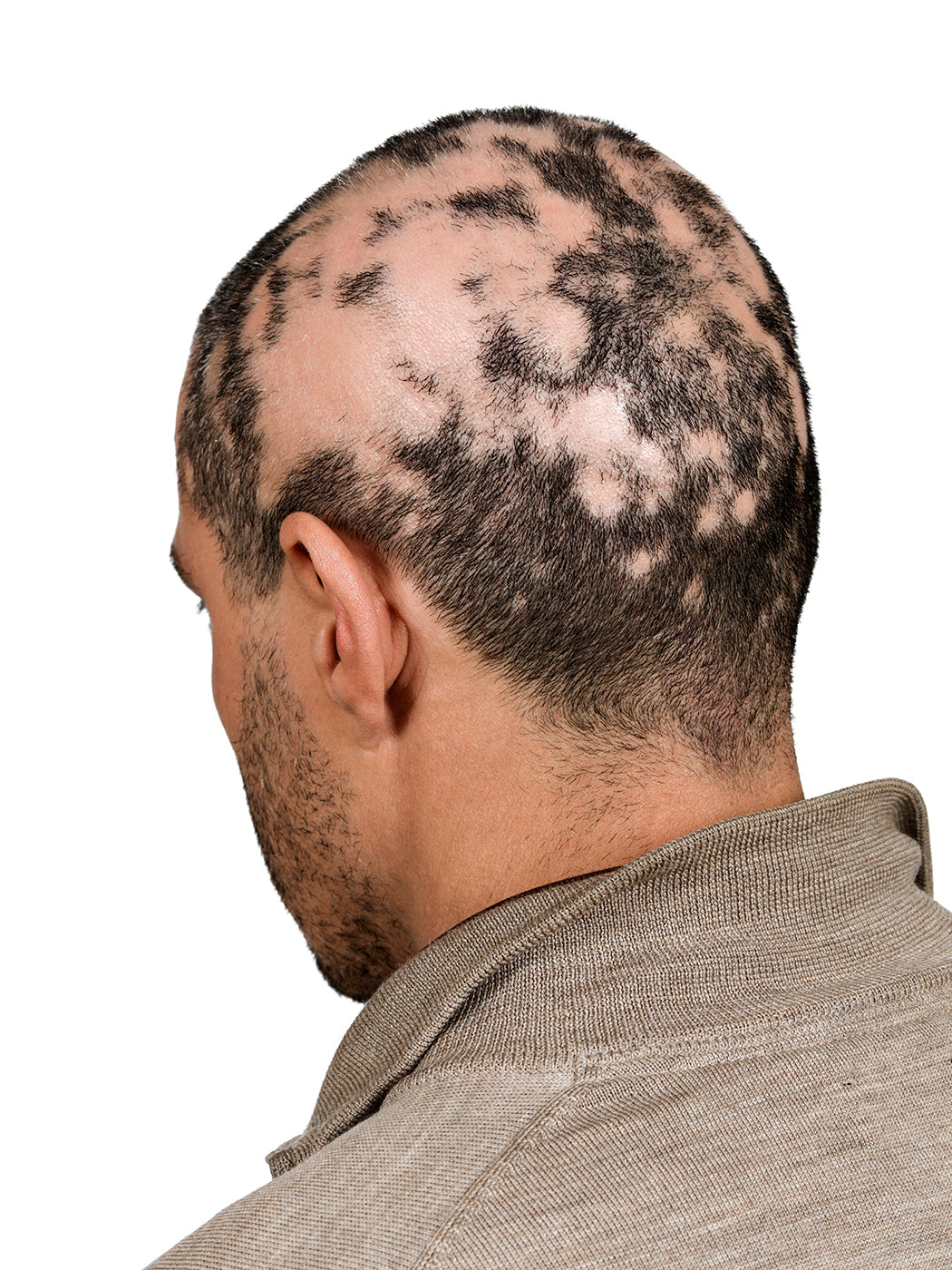 To read more, visit our blog post on alopecia areata.
Telogen Effluvium
Telogen Effluvium is a temporary condition that develops when there is a change in the number of hair follicles growing hair. It is caused by a large number of hairs entering the Telogen or "resting" phase at the same time, which causes the hair follicles to become dormant, and subsequent shedding and thinning occurs.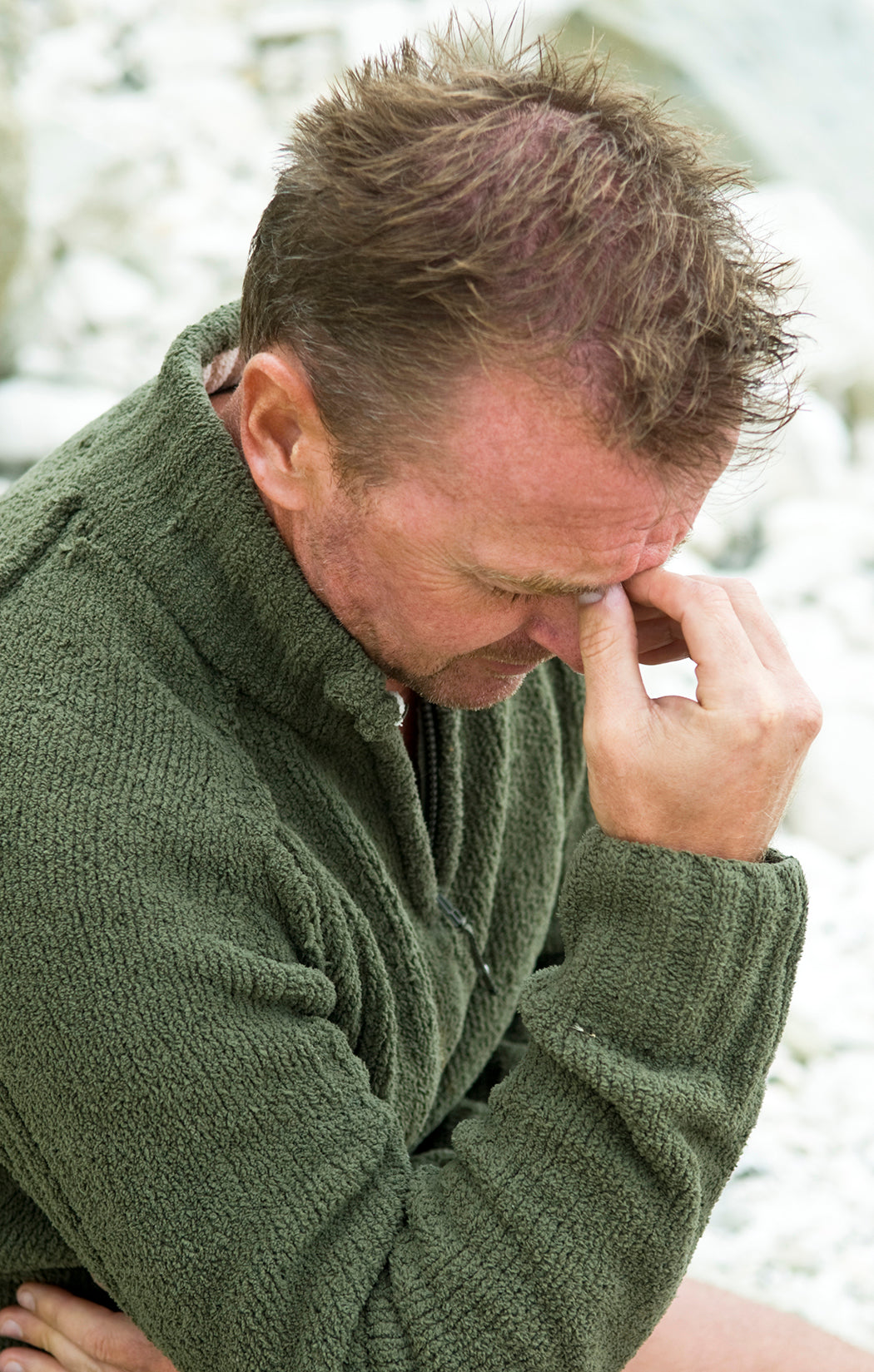 Knowing the types of hair loss that occurs in males is important so that you can understand if hair regrowth for men is possible. To read more about men's hair loss, visit our blog post on men's hair growth.
How Men and Women Can Regrow Hair
If you are experiencing hair loss, you have probably looked into the many female and male hair growth options that are available today.
There are four main options available to you if you are looking to regrow hair:
1. Topical minoxidil treatment
2. Finasteride drug
3. Hair replacement procedures
4. Laser hair treatment
Women's Hair Regrowth Treatment:
"I am 63 and because of heredity, my hair was thinning to the point where I would have to tease it to get coverage just pulling into a loose ponytail. I've been using this amazing product for 2.5 months and already, my hair is filling in the bald spots!! I couldn't be more thrilled! […]"
-PenC
"I don't really have thinning hair, but I do have very fine hair, and a lot of loss on a daily basis. After using up the first bottle, I noticed a lot of fine, little wisps of hair growing in. Smoothing down the flyaway's is a small price to pay. I'll be trying a second bottle to see if it continues to help."
-K1w1kat
Men's Hair Regrowth Treatment:
"It's a Minoxidil product like rogaine but it doesn't smell so bad! it's pretty small and easy to hide. my dad used rogaine forever and then switched to this stuff. i can really tell a difference whenever i see him!"
-Dermstore User
"Great product! Easy to use and amazing results. My husband's hair appears thicker and he is definitely not losing it as much as before."
-Jonesborough
Women's Hair Regrowth Treatment:
"My hair is finally growing back after chemo, but I still have some very thin spots. I purchased the Toppik spray about a week ago in hopes that it would help fill the spots in. I'm shocked to say that I can already see a difference! It's a very lightweight spray that you use twice a day. It doesn't really have a smell to it and it's light enough that you can use it along with your other styling products."
-Beauty Junkie
Limited time price offer ends 2/29/16; no code required; customers may combine Men's Hair Regrowth Treatments and Women's Regrowth Treatments in purchase; while supplies last; cannot be combined with other offers; not valid on auto-delivery purchases; valid only for orders shipping to US and Canada; codes can be redeemed only at Toppik.com or by calling Toppik customer service at 1-800-THICKEN – not valid anywhere else Toppik products are sold.
Have you used a Minoxidil product before? Tell us in the comments section below what hair regrowth treatments have worked for you.
Stay In the Know
Make sure to take advantage of this sale before the product is gone forever! Check back with us next week as we take a look back at the best hairstyles from each decade!
If you want to be the first to know about new posts to the Hair Toppiks Blog, sign up for the Toppik VIP list to receive an email a couple times per month or check us out on Facebook!