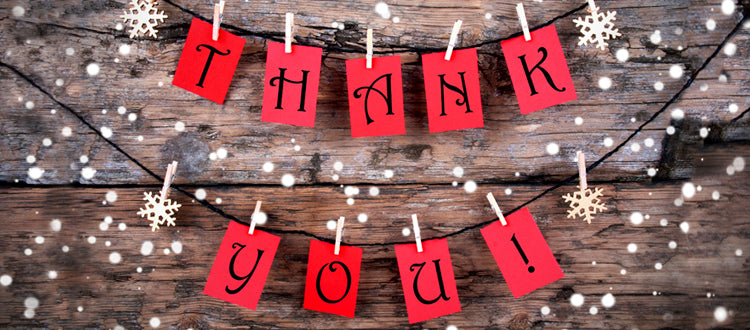 Warmest Wishes from the Toppik Team
Is it just us, or did this year fly by? Do you remember the Sochi Winter Olympics in February, or the World Cup in June? Even one of the quickest growing trends, The Ice Bucket Challenge, seems like a lifetime ago.
As the year quickly comes to a close, we reflect back on the many exciting and significant events that helped shape 2014.
Luckily for Toppik, 2014 has been a year of growth. In 2014, we doubled the size of our company, a testament to you and your love for Toppik products. We also expanded the availability of Toppik products into some of your favorite stores, including more than 25 Sephora locations around the United States. Have you checked to see if we're in your local Sephora yet?
This fall, through the participation of our loyal customers, we were able to raise more than $10,000 for the National Alopecia Areata Foundation, an organization very much aligned with the Toppik goal of helping to find solutions for thin, thinning, or fine hair.
In 2014, Toppik introduced two new products to the Toppik family: the 3-in-1 Hair Renewal Shampoo and the Men's/Women's Hair Regrowth Treatments. While our Hair Building Fibers will always be a very important product in our lineup, we want to continue to develop and offer new, innovative hair care products that can address thinning hair and hair regrowth.
Warm Holiday Wishes
All of the above wouldn't be possible if it weren't for our loyal customers. Many of you have been using Toppik for years, and we want you to know how much we appreciate you!
You are the reason we continue to make and improve our products, which is why we want to take a moment to say thank you.
We hope you'll continue to support the Toppik family in 2015, as we get ready for another exciting year ahead…
Looking Ahead to 2015
What will the new year bring? We're planning many new product launches, an optimized online shopping experience at Toppik.com, and more Toppik products available through your favorite beauty retailers!
We've been hard at work, and our hope is that our customers will continue to believe in our products and that the results will speak for themselves. We can't wait to see and hear what you're loving about Toppik in the new year!
We're hoping to make 2015 our biggest year yet, but we can't do it without you.
We love to hear from our customers! If you have any testimonials, questions, tips, advice, or feedback for us, we welcome them in the comments section below!
Stay In The Know
We can't thank you enough, but now that we've (hopefully) spread a little holiday cheer, next week we're putting our Hair Building Fibers to the test, with a blog post on Toppik testimonials!
If you want to be the first to know about new posts to the Hair Toppiks Blog, sign up for our VIP list to receive an email a couple times per month or check us out on Facebook!