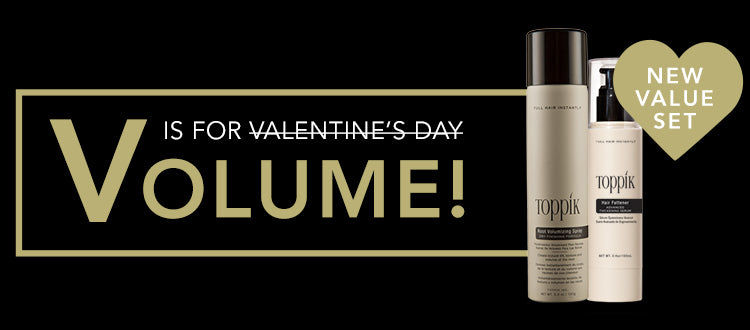 Want to Add More Volume to Your Hair?
We can all use a little pick-me-up sometimes.
For those of us that don't have naturally full, voluminous hair, it's important we have the right hair products in our arsenal to help with the challenge the hair gods have bestowed upon us. Products that give hair volume, along with hair tips specially intended to help give fine, thin hair a boost, is the best two-step approach to "faking it until you make it' when it comes to thicker-looking hair.
While we usually want to make hair look thicker and fuller all the time, there are some occasions when it's extra important. Said occasion, for instance, might be when you're going out, either in the company of a significant other, or with girlfriends. And an occasion like that just happens to be coming up…
Whether you're planning a romantic night out with someone special or going to let loose with the girls – Toppik has your ticket to extra volume this Valentine's Day!
"V" is for "Volume" and "Value"!
Now repeat that saying after us…
Toppik's newest duo is the perfect way to get the volume and thickness you've always wanted. The new Volume Boosting Set adds natural-looking volume and thickness to hair while also leaving hair soft and manageable. The Set includes two Toppik favorites, (at a great value!) that are designed to give hair a boost: Root Volumizing Spray and Hair Fattener Advanced Thickening Serum.
This Volumizing Set, offered at $28.50, saves you 25% and gives you peace of mind that amazing hair products don't have to break the bank.
Let's break this down…
This lightweight, invisible dry formula is best applied at the roots to give hair volume and lift. Once it's been sprayed into hair, all you have to do is gently pump up hair with your fingertips or lightly comb to give hair that full, volumized look. Styling powder ingredients provide long-lasting volume and texture while hydrolyzed keratin gives hair a soft and natural appearance. Your hair will feel fuller, but still maintain its smooth, silky texture. It also helps that this volumizing spray contains pro-vitamin B, which adds extra moisture and bounce to hair.
Our favorite feature from this product? It's completely safe for everyday use, even on color-treated hair.
Hair Fattener Advanced Thickening Serum
This hair thickening serum is ideal for applying to the hair when it's still wet, and then using a blow dryer to really give hair the va va voom effect. Made of keratin protein, essential nutrients maximize every hair strand, creating thicker, fuller-looking hair instantly. The serum also helps hair shine, making hair look gorgeous and radiant, compared to fine and dull. This product also just got a makeover, and the sleek new design features an airless pump, making sure you get the right amount of product, every time.
Our favorite feature from this product? It's free of sulfates and parabens, so hair stays healthy and strong.
Used together or separately, these two body-boosting products are sure to give you the volume you've been looking for.
More Great Values
The Volume Boosting Set isn't the only value set we offer on Toppik.com, we also have other sets exclusively available to help give you thicker-looking hair at a great price.
Hair Building Shampoo & Conditioner Pack
This Shampoo and Conditioner Pack comes with two of our best-selling hair thickeners, our hair building shampoo and moisturizing conditioner. The Hair Building Shampoo is formulated with keratin proteins and antioxidants to help strengthen, repair, and revitalize thin, thinning, or damaged hair. The Hair Building Conditioner is meant to nourish and support a healthy hair and scalp with keratin proteins and aloe. Together, these products are the perfect duo to make sure damaged hair is restored and transformed to its original, healthy state.
Another great way to add volume to your hair is to cover any thin or thinning areas, which can be accomplished using Hair Fibers. Toppik Hair Building Fibers, made of keratin protein, cling to hair through an electromagnetic charge, hiding any thinning areas and helping hair look fuller and thicker. They come off when you wash your hair with shampoo, making the application process easy and effective. The Starter Set comes with Hair Fibers in your choice of nine colors, plus two precision tools, a Spray Applicator and Hairline Optimizer, to make sure you can easily and precisely cover the areas you want. Both tools work to give you a flawless finish and a more volumized look!
Now that you have all the right products, it's time to learn the tips and tricks that will help you master the full hair look like a pro.
Tips for Faking Volume
It can be as easy as 1-2-3 when you follow these simple hair tips!
We've already covered some basic ways to get more volume, but here's a recap for your tresses:
1. Start in the shower. Use a volumizing shampoo and conditioner that won't weigh hair down.
2. Apply hair thickeners and other styling products before hair dries. That way you can prep the hair and create bigger, fuller hair with the help of a blow dryer.
3. Use a hair cover up product on any areas that might need a little extra help, (we're looking at you hairline)!
Another great way to fake volume is with hair extensions. If you've never thought about getting hair extensions before, there are some great benefits to using them. For instance, they can make thin hair look fuller and more voluminous, and they can make short hair instantly longer. For anyone who has trouble growing their hair out, hair extensions can be a great solution to the constant battle of debating over whether hair has actually grown or not.
If you want to read more about hair extensions, or are interested in learning more, visit our blog post on hair extensions.
We also love the hair tips New Beauty editor Anna Jimenez Lyle gives in the video below for styling thinning hair and creating more volume:
Last but not least, changing your part, teasing your roots, and using hot rollers are other great ways to achieve bigger, fuller-looking hair.
How are you going to style your hair this Valentine's Day? Share your volumizing hair tips with us in the comments section below!
Stay In the Know
We hope you're feeling the hair love, and come back next week to read about the hair hacks you need to know!
If you want to be the first to know about new posts to the Hair Toppiks Blog, sign up for the Toppik VIP list to receive an email a couple times per month or check us out on Facebook!