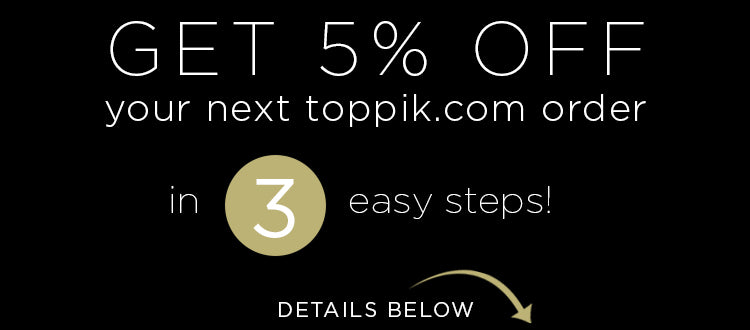 Want 5% Off Your Favorite Toppik Products? Read On For Details (Limited-Time Offer)
Whether you're considering purchasing a new product, or just browsing to see what's out there, you're probably interested in product reviews, as they have the power to make or break a purchasing decision.
Product reviews from real customers are valuable because they offer a non-biased opinion; it's not a marketing message from the company, instead you're getting real insight from other people who have bought and used the product.

At Toppik, we feel lucky that so many customers have felt compelled to share their feedback with us and other customers about products they've tried. Because Toppik products are so personal, customer reviews really make a difference for others interested in trying them.
This is why for us, it's important our customers understand the impact they can have by sharing a product experience and writing a review . This is why we are offering a special 5% discount for a limited time* for those willing to share their experience with Toppik products.
Read on to learn how you can help even more people regain the confidence they once had by simply leaving a Toppik review and redeeming your 5% discount…
What Makes a Great Review
Here are some basic guidelines to follow that will help you create a powerful and helpful review for others…
Be descriptive: Be specific – you never know which aspect of your experience with a product will resonate with another person. What did you like or not like? Consider your personal experience – you never know, someone else may be in your very same shoes and could really benefit from your testimonial!
Tell the truth: Be accurate and true to yourself when you're posting a product review. It's important to include both positive and negative aspects of your experience in order to give others your complete perspective. Being honest not only helps others make informed decisions, it also helps us identify possible improvements to Toppik products!
Be respectful: Sharing negative feedback can be helpful to a company, but make sure you're doing it respectfully. Even when you're frustrated or upset, remember that constructive criticism is usually the best course of action.
Leave reviews, not commentary: There is a time and place for everything. While it's great to talk about your personal experience with a product, make sure your review doesn't turn into a rant. If your commentary would be more useful being told directly to a company representative, consider contacting customer service instead of leaving a product review.
Write thoughtful reviews: If your review has lots of grammar mistakes or profanity, people are going to be less likely to take your review seriously. Avoid excessive capitalization and punctuation, and make sure to check for spelling and grammar errors. Most of all, have fun and write something you want others to read!
Remember, photo and video reviews are always encouraged and offer an added personal element to your review. When people are able to see a product in action, they are more likely to find the reviewer to be trustworthy and reliable.
How to Submit a Review
Writing Toppik reviews are as easy as 1-2-3!
First, choose the product that you would like to review. Once you are on the product page, click on the "Write A Review" button in gold.
Next, select a star rating to go along with your Toppik review.
Lastly, write a brief review! You can fill in as much or as little information as you want, but the more descriptive the review, the better it helps customers understand your feedback for that product.
Looking for examples? Below are some Toppik reviews that have proven to be valuable and helpful to others…
"My hairdresser introduced me to this product last month, and it has been nothing short of life-changing. I am a 50 year old female who had been wearing wigs for the past two years to hide thinning hair at my crown. Since she showed me how to use Toppik, I have retired my hot, itchy wigs and feel incredibly free. It is easy to use, and it stays put all day. Last weekend I rode roller coasters all day, and my scalp was still covered at the end of the day. I've also been rained on, but the product stayed in place. I am so grateful to Toppik and to my hairdresser."
-Savannah
"I have been using this product for 5 years. I have thinning hair on the crown and some on the front. The powder is great. It fills in the bald spots naturally. It stays in place for the day after a little hair spray and does not come off on your pillow at night when sleeping. Whatever style I have for my hair, long or short, it does not matter. This product is great and I will be with them for life."
-Mike
"This is the first review I have ever written about a product, but I want other women to know that it really works. My daughter and I both have female pattern baldness. We both used the product and both of our husbands noticed the difference immediately. It really covers without being seen. I dreaded sunlight because my hair looked so thin, now the sun doesn't affect me at all, I look like I have a full head of hair again."
-Jane
Leaving a Toppik review means a lot to our customers and our company, and we wanted to find a way to say thank you…
Earn Your 5% Discount
Whether this is your first Toppik review or your fifth, we love hearing how Toppik products have transformed your confidence, improved your hair care routine, or even just saved you time or money!
Take a few moments to tell us what you think about any Toppik product, and we'll send you an email with a code for 5% off your next order from Toppik.com!
(Remember, reviews can be anonymous too.)
Here are some short cuts to a few products you may want to review:
Review Hair Building Fibers
Review 3-in-1 Hair Renewal Shampoo
Review Women's Regrowth Treatment
Review Men's Regrowth Treatment
Review Colored Hair Thickener
Do reviews help you when purchasing products? Tell us in the comments section below if reading a product review online has ever helped you in deciding to try a product or make a purchase!
Stay In the Know
We hope you'll take the time to review Toppik products and purchase your favorites with our 5% discount!
Next week we'll be talking about how hair loss can affect people in their 20's and 30's, and what you can do to help prevent further hair loss.
If you want to be the first to know about new posts to the Hair Toppiks Blog, sign up for the Toppik VIP list to receive an email a couple times per month or check us out on Facebook!
*Review must be submitted on Toppik.com by 3/27/15 and be approved by moderation team; a separate email will be sent containing a special discount code; limit one order per customer; cannot be combined with other offers; codes can be redeemed only at Toppik.com or by calling Toppik customer service at 1-800-THICKEN – not valid anywhere else Toppik products are sold.