Our 7 Favorite Holiday Updos for Thin Hair
Whether our holiday parties are IRL or over Zoom, we all want to look our best for the holiday season. Updos make cute and easy holiday hairstyles, and we love that they work for everyone. Yes, updos can even work if you have thin hair! Keep reading for our favorite updos for thin hair. Plus, we'll tell you our #1 styling tip for making thin hair look thicker – instantly!

Holiday Hairstyles: 7 Easy Updos for Thin Hair
1. Bedazzled Bun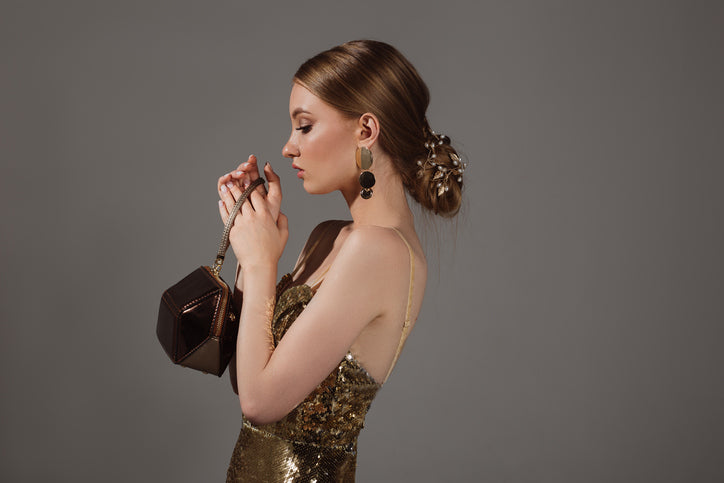 One of the easiest ways to disguise the appearance of fine or thin hair is to add some sparkle to your updo! The addition of sparkling hair accessories draws the eye away from thinning areas.

2. Half Knot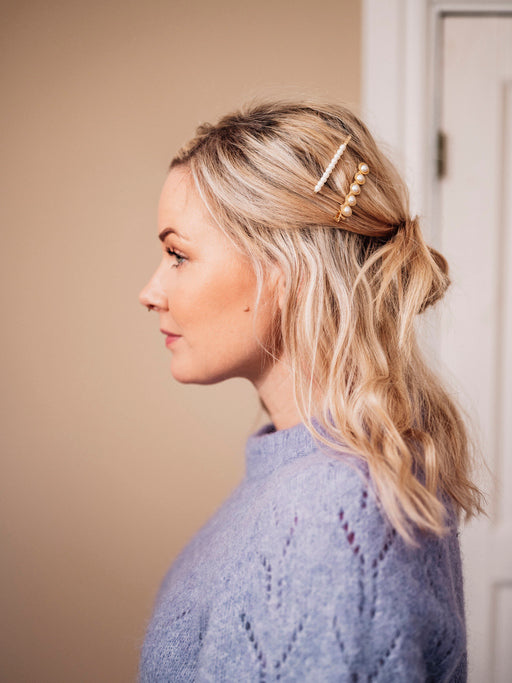 While this Christmas hairstyle is only a half updo, we still think it counts! Once again, the addition of sparkling hair clips adds dimension and interest to fine and thinning hair. Giving your hair some bend with a curling iron will also help your hair to look thicker and fuller.

3. Curly Top Knot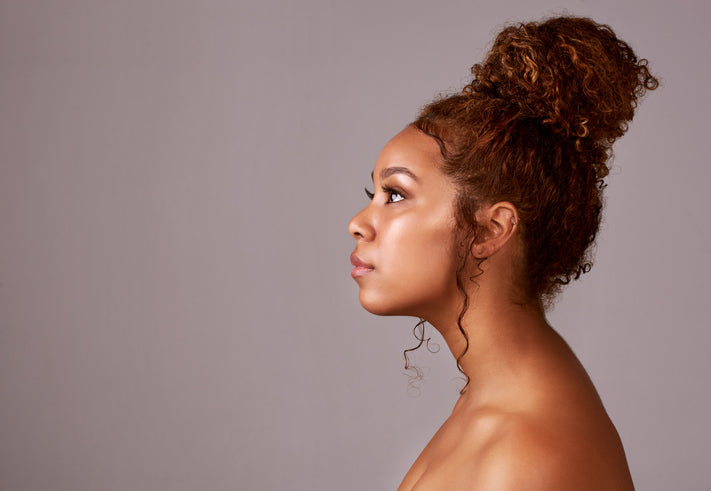 Curly girls are lucky because the natural wave in their hair creates extra volume. We love this holiday hairstyle because you can style your baby hairs to create the appearance of a thicker-looking hairline. The curly tendrils on the sides disguise thinning around the ears, making hair look thicker and fuller overall.

4. Bun with Scrunchie
An elastic scrunchie adds volume to your bun, which can make your hair look fuller overall. To give this simple hairstyle a holiday twist, use a dressy fabric like velvet or satin. We also love how this Christmas hairstyle has face-framing bangs, which bring attention to the face and make hair look thicker.

5. Holiday Updo with Novelty Accessories
When in doubt, accessorize! Choosing fun novelty accessories like reindeer antlers or a Santa hat is another way to distract the eye from fine or thinning hair. We love how this holiday hairstyle uses curled tendrils to frame the face, which has the bonus of distracting from a thinning hairline.

6. Relaxed Chignon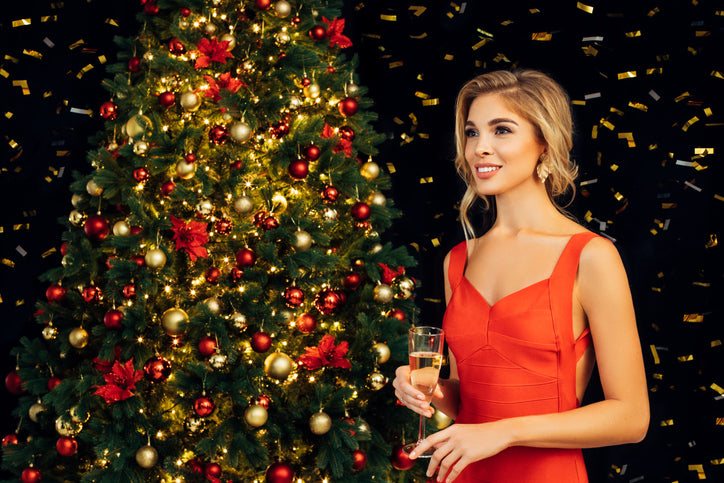 A simple, relaxed chignon is another excellent holiday hairstyle option for fine and thin hair. Make sure to wave your hair with a curling iron before you style it into a chignon, as this will give your hair extra volume and texture. Pull out a few face-framing tendrils for a flattering look.

7. Faux Pompadour
A little teasing and hairspray give this holiday hairstyle lots of body at the crown. This makes hair look thicker overall, and also creates the appearance of more chiseled cheekbones. Pair this Christmas hairstyle with sparkling earrings for a festive look!

The Best Way to Style Holiday Updos on Thin or Fine Hair
If you have fine or thin hair, you may have always believed that you couldn't pull off a holiday updo. After all, updos pull back the hair, revealing scalp show-through.

That's where Toppik Hair Building Fibers come in! Toppik is made of statically charged fibers that create a magnetic effect, clinging to even the tiniest hairs, for a natural look that lasts until you wash your hair. They blend undetectably with existing hair strands, instantly concealing hair loss, and making hair look naturally thick and full. 

How to Style Holiday Updos for Thin Hair with Toppik Hair Building Fibers
Choose the shade of Toppik Hair Building Fibers that most closely matches your hair root color. 
Remove the sifter cap and replace it with the Spray Applicator. 
Use the Spray Applicator to apply Fibers to areas of scalp show-through. Pay special attention to temples (where hair tends to be sparse) and the part. 
To fill in areas along the hairline, use the Hairline Optimizer.
Finish the look with a mist of FiberHold Spray. 
Which is your favorite holiday updo for thin hair? How will you style your hair this holiday season? Let us know in the comment section below!