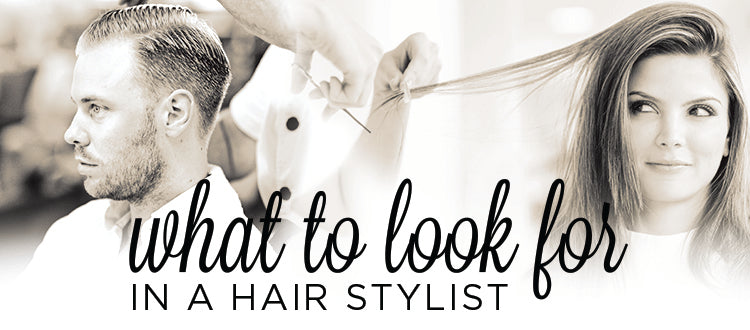 Toppik Tips: How To Find a Great Hairstylist
So you've combed through magazines, blogs and probably Pinterest and finally found the hairstyle you want – but do you have the right hairstylist to help you create it?
Finding the right hairstylist can be one of the most rewarding things to have happen to your hair, but it can come complete with horror stories and bad hair color appointments and cuts before you find the right one. How many friends do you know that have a horrible haircut or color story about a hairstylist? We rest our case.

Whether you want a hairstylist who will create the perfect hair color or cut, recommend great products to you, or teach you tips on how to get thicker hair, knowing what you want to get out of the relationship will help you tremendously in your search effort.
Some hairstylists are better at color than cuts, others know how to style any type of hair, and you've really hit the jackpot when you find the triple threat: someone that can do cut, color and style to perfection. (We like to put those people on speed dial!)
There are many factors to take into consideration when picking a hairstylist, and some things hairstylists probably don't even like to admit, but we're here to give you the good, the bad, and the ugly so you're able to find the best hairstylist for your hair needs.
Read on to learn how you can pick, and keep, the perfect hairstylist…
Where to Look
The first step to finding a great hairstylist is knowing where to look.
Luckily, with social media and review sites readily available, finding information on a hairstylist or a salon should be relatively easy. Websites such as StyleSeat and SeekingStylists let you search by type of haircut, city, date and time, and even lets you see pictures of hair stylists and the work they've done on past clients. Knowing what you are getting into before even going to the salon or meeting a new hairstylist takes some of the pressure and nervousness away that many people inevitably feel trusting their hair to a new person.
Once you've narrowed down your choices, the next place to look is Yelp. With hundreds of reviews from real customers readily available to you, it's the best way to hear more about the salon or hairstylist you are considering. It's also a great place to see if salons are offering any discounts for first time cuts or service package deals.
Another great way to find a hairstylist is through a referral. Ask around, friends, family, and co-workers are all great resources to use if you are trying to find a hairstylist in your area. If a friend has a hairstyle or color that you like, or a family member has similar hair needs, like wanting to know how to get thicker hair, then you may not even need to look online for a hairstylist or salon.
The options for finding a salon or hairstylist are endless, so make sure to use all available resources!
Once you've found the salon and hairstylist of your choice, it's important to make sure you're prepared with specific questions before going to your appointment. This will help you save time while also ensuring your hairstylist understands your needs upfront. In fact, many hairstylists prefer to start an appointment with a consultation so you can speak openly about any concerns and feel confident about meeting your expectations.
What to Ask
While everyone's hair is different, there are some general questions that you can ask to make sure you understand the cut, color, and the overall upkeep of the hairstyle you are choosing.
1. What will the upkeep be like?
If your haircut or color requires that you go back to the salon every 6 weeks, but you don't have the time or the money to do so, you probably need to think about an alternative option. It's essential to know that you'll be able to do what's necessary to maintain your new style before you make any big changes to your hair, or you could find yourself feeling remorseful.
Hair Tip: Don't get discouraged right away! Talk with your hairstylist about the different options available to you, and see if you can't come up with a similar cut or color that doesn't require as much maintenance.
2. Where will the hairstyle fall?
Show your hairstylist where you want your hair to fall when it's styled and finished, instead of telling him or her the length that you want to cut it. If you give your hairstylist a measurement, chances are when your hair is styled it's going to be shorter than you actually want it. Providing a visual is easier because your hairstylist will know where to cut to ensure your hair falls at the length you want it. Also remember to keep in mind how you wear your part as this could have an impact on how your hairstylist ensures the hairstyle falls the way you'd like.
Hair Tip: Pictures and images work well and are great references to bring in!
3. Will I have to style my hair every day to get this look?
This is one of the most important questions to ask. If you only have 10 minutes to do your hair in the morning, getting an elaborate cut that takes you 30 minutes or longer to style isn't going to work with your schedule. Your style may look great at the salon, but if you can't replicate it every day, chances are you will end up dissatisfied with your new hairstyle very quickly.
Hair Tip: If you're set on a hairstyle but it takes more time than you normally allow for your hair, consider changing up your routine in the morning to accommodate this new style.
4. What do I need to know about dying my hair a certain color?
Depending on the color you want, and how dark or light you're going to go, getting to a certain color could take multiple trips to the salon. It's also important to note that as a general rule of thumb, it's recommended that you get your color re-done every 6-8 weeks to account for regrowth at the root and any color fade. If you can't afford to go back that often, or you don't have the time, you can also consider a root touch-up spray to help cover any root re-growth between your hair color appointments.
Hair Tip: It's often best to stay within two shades of your natural coloring.
5. What products should I use with my hairstyle?
Different hairstyles require different products, so make sure you're aware of the products your hairstylist is using. Ask if your stylist knows of any products that may address a specific concern or need you have for maintaining your hair. For instance, if you have thin or thinning hair, it may be important for you to ask your hairstylist how to get thicker hair, or you may want to know more about hair loss products. Your hairstylist may be able to recommend a great shampoo for hair loss or another hair loss cure. Hairstylists often know about great new products first.
Hair Tip: Don't be afraid to ask questions! Hairstylists love telling you about their favorite products, and they've definitely done the research to make it easier for you to pick products that will work well with your hairstyle or address your hair needs.
Once you've met with your new hairstylist and had your first cut or color, you need to decide if you're going to keep seeing that same hairstylist, and if you are, how you are going to maintain the relationship you've just started…
How To Keep a Great Relationship with your Stylist
A relationship with your hairstylist should be treated almost like a relationship with a significant other. The relationship should be founded on communication, loyalty, and trust.
Your hairstylist loves hair, that's why they decided to become a hairstylist, and they want you to love your hair as well. If you don't like something, let them know! No one goes home happy if the client isn't happy. They expect you to tell them what you like and don't like, what you want out of the cut or color, and how much you actually want chopped off. Speak up!
Like you, a good hairstylist should be honest about what is and isn't possible with your hair. It may make you unhappy at first, but don't fault your hairstylist for telling you a cut or color isn't going to work well with your face shape, for example. You should be happy they spoke up, instead of letting you go home with a style that doesn't actually suit you. You may end up loving the cut or color they recommend more than the original hairstyle you wanted!
A couple important points to remember: always be on time, tip well, and listen to your hairstylist's product recommendations.
Being on time shows you respect their time, and being late can end up messing up the rest of their appointments for the day.
If you love your cut or color, show them! Your tips help hairstylists pay for their chair at the salon, the color they use on clients, and the tools and accessories they use, like scissors, hair dryers, curling irons, and straighteners. It also shows an appreciation for the work they do.
Lastly, your hairstylist recommends products to you for a reason. Occasionally salons give hairstylists commission on products, but even if they do, it's usually so minimal that that's not the reason they're recommending the product. If your hairstylist tells you to buy that shampoo for hair loss, chances are it's because it really works!
We love when hairstylists show us love, so to return the favor, we've rounded up some of our favorite hairstylists below!
Some of Our Faves
These hairstylists really know how to show their clients how to get thicker hair, and the secret for them is Toppik Hair Building Fibers!
Do you have a hairstylist that you love, or an experience you just have to share? Tell us in the comments section below if you have any hairstyle horror stories!
Stay In the Know
Now that you know how to pick the perfect hairstylist, next week we're going to talk more about one of our favorite styling products, Toppik Hair Fattener!
If you want to be the first to know about new posts to the Hair Toppiks Blog, sign up for the Toppik VIP list to receive an email a couple times per month or check us out on Facebook!