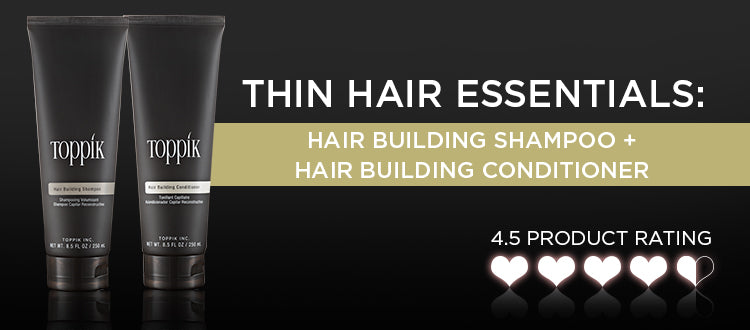 Thin Hair Essentials: Toppik Shampoo & Conditioner Pack
Maybe it's the month of February that's got us feeling extra lovey dovey, but it seems like everyone has a special someone they can call their better half right now.
So we had to ask ourselves, what makes up a "better half?"

Is it that you look good together, or bring something new to the table? Maybe you compliment each other – you start where the other person ends. Or is it that you know exactly what the other person needs and wants, and you know you're able to give it to them? Sort of like the secret ingredient to a recipe only you two know…
All of the above sounds pretty good to us, so we had to ask ourselves, what or who in the world of Toppik emulates a "better half?"
The conclusion: our shampoo and conditioner for thinning hair duo!
While our shampoo for thinning hair strengthens and repairs, the conditioner nourishes and protects – think of them as the yin and yang that keep your hair looking healthy and resilient all day long.
And while we're on the subject….
Famous Couples
Peanut butter and jelly. Brad and Angelina. Lucy and Ethel. Ben and Jerry.
These famous couples and duos have the same yin and yang characteristics that make up our shampoo and conditioner for thinning hair.
Take peanut butter and jelly for instance. Where would one be without the other? Think of peanut butter as the shampoo and jelly as the conditioner. Without jelly you're only getting the taste of peanut butter. When you use shampoo alone, you're not getting the smoothing and detangling effects of conditioner. And without shampoo, your hair may be soft but not clean.
Lucy and Ethel were best friends that didn't go anywhere without each other. Always helping each other with the next big scheme or making sure they were in trouble together, they were two peas in a pod. Toppik shampoo and conditioner act in the same way, it's just not right to use one without the other.
Toppik shampoo and conditioner are the perfect combination to help cleanse, restore, and nourish your hair from start to finish…
Toppik's Most Popular Couple
On its own, our shampoo for thinning hair is a great product that helps strengthen and repair hair, but when combined with Toppik conditioner, the duo becomes the best solution for hair growth and revitalization.
Toppik Hair Building Shampoo rejuvenates thin, lifeless hair, giving it volume and fullness. Made with Keratin proteins, the lightweight formula cleanses the scalp, encouraging healthy hair growth and stronger hair follicles.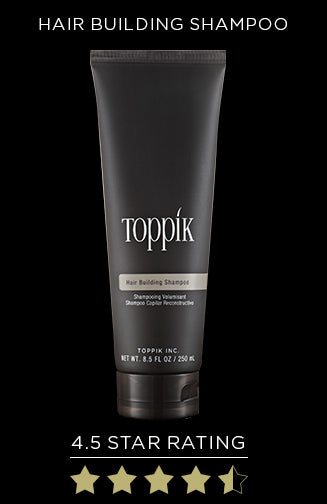 $16.95
Toppik Hair Building Shampoo
If you're unsure about which shampoo is right for your hair type, see our blog post on the best shampoo for thinning hair.
The counterpart to the best shampoo for thin hair, Toppik Hair Building Conditioner, nourishes hair with Keratin and aloe, leaving hair stronger, thicker, and healthier looking.

$16.95
Toppik Hair Building Conditioner
This shampoo and conditioner for thinning hair duo gives damaged hair a fuller look and feel, and is also sulfate and paraben free, so they're even safe to use on color-treated hair!
If you're looking for the best solution for hair growth, start with this exclusive Toppik value set. It's only available at Toppik.com, and you can even set your preferences to have these essentials delivered to you automatically, so you never have to worry again about what your solution for hair loss should be or when it's coming in the mail.

$24.95
Toppik Hair Building Shampoo & Conditioner Pack
Now that you know what products to use, it's always a good idea to set a hair care routine, so you can make sure your hair is always at its healthiest.
Ideal Hair Care Routine
The first step, which we've already covered, is picking out products that are right for your hair type. If you want to read more on this subject, our blog post on the best shampoo for thin hair further covers ingredients to look for and who to listen to when picking out hair products.
The next step is to figure out how many days a week you are going to wash your hair. Some people need to wash their hair every day, others only 3-4 times a week and some even less frequently. This step depends on your hair type and the products you use.
After you've determined how often you should wash your hair, it's important to make sure you always shampoo first, and then condition. Conditioning second allows hair to retain the moisture that it lost while being under hot water.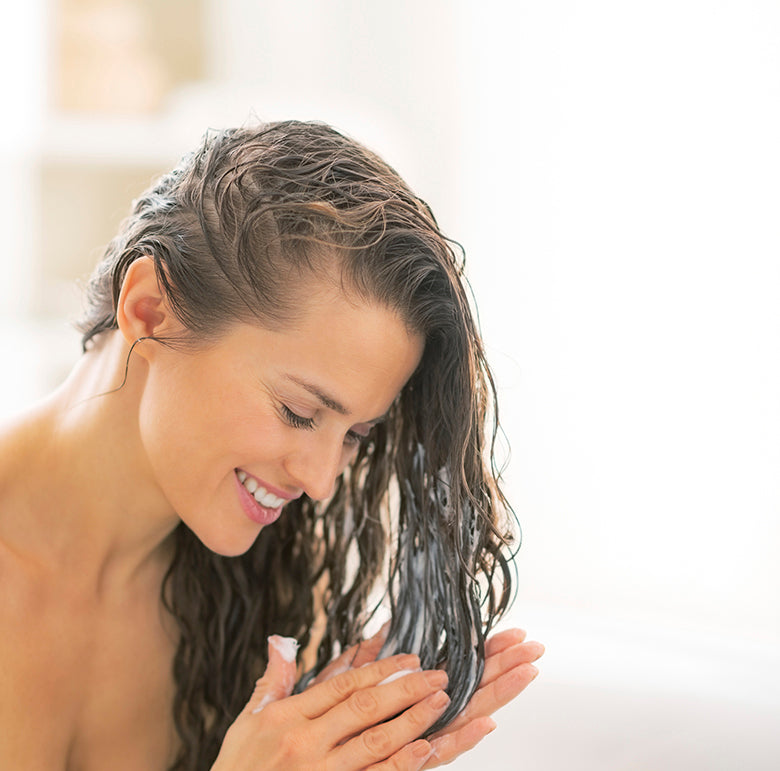 Once you're out of the shower, make sure to towel dry your hair and detangle with a wide-tooth comb when the hair is wet. This prevents the hair from being pulled and breaking, causing further damage and hair fall.
Lastly, once you are ready to start styling your hair, it's important to put any tools you are using on a warm setting, instead of hot. It won't add much time to your hair care routine, and it will help protect your hair from any heat damage.
There are a lot of tricks, tips, and beliefs about hair care out there, but it's important to know which ones are true and which ones aren't, so you don't sacrifice healthy hair in the process.
Dispelling Hair Care Myths
Have you been making one of these hair care mistakes? Below are a couple common beliefs that we want to set straight:
The Myth: If you pluck a grey hair, two more will grow in its place.
Answer: While this is not the best solution for hair growth, it is also very untrue. A hair follicle can only reproduce one hair after being plucked, so there's no chance that two will grow back, regardless of color.
The Myth: Going outside with wet hair when it's cold out will get you sick.
Answer: Luckily this is not true! Colds and other illnesses are caused by airborne pathogens, not the weather. We still recommend bundling up when it's cold outside though! Colder temperatures can lower immunity and make you more vulnerable to airborne pathogens.
The Myth: You should brush your hair 100 times a day.
Answer: Not even close to true. Brushing hair should be kept to a minimum if you want to avoid split ends.
The Myth: You can't dye your hair when you're pregnant.
Answer: This one caught us by surprise, but is actually not true. If you wait until after the first trimester and avoid dyes with formaldehyde in them, (most aren't made with this chemical anymore anyway) your hair should be fine. When in doubt, ask your doctor before booking a salon appointment or buying an at-home color system.
Are you surprised by any of these hair myths?
Tell us in the comments section below what your favorite duo is, and if you're ready to try Toppik's most popular couple!
Stay in the Know
We're always talking about products we love at Toppik, and next week we're excited to feature one of our newer thinning hair heros, Toppik Hair Nutrition 2-in-1 Capsules!
If you want to be the first to know about new posts to the Hair Toppiks Blog, sign up for the Toppik VIP list to receive an email a couple times per month or check us out on Facebook!