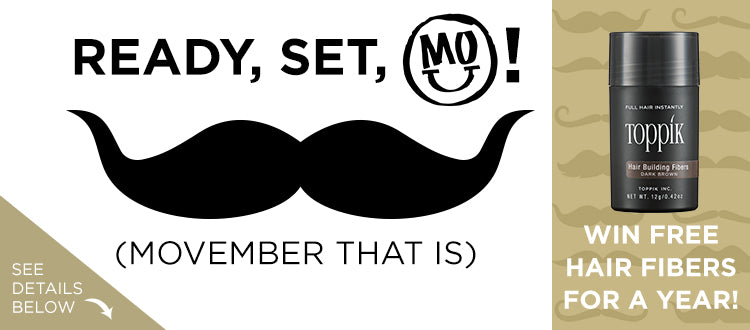 The Hairiest Month of the Year: Movember + WIN FREE FIBERS!
While some might think that November is just about Thanksgiving and turkey (that's still very important!), it's also a month now affectionately known as, "Movember."
The name Movember comes from the reference, "support a mo," which is actually Aussie slang for mustache, and is where Movember began. For thirty days during the month of November, men are encouraged to grow, and women are asked to support men growing out their facial hair, and in particular their mustache.
The point of all this isn't to grow out a super attractive 'stache though, it's to raise money and awareness for men's health issues, in particular prostate and testicular cancer.
By encouraging men to get involved, the Movember Foundation believes they can change the face of men's health, and help increase early cancer detection, diagnosis and determine effective treatments, and ultimately reduce the number of preventable deaths in men.
We at Toppik believe this is a worthy cause, and are getting involved in a number of different ways this year to help support Movember. We want to encourage you to get involved and support the cause as well, which is why we're offering FREE HAIR FIBERS FOR A YEAR to three lucky winners.
If you're interested in learning more about Movember and ways you can help support the cause, and also want to see how you can win Toppik Hair Fibers for a whole year, keep reading…
Men's Health Issues
Men's health issues affect us all, regardless if we are male or female. If you haven't given much thought to men's health issues before, now is the time to do your research and make sure you are aware of the different issues that can affect a man's health.
The Movember Foundation focuses on the most common men's health problems:
Prostate cancer
Testicular cancer
Poor mental health
Physical inactivity
Prostate Cancer
Prostate cancer is the second most commonly diagnosed cancer in men in the United States. Men might not experience any symptoms in the early stages, which is what makes the cancer harder to detect. The prostate is a gland located below the bladder that produces fluid that protects and enriches sperm. Prostate cancer occurs when some of the cells in the prostate reproduce more rapidly, which results in a tumor. If the cancer goes untreated, the cancerous cells may eventually spread to other parts of the body and produce secondary tumors.
You may be more at risk for developing this cancer if you are an older male, have a family history of prostate cancer, or are an African American male.
Testicular Cancer
Testicular cancer is the most common cancer in young men aged 15-34 years old. More than 90% of testicular cancers develop in germ cells, which are responsible for the production of sperm. The cancer starts as an abnormal growth or tumor that develops in one or both testicles. While the causes of testicular cancer are unknown, there are possible factors that may increase a man's risk of developing this type of cancer. These factors include family history, previous occurrence of testicular cancer, undescended testes at birth, and possibly down syndrome.
Poor Mental Health
Around 1 in 4 adults in the United States will experience a mental health problem in a given year, while the highest rate of depression in men is ages 40-59. Mental health is important because while it can affect everyone, oftentimes men find it more difficult to share their problems because of the stigma surrounding how "tough" or "silent" they should be when faced with certain issues or problems. Being proactive about mental health, knowing the risks associated with the illness, and keeping in contact with friends and family are all important ways to stay ahead of this illness.
Physical Inactivity
Physical inactivity is the fourth leading risk factor for global mortality and causes 3.2 million deaths globally. In fact, 41% of men in high-income countries don't exercise enough. Not exercising regularly puts both men and women at a higher risk for developing cancer and many other diseases, which is why the Movember Foundation feels this is such an important issue. Physical activity also helps men stay socially connected and helps build positive behavior, so making sure exercise is an important part of your life and the people around you can help in a myriad of different ways.
Now that you know a little bit more about men's health, see how you can get involved and support this worthwhile cause in the month of November.
What is Movember and How Can You Get Involved in Raising Awareness for Men's Health?
Movember was conceived by two friends at a bar in Australia who wanted to bring the mustache trend back, and found thirty friends willing to take up the challenge.
Although they didn't raise any money in their first year, since then they've raised over $649 million through over 4.5 million participants worldwide. The Foundation has also helped fund over 832 men's health projects since it was first started.
With these impressive numbers, the charity's main goal has always been to help men live a happier, healthier, longer life. By focusing on the four men's health issues listed above, they're able to bring year-round awareness and support to these important topics.
Luckily, whether you want to grow out your 'stache, or you're a woman looking to donate or support the cause, there are many ways you can get involved in the month of November.
1. Growing out the 'stache
This is the most well-known and obvious way to participate in Movember. Even if you feel like you can't grow facial hair, you might be surprised by your 'stache on day thirty! Use your mustache as a way to spark conversation with others about men's health and how you're supporting the cause.
2. The MOVE challenge
This is a great way for women to get involved and support the men in their life! Anyone can sign up and pledge to MOVE for thirty days for Movember. Any kind of physical activity counts, and the more you move, the more you help to raise funds for men's health.
3. Industry challenges
The Movember Foundation created industry challenges as a way to bring companies together in a fun environment to compete against other Movember teams in the same industry, rewarding the highest fundraisers with awesome prizes. If this sounds like something your company might be interested in, read more about the Movember industry challenges.
4. Ways to donate
If growing out a patchy beard doesn't sound appealing to you, or pledging to MOVE for thirty days just isn't your style, another great way to get involved is to donate to the cause. You can donate to a specific team or person, the Foundation, or even set up a recurring monthly donation. Some companies will even match your donation, so make sure to ask your employer if Movember is something they would be interested in participating in.
We've even started a Movember team here at Toppik, and you're invited to join!
How Toppik is Supporting Movember
Our Toppik Movember team is ready to grow out their 'staches, and we want your help!
We've enlisted the men in our office to get involved and grow out their mustaches for a great cause. We'll show you their 'staches on day one, how they're progressing throughout the month, and how they look on day thirty, (you're not going to want to miss that one). We're getting the women in our office involved as well by asking them to MOVE every day this month and support the men growing out their 'staches.
We'd love for our Toppik customers to join our team and get involved as well! If you'd like to join, please visit our Toppik Movember Team page to sign up. If you would rather donate to the cause instead of growing out your 'stache, here's where you can donate to Movember.
There's one more way you can get involved that involves our best-selling Hair Fibers…
WIN FREE HAIR FIBERS FOR A YEAR
Yes, you read that right, you can win free Hair Fibers for a year!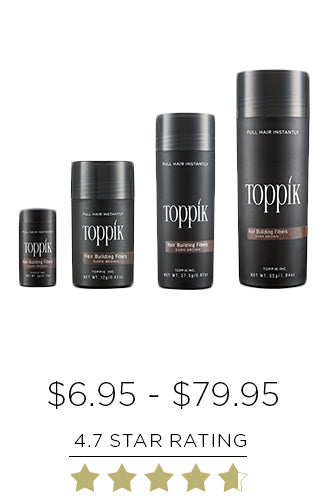 We're asking you to support the Movember cause, and as a thank you, we'll pick three lucky winners to receive free Hair Fibers for an ENTIRE YEAR. All you have to do is upload a photo or video of yourself to Facebook, Instagram or Twitter supporting Movember, either by showing us the 'stache you're growing or by showing us your Movember MOVEs. Make sure to upload a picture by 11/30/15 and add the hashtags #Toppik and #Movember to your image, and we'll pick the winners after Movember is over.
If you have any questions about our Movember contest, please email socialmedia@toppik.com and we'll be happy to answer them.
We can't wait to see how you 'Mo!
CONTEST RULES: Entrants must upload a photo or video on Instagram or Twitter and include #Toppik and #Movember OR upload a photo or video to the Toppik Facebook page (no hashtags necessary) by 11/30/15 for a chance to win; only US residents eligible; winners will be sent a direct image/message on the social media platform they uploaded their image/video to by 12/4/15 and must confirm their prize via email by 12/11/15 by providing a valid email address or another winner will be selected; 3 winners will receive 3 Hair Building Fibers – Giant size in their color of choice as well as a Toppik Spray Applicator tool.
Tell us in the comments section below how you're going to support this amazing cause this year!
Stay In the Know
We hope you'll join the MOvement and support Movember this month! Next week we're taking the guessing out of holiday shopping and letting you in on the best shopping secrets and gifts to buy this year.
If you want to be the first to know about new posts to the Hair Toppiks Blog, sign up for the Toppik VIP list to receive an email a couple times per month or check us out on Facebook!