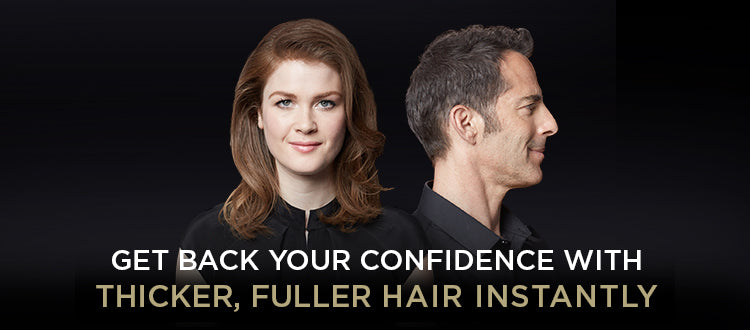 The Emotional Roller Coaster of Losing Your Hair
In previous blog posts we've talked at length about the different causes and types of hair loss for both men and women…
Now we want to focus on how it affects us emotionally…
While many people can sympathize with men and women who have thinning hair or hair loss, it is hard for them to imagine exactly what it feels like to go through such an ordeal. Unless you have experienced hair loss firsthand, you may not be able to fully understand the range of emotions that one goes through when his or her hair begins to thin.
There are hair loss cures and hair growth products available today, but the realization that you may now be among those who need these products can be tough. And the time and money spent trying to regrow your hair, and the uncertainty surrounding the effectiveness of the products, can be burdening and stressful.
Part of the problem stems from the question, "How do you know which hair loss treatment is right for you?"
While it's not always easy to answer this question, there are some things you can do to help reduce the stress, and hopefully ease the pain and frustration that goes hand-in-hand with hair loss.
The stress of not only having to deal with hair loss, but also figuring out the right type of hair loss treatment that will work for you, can be both time-consuming and torturous on your emotions.
To lessen the emotional toll, only try hair loss treatments when you're confident you understand what the outcome of the treatment will be. Having realistic expectations will help you cope. If you're only interested in a temporary solution to help cover up thinning hair, research the best hair cover up products available and see if that solution will work for you. If hair regrowth is what you are looking for, understanding that it may take longer to see results will help you get through the stressful, sometimes painfully slow time period it takes to regrow your hair.
For many though, concealing and treatment products are not enough. No matter how much time you spend researching, and buying and trying different products, the emotional damage that hair loss can cause is already done.
One important thing to always remember is that you are not alone. According to the American Academy of Dermatology, roughly 80 million men and women in the United States are affected by hair loss.
To help you understand the statistic above, we'll walk you through men's and women's hair loss, show you the many others who go through the same emotional highs and lows, and finally how you can get back the confidence you deserve.
Women's Hair Loss
Although fewer women suffer from thinning hair and hair loss, it is said that hair loss affects women more acutely because thinning hair and hair loss are not expected for women. It is often assumed that men will experience thinning hair or hair loss at certain stages of life; but it can be surprising to see a woman struggling with similar issues.
For women, hair can be their most prized possession. Healthy hair is a sign of youth and good health, and when that is taken away, it can leave one feeling raw and vulnerable. This is partly because women have not been encouraged to share their experiences with thinning hair or hair loss. Until very recently, women struggling with thinning hair or hair loss were expected to wear a wig and silently endure it. This feeling of being all alone with this issue contributes to the struggle women face.
But with 30 million women suffering from hair loss, hopefully it is comforting to know that there are many other women out there that are going through the same hardship. They, like you, may find it difficult to tell others, even people they are close to, but if we continue to openly talk about hair loss and the different mechanisms for coping with it, we can truly help one another.
To read more about how hair loss affects women, visit our blog post on women's hair loss to read more about the causes and different hair loss treatments available.
Men's Hair Loss
Hair loss in men is far more common, and affects about 50 million men in the United States.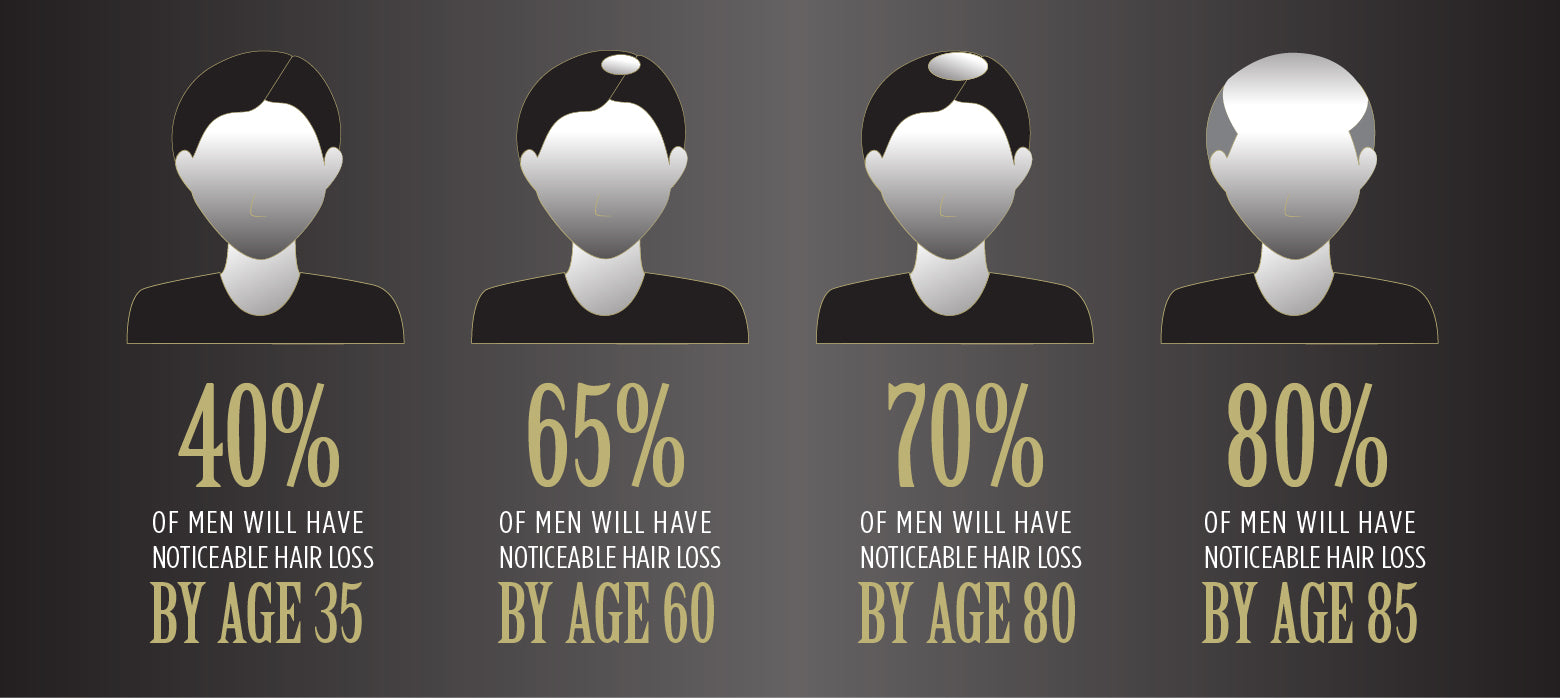 While men's hair loss is more openly discussed, this does not mean that men have an easier time dealing with the physical and emotional issues that accompany thinning hair or hair loss.
Because hair loss for men can start as early as twenty years old, many experience a nagging feeling that you now have a life-long issue to contend with. This is not an easy thing to grasp in your twenties, and can get even harder the older you get and the longer the condition persists.
With more men suffering and more attention to the issues of thinning hair and hair loss in men, there are more hair loss cures and thinning hair products for men than women. Women's hair loss treatments are slowly catching up as more and more women are openly seeking help and advice dealing with thinning hair or hair loss.
If you would like to read more on men's hair loss and causes, visit our blog post on men's hair loss.
Common Ways Hair Loss & Hair Thinning Make Us Feel
Given the chance, no one would wish for hair loss.
It doesn't matter if you're male or female, the stressful experience of losing hair affects us all in the same way. Listen to Eva tell her story of her struggle with hair loss, and it will probably sound very similar to your own.
Like Eva, occasionally you may have an indication that it's coming, or see early signs which allow you to take some preventative measures. Most of the time though, thinning hair or hair loss comes up unexpectedly, without rhyme or reason, and we're left having to figure out how we can gain back the confidence we had with a full head of hair.
No matter how it happens, there will always be initial feelings of anger, hatred, and despair. But hopefully over time these feelings will begin to change. This powerful video shows women who have lost their hair, but then discovered what really makes them beautiful, and what makes others unique. We hope this video will show you that hair loss does not have to be what defines you or negatively impacts your self-esteem.
We've also heard from many Toppik customers about the emotional toll caused by hair loss, and how finding effective hair loss treatments at Toppik have made them feel confident again.
"In my early 30's my hair loss, especially the entire crown, was pretty prominent. It still is. I'd get a lot of unwanted stares and even had dates point it out and ask me about my hair loss. I was so humiliated I didn't know what to do. I then began using glue-on hairpieces and wigs for several years due to severe hair loss. I only bought human hair wigs because they were completely believable, but after a few years I could no longer afford them and sought an alternative. The spray-on color worked great but left a mess in my bathroom and on my pillows. Then one day I tried Toppik and my life changed! It looks SO natural that you'd never believe my hair is so thin I can barely make it into a ponytail. It's long-lasting so I only have to wash and style my hair once a week! I freshen it up daily but it looks so natural that no one gives me a second look. Best of all, no one is staring at my crown anymore or asking about my hair loss!!!"
-Ktness42
"How embarrassing to have thinning hair all of a sudden. Saw this product in a magazine on an airplane flight. Ordered it 2 years ago and it is a life saver. I don't feel embarrassed about my thinning hair because no one knows it is thinning since I have started using this product!!! Seriously, it is worth it!!!"
-Lenny
"I've been using Toppik for years for slightly thinning hair that I was very self conscious of. I was recently diagnosed with skin cancer on my scalp, resulting in surgery and two large bald spots on my head. I've never been more grateful for this product. It has truly been a lifesaver for me."
-Marci
Don't let hair loss be your own, private burden. There are many opportunities and ways to share your story with others. You might consider trying to help someone else by reminding them that they do not need to carry this heavy burden by themselves…
Helpful Tips for Dealing with the Emotions of Hair Loss
Struggling with hair loss is an emotional battle in and of itself, but it doesn't have to be something you go through alone.
There are lots of ways you can connect with others and share your hair loss experience and story. Helpful websites like Bald Girls Do Lunch, Women's Hair Loss Project, and Hair Loss Talk are great online resources that provide outlets where you can talk with others who are going through something similar, or find ways to help and meet others who might live near you.
These organizations want you to understand that you are not on your own, and that others who are going through their own hair loss struggles can offer insights, tips, an ear to listen to and even lasting friendships.
Once you begin to see all the different resources available to you, we hope the emotional stress that once seemed unceasing will begin to fade.
Products That Help With Hair Loss and Hair Regrowth
Our goal at Toppik is to not only make you feel like you have a safe place where you can talk and ask questions about hair loss and thinning hair, but to also offer you the best hair growth products and cover up options available for your hair needs.
We hope that by using Toppik products, we can help ease some of the emotional stress associated with hair loss and be a positive part of your journey to regain your confidence.
Toppik Hair Building Fibers
Our most popular product, Toppik Hair Building Fibers, is a cosmetic solution for hair loss. It helps cover any areas of thinning hair or scalp show-through, and makes hair look thicker and fuller. The Hair Fibers come in nine shades that can be mixed to match almost any hair color, and are available in four sizes to help with a wide range of hair loss needs. You can either shake or spray the Hair Fibers into your hair, and your thinning hair will be instantly concealed. This is the quickest way to get the confidence you once had with a full head of hair.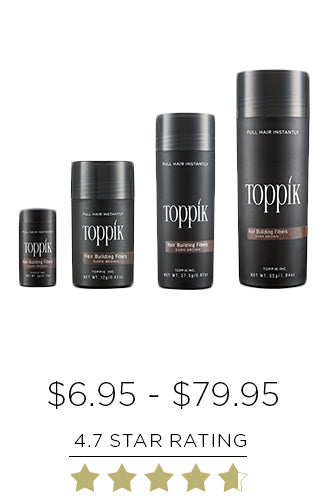 Toppik Colored Hair Thickener
Our Colored Hair Thickener is another cosmetic option for thinning hair. This color spray solution is designed to disguise wider areas of thin or thinning hair, scalp-show through, and even hide root regrowth between color appointments. Its lightweight, long-lasting formula is gentle on the scalp and safe for everyday use. Colored Hair Thickener stays in place through wind, rain, and perspiration yet washes out easily with shampoo, making it a great hair cover up product that is easy to use.
Toppik Colored Hair Thickener is available in five shades made of natural pigments that match almost any hair color, blending seamlessly into your existing hair and creating a fuller, thicker look in an instant.
For anyone searching for hair growth products, our topical Minoxidil treatments and laser hair device are two products that help with hair regrowth.
Toppik Hair Regrowth Treatments
Toppik Hair Regrowth Treatments contain Minoxidil, which is clinically proven to help regrow hair by re-activating hair follicles and stimulating hair regrowth. Applied twice daily to the scalp through an easy-to-use spray applicator, hair regrowth can usually be seen after approximately 2-4 months of continued use. If you don't mind waiting for a short period of time, this is a great solution to grow back the hair you once had.
Theradome
Toppik Theradome, the only FDA-cleared at-home laser hair treatment device, is designed to grow new, healthy hair while also slowing down and minimizing hair loss. This wearable, clinical strength laser treatment device is perfect for anyone looking for a hair loss solution that can be conveniently used from the comfort of his or her own home. Again, if growing new hair is your main objective, this hair loss treatment might be perfect for you.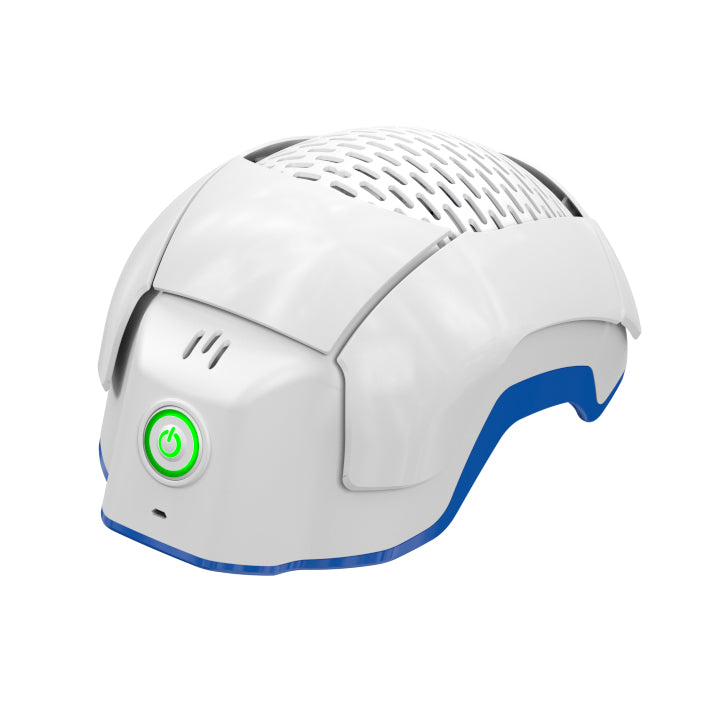 How do you deal with the emotional stress that comes with hair loss? If you have any tips or advice that we haven't mentioned in this blog post, our readers would love to know what has helped you cope.
Stay In the Know
We hope this blog post has inspired you to share your story. Next week we'll be talking about a lighter subject: celebrities with great hair!
If you want to be the first to know about new posts to the Hair Toppiks Blog, sign up for the Toppik VIP list to receive an email a couple times per month or check us out on Facebook!