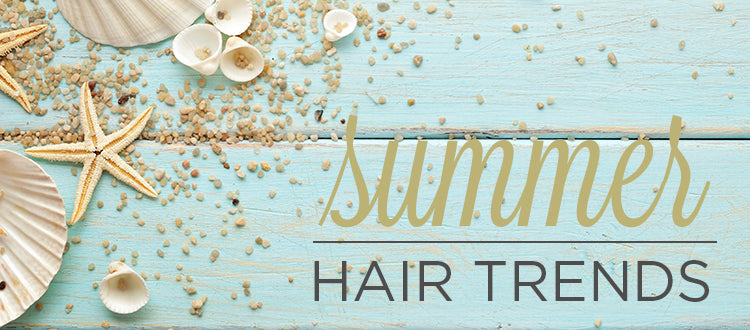 The Best Men's and Women's Hairstyles & Colors For Summer
The sun is shining, the beach is calling, and the days are longer. That can only mean one thing, summer is here.
Summer means beachy waves, salt in your hair, and long hours exposed to the sun's rays. It's a great time to change your hairstyle or hair color, and enjoy the no-fuss attitude that comes along with summer.
Winter may have done damage to your hair, so changing your hair for summer is an important part of your hair care routine.
Whether you're thinking about short hairstyles or hairstyles for long hair this summer, there's something that will work for everyone. With a new season, reinvention can be easily achieved by just changing your hair. If you're feeling bolder, switching your hair color is another way to transform your look and get eye-catching summer hair.
We've put together the summer hair trends that we're loving for men and women, and how you can achieve these women's and men's hairstyles effortlessly.
If you're ready to embrace summer hair, keep reading…
Summer Hair Colors
While winter hair can be dull and boring, summer is the time to try out new colors and be fearless with your hair decisions.
Men typically do not change their hair color as often as women tend to. According to Elle and Harper's Bazaar though, this summer's hair colors are starting new trends and not following any precedents.
The top three hair colors to try this season will show you why summer is gearing up to be a season of adventure…
Monochrome Brunette
Credit: Getty Images/http://www.fashionisers.com/
Good news for brunettes! Switching to a lighter brown isn't necessary this summer. The dark, rich color you had from winter will work perfectly for summer. Just make sure you're making regular appointments to keep hair glossy and luminous.
Caramel Blonde
Credit:http://www.theloop.ca//http://www.glamour.com/
Highlighting blonde color is popular during the summer, but make sure you're doing it right. Ask for warm, buttery tones and have them blend into your blonde as much as possible. Since the sun will be shining on your hair all summer long, you won't have to get your highlights done as often either. Bonus!
Strawberry Red
Credit: http://www.fashionisers.com//Jon Kopaloff/Getty Images
We were not expecting to see this color for summer, so we're excited it's starting to trend! Red has gotten increasingly popular as more and more celebrities are dyeing their hair variations of this color. Hair colorists predict this color will last awhile, so if you've been thinking of taking the plunge, now is the time to do it.
Now that you know what the most popular women's hair colors for summer are going to be, it's time to take a look at summer trends for hairstyles…
Women's Hairstyles & Summer Trends
Nothing says summer like a fresh cut, so we're hoping this hair inspiration gets you in the mood for a chop!
Whether you're looking for short hairstyles or hairstyles for long hair, there's something for everyone this summer.
The New Pixie
Credit:Getty Images/Getty Images
The recent wave of celebrity women chopping off their hair and opting for this short hairstyle is making this cut popular again. While short haircuts for women have always been around, this cut gives short hair definition, texture, and attitude. Keep hair styled closer to the head and in the front for daytime, and give hair a little volume and structure for the nighttime. You won't regret this new "cool-girl" hair cut.
Shoulder-Length Waves
Credit:Getty Images/Frazer Harrison/Getty Images North America
If you're not looking for a short or long hairstyle, this is a great hairstyle for medium-length hair. It's not a lob or a bob, which have been popular recently, but rather a more controlled hairstyle than the previous two. Use a texturizing spray to create simple waves and get the perfect beach-ready hair.
Sleek Bangs
Credit:Getty Images/Ethan Miller/Getty Images
Bangs work well with short haircuts for women or hairstyles for long hair, but you have to know the right type of bangs to get. Visit Makeup.com if you want to see what type of bangs are right for your face shape. This summer though it's all about the sleek, smooth bangs. They blend well with hair and can even be parted to the side if you want a different look for a day. Use a flat iron to keep them controlled and in place throughout the day.
We're not just talking about women's summer hair trends though, read on to learn what's popular for men this summer too!
Men's Hairstyles & Summer Trends
Men might not change their hair color very often, but they can certainly change their hairstyle.
Summer is the perfect time to evaluate your hairstyle and decide if it's time to freshen up your look. To give you a head's start, we've picked out the top mens hairstyles for summer 2015.
Summer Bounce
With the word, "summer" in the name, you know this mens hairstyle is perfect for the summer season. This brushed up hairstyle looks great and gives a windswept appearance, but be warned that it is slightly harder to maintain than some other hairstyles. You need to know the right products to use to give your hair the right amount of bounce. If you're new to the hairstyle game, watch this YouTube tutorial on men's hair brushes to learn how to properly style your hair.
The Side Sweep
This classic hairstyle just got an updated look in time for summer. To achieve this look, hair on the top should be a lot longer than the sides, so keep that in mind for your next haircut. Easy to style, just grab some water-based pomade and run fingers through hair so that it parts to one side.
Shaved Head
This mens hairstyle is short and sweet and perfect for summer. It will also save you time and money because it is low-maintenance and doesn't require any styling. Simply wake up and go!
Even though these are the popular men's hair trends for summer, they might not work for all ages. Some hairstyles have an age limit, but we'll show you the best haircut for your age below…
Popular Hairstyles & Haircuts in Your 20s and 30s
It's fun to play with your hair and try different cuts and lengths, but getting the wrong haircut when you're young can make you look older than you might want. These haircuts are perfect for women and men in their 20's and 30's, and will make you look your age!
Women
Tousled Layers
This womens hairstyle is great because it works well with any face shape. It's simple, easy to pull off, and looks fun and fresh without being overdone. The key to this haircut is layers, which will give the hair more bounce.
Graduated Bob
If you want a shorter hairstyle that's a little more sophisticated, go for the graduated bob. It's shorter in the back and slightly angled in the front, bringing the attention to your face. It's also a great way to create natural volume and texture and is easy to style.
Men
Dishevelled Quiff
Most men when they're younger have more hair, and it's important to take advantage of that benefit of youth while you can! Keep your hair long on the top and not too short on the sides; you'll see extra volume and lift that way. It's the perfect "imperfect" look.
Slicked Back Hair
This popular mens hairstyle has been around for awhile and is a great casual hairstyle. It doesn't require too much attention and again, it's great for when you're younger because you need a bit more hair to make the hairstyle work. A small amount of gel goes a long way for this hairstyle.
For anyone over the age of 50, these next set of hairstyles should compliment some of the natural signs of aging you may have noticed in your hair. Use this information as a guide to help you make sure you get the right cut and color to match your age.
Popular Hairstyles & Haircuts Over 50
While your hair may not be as thick or versatile as it was when you were younger, you still have plenty of options for great hairstyles and cuts.
Women
Short & Spiky
This short haircut for women is whimsical and fun! It also works well for all hair textures and draws attention to your face, especially the eyes. For an even more daring look, add a little side-sweep to the front. Think of this as the anti-short cut.
The Bob
What we love most about the bob is that it's an ideal cut for thin or thinning hair. It gives volume to limp hair, and helps create instant shape. Take your bob one step further by getting an A-line shape and length – you won't regret it!
Men
The Silver Fox
Take a page out of George Clooney's book and let your natural grays show through. There's no reason to hide your color, and gray hair is a sign of maturity and wisdom!
Short & Tight
The best hairstyle for older men is one that is short on the sides and top because it hides any signs of natural aging. You won't have to worry about growing hair out or making sure it gets to a certain length, and haircuts will become something you enjoy.
Which of these summer hair trends for men and women are you excited to try? Tell us in the comments section below which one you're most excited about!
Stay In the Know
Now that you're ready for perfect summer hair, next week we'll talk about a more serious subject, the emotional toll it takes on you when you begin to lose your hair.
If you want to be the first to know about new posts to the Hair Toppiks Blog, sign up for the Toppik VIP list to receive an email a couple times per month or check us out on Facebook!