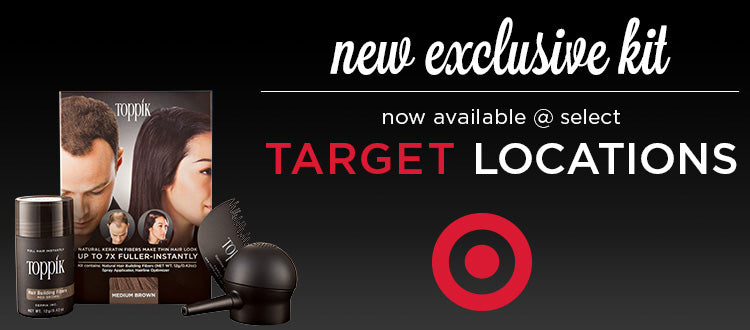 New Fiber Kit Now Available at Target + Exclusive Coupon!
We're happy to announce that we have put together an exclusive Toppik Starter Kit that is now available at select Target locations!
This 3-piece kit includes the essentials: our best-selling Toppik Hair Building Fibers, Toppik Hairline Optimizer, and Toppik Spray Applicator. It has everything you need to make sure you are getting a flawless Hair Fibers application every time. This Starter Kit is currently available in our most popular colors, Medium Blonde, Light Brown, Medium Brown, Dark Brown, and Black.
A $49.99 value, this Starter Kit is normally $29.99, but for a short time you can purchase this Kit for $24.99 when you print this $5 OFF coupon. You must print this coupon by 9/30/15 and use by 10/31/15. Valid in-store only.
To see store locations, please click on one of the following cities: Arizona, California, Colorado, Connecticut, Florida, Georgia, Illinois, Kansas, Massachusetts, Maryland, North Carolina, North Dakota, New Jersey, New Mexico, Nevada, New York, Oregon, Pennsylvania, Tennessee, Texas, Utah, Virginia, Wisconsin.
ARIZONA
Arcadia Crossing
4515 E Thomas Rd
Phoenix, AZ-85018
(602) 952-1797

Queen Creek
21398 S Ellsworth Loop Rd
Queen Creek, AZ-85142
(480) 214-4810

Chandler West Santan
3425 W Frye Rd
Chandler, AZ-85226
(480) 281-0007

Chandler South
3777 S ARIZONA AVE
Chandler, AZ-85248
(480) 612-6101

Tempe NE
1800 E Rio Salado Pkwy Ste 120
Tempe, AZ-85281
(480) 214-2667

Peoria SW
9350 W Northern Ave
Glendale, AZ-85305
(623) 877-8440

Goodyear West
995 S Cotton Ln
Goodyear, AZ-85338
(480) 627-3275

Surprise
13731 W Bell Rd
Surprise, AZ-85374
(623) 975-4122

Tucson SW
1225 W Irvington Rd
Tucson, AZ-85714
(520) 295-1277

Tucson El Con Mall
3699 E Broadway Blvd
Tucson, AZ-85716
(520) 917-0116

Tucson NW
3901 W Ina Rd
Tucson, AZ-85741
(520) 744-3553

CALIFORNIA
Cypress
6835 Katella Ave
Cypress, CA-90630
(714) 220-2000

Norwalk
10600 Firestone Blvd
Norwalk, CA-90650
(562) 406-8870

Norwalk East
12051 Imperial Hwy
Norwalk, CA-90650
(562) 409-5036

San Pedro
1701 N Gaffey St
San Pedro, CA-90731
(310) 507-6289

Long Beach Bellflower
2270 N Bellflower Blvd
Long Beach, CA-90815
(562) 493-5411

West Hills
6635 Fallbrook Ave
West Hills, CA-91307
(818) 999-2390

Thousand Oaks
2705 Teller Rd
Thousand Oaks, CA-91320
(805) 480-9114

Northridge
8840 Corbin Ave
Northridge, CA-91324
(818) 772-0494

Granada Hills
11133 Balboa Blvd
Granada Hills, CA-91344
(818) 360-2999

Westlake Village
30740 Russell Ranch Rd
Westlake Village, CA-91362
(818) 661-2631

Woodland Hills
20801 Ventura Blvd
Woodland Hills, CA-91364
(818) 713-2707

Van Nuys North
14920 Raymer St
Van Nuys, CA-91405
(818) 922-1001

Azusa
809 N Azusa Ave
Azusa, CA-91702
(626) 629-1121

Chino
5555 Philadelphia St
Chino, CA-91710
(909) 627-8433

Rancho Cucamonga
10576 Foothill Blvd
Rancho Cucamonga, CA-91730
(909) 948-9952

Eastvale
12471 Limonite Ave
Mira Loma, CA-91752
(951) 256-5261

Montclair
9052 Central Ave
Montclair, CA-91763
(909) 624-5717

San Dimas
888 W Arrow Hwy
San Dimas, CA-91773
(909) 394-0335

Upland
1931 Campus Ave
Upland, CA-91784
(909) 985-0348

West Covina
2831 E Eastland Ctr Dr
West Covina, CA-91791
(626) 859-0221

West Covina South
2370 S Azusa Ave
West Covina, CA-91792
(626) 667-5400

Chula Vista Broadway
1240 Broadway
Chula Vista, CA-91911
(619) 425-3850

Chula Vista East
910 Eastlake Pkwy
Chula Vista, CA-91914
(619) 213-1010

Encinitas
1010 N El Camino Real
Encinitas, CA-92024
(760) 633-1406

Poway
14823 Pomerado Rd
Poway, CA-92064
(858) 679-8202

Vista
1751 University Dr
Vista, CA-92083
(760) 941-0220

Sports Arena
3245 Sports Arena Blvd
San Diego, CA-92110
(619) 223-2491

Balboa
5680 Balboa Ave
San Diego, CA-92111
(858) 309-6564

Palm Springs
67750 E Palm Canyon Dr
Cathedral City, CA-92234
(760) 321-7425

La Quinta
78935 US Hwy 111
La Quinta, CA-92253
(760) 564-0492

Fontana North
15272 Summit Ave
Fontana, CA-92336
(909) 463-9872

Hesperia
12795 Main St
Hesperia, CA-92345
(760) 949-3062

Redlands
27320 W Lugonia Ave
Redlands, CA-92374
(909) 307-1602

Victorville
15321 Palmdale Rd
Victorville, CA-92392
(760) 241-3357

Riverside Arlington
3333 Arlington Ave
Riverside, CA-92506
(951) 784-6430

Murrieta
41040 California Oaks Rd
Murrieta, CA-92562
(951) 696-7527

Foothill Ranch
26762 Portola Pkwy
Foothill Ranch, CA-92610
(949) 454-2360

San Clemente
990 Avenida Vista Hermosa
San Clemente, CA-92673
(949) 456-8668

Rancho Santa Margarita
30602 Santa Margarita Pkwy
Rancho Santa Margarita, CA-92688
(949) 459-1543

Anaheim
101 S Euclid St
Anaheim, CA-92802
(714) 422-1120

Fullerton
2920 Yorba Linda Blvd
Fullerton, CA-92831
(714) 579-3090

Fullerton South
200 W Orangethorpe Ave
Fullerton, CA-92832
(714) 992-4565

Corona
2615 Tuscanny St
Corona, CA-92881
(951) 277-3075

Ventura
4200 E Main St
Ventura, CA-93003
(805) 644-9871
Camarillo
209 W Ventura Blvd
Camarillo, CA-93010
(805) 384-0040

Moorpark
800 New Los Angeles Ave
Moorpark, CA-93021
(805) 530-0028

Oxnard West
2850 N OXNARD BLVD
Oxnard, CA-93036
(805) 288-3642

Simi Valley West
51 Tierra Rejada Rd
Simi Valley, CA-93065
(805) 416-5790

Hanford
140 N 12th Ave
Hanford, CA-93230
(559) 582-9298

Porterville
1363 W Henderson Ave
Porterville, CA-93257
(559) 719-2203

Visalia
4247 S Mooney Blvd
Visalia, CA-93277
(559) 749-0740

Bakersfield Central
2901 Ming Ave
Bakersfield, CA-93304
(661) 617-2000

Santa Maria
223 E Betteravia Rd
Santa Maria, CA-93454
(805) 922-9904

Palmdale
39440 10th St W
Palmdale, CA-93551
(661) 265-0906

Fresno Central
5740 N Blackstone Ave
Fresno, CA-93710
(559) 431-8622

Fresno North
7600 N Blackstone Ave
Fresno, CA-93720
(559) 431-0104

Fresno NW
6655 North Riverside Dr
Fresno, CA-93722
(559) 490-5567

Sand City
2040 California Ave
Sand City, CA-93955
(831) 392-1990

Redwood City
2485 El Camino Real
Redwood City, CA-94063
(650) 363-8940

Antioch Slatten Ranch
5769 Lone Tree Way
Antioch, CA-94531
(925) 752-0002

Napa
205 Soscol Ave
Napa, CA-94559
(707) 224-1058

Dublin East
2800 Dublin Blvd
Dublin, CA-94568
(925) 241-1042

Dublin
7200 Amador Plaza Rd
Dublin, CA-94568
(925) 829-8900

Walnut Creek
1871 N Main St
Walnut Creek, CA-94596
(925) 979-0083

San Rafael
125 Shoreline Pkwy
San Rafael, CA-94901
(415) 299-6112

Petaluma
401 Kenilworth Drive
Petaluma, CA-94952
(707) 775-6322

Santa Clara
2004 El Camino Real
Santa Clara, CA-95050
(669) 342-3320

Watsonville
1415 Main St
Watsonville, CA-95076
(831) 761-9194

San Jose South
5630 Cottle Rd
San Jose, CA-95123
(408) 600-3721

Lodi
2355 W Kettleman Ln
Lodi, CA-95242
(209) 369-9371

Tracy
2800 Naglee Rd
Tracy, CA-95304
(209) 833-3494

Manteca
280 Spreckels Ave
Manteca, CA-95336
(209) 823-9982

Merced
3280 R St
Merced, CA-95348
(209) 725-3482

Modesto
3405 Mchenry Ave
Modesto, CA-95350
(209) 572-3341

Modesto NW
3900 Sisk Rd
Modesto, CA-95356
(209) 543-9561

Riverbank
2425 Claribel Rd
Riverbank, CA-95367
(209) 863-1270

Turlock
3000 Countryside Dr
Turlock, CA-95380
(209) 632-0132

Santa Rosa North
950 Coddingtown Center
Santa Rosa, CA-95401
(707) 596-5587

Eureka
2525 4th St
Eureka, CA-95501
(707) 442-0201

Birdcage-Citrus Heights
5837 Sunrise Blvd
Citrus Heights, CA-95610
(916) 966-5267

Rocklin
5104 Commons Dr
Rocklin, CA-95677
(916) 251-3345

Roseville North
10451 Fairway Dr
Roseville, CA-95678
(916) 780-1020

Sacramento East
6507 4th Ave
Sacramento, CA-95817
(916) 503-3678

Yuba City
1153 Butte House Rd
Yuba City, CA-95991
(530) 671-6881

COLORADO
Lakewood
460 S Vance St
Lakewood, CO-80226
(303) 209-7749

Denver SE
7777 E Hampden Ave
Denver, CO-80231
(303) 481-2821

CONNECTICUT
South Windsor
125 Buckland Hills Dr
Manchester, CT-06042
(860) 327-0082

Newington
3265 Berlin Turnpike
Newington, CT-06111
(860) 616-0022

Meriden
474 Chamberlain Hwy
Meriden, CT-06451
(203) 634-6049

FLORIDA
Aventura
21265 Biscayne Blvd
Aventura, FL-33180
(305) 933-4616

Kendall
15005 SW 88th St
Miami, FL-33196
(305) 386-1244

Naples
2324 Pine Ridge Rd
Naples, FL-34109
(239) 435-0051

Port St Lucie
10720 SW Village Pkwy
Port Saint Lucie, FL-34987
(772) 293-6152

GEORGIA
Acworth
3378 Cobb Pkwy NW
Acworth, GA-30101
(678) 202-0996

Buford
3205 Woodward Crossing Blvd Ste B
Buford, GA-30519
(678) 482-2367

ILLINOIS
Highland Park
2099 Skokie Valley Rd
Highland Park, IL-60035
(847) 266-8022

Wood Dale
401 W Irving Park Rd
Wood Dale, IL-60191
(630) 594-5510

Bolingbrook
1188 W Boughton Rd
Bolingbrook, IL-60440
(630) 378-5544
Chicago McKinley Park
1940 W 33rd St
Chicago, IL-60608
(773) 843-3250

KANSAS
Mission
6100 Broadmoor St
Mission, KS-66202
(913) 262-2434

MASSACHUSETTS
Worcester
529 Lincoln St
Worcester, MA-01605
(508) 852-3094

Framingham
400 Cochituate Rd
Framingham, MA-01701
(508) 628-3136

MARYLAND
Glen Burnie
7951 Nolpark Ct
Glen Burnie, MD-21061
(410) 969-2257

NORTH CAROLINA
Greensboro NW
2701 Lawndale Dr
Greensboro, NC-27408
(336) 286-2511

Cary West
7129 O'Kelly Chapel Road
Cary, NC-27519
(919) 674-2214

NORTH DAKOTA
Bismarck
600 Kirkwood Mall
Bismarck, ND-58504
(701) 250-3180

NEW JERSEY
Clifton
30 Kingsland Rd
Clifton, NJ-07014
(973) 330-0002

Hackensack
630 Main St
Hackensack, NJ-07601
(201) 678-0599

East Windsor
70 Princeton Hightstown Rd
East Windsor, NJ-08520
(609) 371-2273

North Brunswick
101 Grand Ave
North Brunswick, NJ-08902
(732) 798-2558

NEW MEXICO
Albuquerque Uptown
2120 Louisiana Blvd NE
Albuquerque, NM-87110
(505) 200-3234

Albuquerque Lomas
11120 Lomas Blvd NE
Albuquerque, NM-87112
(505) 292-9110

Albuquerque NE
6100 Paseo Del Norte NE
Albuquerque, NM-87113
(505) 346-0135

Albuquerque NW
9371 Coors Blvd NW
Albuquerque, NM-87114
(505) 897-7923

Santa Fe
3550 Zafarano Dr
Santa Fe, NM-87507
(505) 471-9600

NEVADA
Las Vegas Far NW
6480 Sky Pointe Dr
Las Vegas, NV-89131
(702) 839-1591

Las Vegas Far SW
4155 S Grand Canyon Dr
Las Vegas, NV-89147
(702) 251-0330

Sparks South
1550 E Lincoln Way
Sparks, NV-89434
(775) 332-1003

Reno South
6845 Sierra Center Pkwy
Reno, NV-89511
(775) 853-8900

NEW YORK
Clarkstown
4120 Palisades Center Dr
West Nyack, NY-10994
(845) 348-6440

Westbury
999 Corporate Dr
Westbury, NY-11590
(516) 222-1003

Poughkeepsie
2001 South Rd
Poughkeepsie, NY-12601
(845) 297-0938

North Buffalo
2626 Delaware Ave
Buffalo, NY-14216
(716) 447-0094

Henrietta
2325 Marketplace Dr
Rochester, NY-14623
(585) 424-3370

OREGON
Wilsonville
25925 SW Heather Pl
Wilsonville, OR-97070
(503) 682-7781

Hillsboro
2295 SE Tualatin Valley Hwy
Hillsboro, OR-97123
(503) 693-1016

PENNSYLVANIA
Allentown
1600 N Cedar Crest Blvd
Allentown, PA-18104
(610) 398-4006

TENNESSEE
Chattanooga East
1816 Gunbarrel Rd
Chattanooga, TN-37421
(423) 490-1418

TEXAS
Addison
3730 Belt Line Rd
Addison, TX-75001
(214) 414-0025

Love Field
9440 Marsh Ln
Dallas, TX-75220
(214) 357-3980

Grapevine
1101 Ira E Woods Ave
Grapevine, TX-76051
(817) 488-1800

Houston Central
2580 Shearn St
Houston, TX-77007
(713) 331-0376

Houston Memorial
984 Gessner Rd
Houston, TX-77024
(713) 300-0227

Galleria
4323 San Felipe St
Houston, TX-77027
(713) 960-9608

Steeplechase
12701 FM 1960 Rd W
Houston, TX-77065
(281) 949-2219

Willowbrook
6801 FM 1960 Rd W
Houston, TX-77069
(281) 716-1105

Tomball Parkway
21515 Tomball Pkwy
Houston, TX-77070
(281) 655-1427

Conroe
503 I 45 N
Conroe, TX-77304
(936) 760-2663

Atascocita
6931 FM 1960 Rd E
Humble, TX-77346
(281) 318-2237

Woodlands
1100 Lake Woodlands Dr
The Woodlands, TX-77380
(281) 364-1281

Rosenberg
23912 Commercial Dr
Rosenberg, TX-77471
(281) 232-1240

Georgetown
1021 W University Ste B3
Georgetown, TX-78628
(512) 869-3163

Pflugerville
18700 Limestone Commercial Dr Ste 100
Pflugerville, TX-78660
(512) 687-2064

Round Rock
121 Louis Henna Blvd
Round Rock, TX-78664
(512) 246-7677

Lubbock West
6064 Marsha Sharp Freeway
Lubbock, TX-79407
(806) 788-3600

UTAH
Salt Lake City
1110 S 300 W
Salt Lake City, UT-84101
(801) 401-9562

VIRGINIA
Virginia Beach Pemb
4554 Virginia Beach Blvd Ste 500
Virginia Beach, VA-23462
(757) 451-7660

WISCONSIN
Waukesha
2401 Kossow Rd
Waukesha, WI-53186
(262) 784-8646