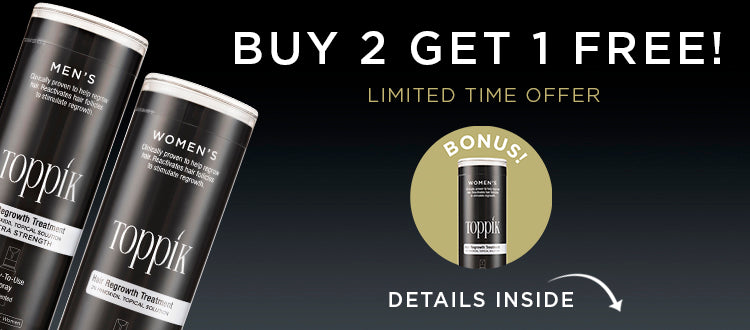 Stop Hair Fall Out & Regrow Hair (Limited Time Offer!)
If you've ever experienced hair falling out, you know the emotional and sometimes physical toll it can take on your body.
Deciding how you want to treat the problem can also be exhausting and time-consuming, as it can often be difficult to know which hair growth products are right for you. Products that work miracles for one person may not work the same way for you, and most of us know, it can be easy to give up on finding a solution to hair loss if we don't see immediate results.
At least know that you're not alone!
Although there are differences between the way men's and women's hairloss happens, about 40% of people can expect to experience some type of hair falling out by the time they turn 40. Knowing more facts about hair loss, along with which brands to trust, can help you make an informed decision about which hair growth products may be right for you.
If you're interested in reading more about the differences in hair loss between men and women, our blog posts on men's hair loss and women's hair loss explain why and how hair loss happens, and the different hair loss treatments available.
Toppik Hair Loss Products
Toppik has always been at the forefront of offering customers a wide range of solutions for hair loss and hair regrowth. Our customers trust us because we continue to develop products that are not only effective at hiding, stopping, and preventing hair loss, but also for creating hair regrowth products.
Two products that we created in particular, our Men's and Women's Hair Regrowth Treatments, contain a powerful key ingredient, Minoxidil, to help regrow hair. But because these products need to be used for several months before you can expect to see results, we're offering a BUY 2, GET 1 FREE deal now through the end of May.
For more details on this limited-time offer, be sure to read through to the bottom of this post for more information!
If you've been searching for a product that will help regrow hair and stop hair fall out, read on to learn more about these products, and read reviews from other customers who have used these products and have experienced life-changing and transformational results.
Hair Regrowth Treatments
Toppik Men's and Women's Hair Regrowth Treatments are proven to help regrow hair because of the main ingredient found in each one.
Minoxidil is the only FDA-approved ingredient that stimulates hair regrowth when applied directly to the scalp. Toppik Hair Regrowth Treatments are formulated with Minoxidil, which is clinically proven to help regrow hair. While it is not fully known how this drug activates hair regrowth, doctors think that it may work by dilating blood vessels in the scalp, which may improve hair follicle function and ultimately stimulate scalp hair growth.
When Minoxidil was first introduced, it was only FDA-approved for hair growth for men. Eventually the FDA approved Minoxidil use for women as well, but men and women do not have the same twice daily approved dosage. Since a certain amount of Minoxidil is absorbed systemically from your scalp, women run an increased risk of side effects if they use more than is FDA-approved.
This is the only difference between Toppik Men's and Women's Hair Regrowth Treatments. Men have a FDA-approved dosage of 5% Minoxidil, whereas women have a FDA-approved dosage of 2% Minoxidil.
The Hair Regrowth Treatments are available in a 60mL (2 fl oz) bottle, which equates to a 30-day supply. The bottle offers an easy-to-use spray and lock feature to prevent it from leaking, which makes it easy to store and use on the go. For this hair regrowth product to work, you must apply a 1mL dose twice daily to a clean, dry scalp.
Before purchasing these hair growth products, make sure you are aware of the time it can take to see the results you want…
…but what kind of results can you expect?
It is important to remember that normal hair usually grows only ½ to 1 inch per month, so hair regrowth with Toppik Men's and Women's Hair Regrowth Treatments will take time.
With this hair loss treatment for men, results may be seen as early as 2 months with twice daily use, but for some it may take at least 4 months for results to be seen.
For women, continued use of 2 times a day for at least 4 months is usually needed before you notice hair regrowth.
For both Men's and Women's Hair Regrowth Treatments, if you do not see results after 4 months, it is best to stop taking the treatment and consult your doctor.
It is also important to note that when you first begin this hair loss treatment for men and women, hair loss may continue or even increase for up to 2 weeks.
Don't be alarmed, this hair loss is temporary.
If hair growth for men and women does happen, it will usually appear first as soft, downy, colorless hairs, similar to peach fuzz. After further use, the new hair should be the same color and thickness as the other hairs on your scalp.
Our customers' opinions are how we know when a product really works and is effective. Customer reviews for these hair regrowth products offer the best explanation for just how well Toppik Hair Regrowth Treatments work.
Rave Reviews from Customers
While we always encourage customers to shop directly from Toppik.com, you can also find Toppik products in many popular retailers. Below we've compiled some reviews of the Men's and Women's Hair Regrowth Treatments that you can't find on the Toppik website, but you can visit our retailer websites to see even more great reviews:
Women's Hair Regrowth Treatment:
"I am 63 and because of heredity, my hair was thinning to the point where I would have to tease it to get coverage just pulling into a loose ponytail. I've been using this amazing product for 2.5 months and already, my hair is filling in the bald spots!! I couldn't be more thrilled! […]"
-PenC
"I don't really have thinning hair, but I do have very fine hair, and a lot of loss on a daily basis. After using up the first bottle, I noticed a lot of fine, little wisps of hair growing in. Smoothing down the flyaway's is a small price to pay. I'll be trying a second bottle to see if it continues to help."
-K1w1kat
Men's Hair Regrowth Treatment:
"It's a Minoxidil product like rogaine but it doesn't smell so bad! it's pretty small and easy to hide. my dad used rogaine forever and then switched to this stuff. I can really tell a difference whenever i see him!"
-Dermstore User
"Great product! Easy to use and amazing results. My husband's hair appears thicker and he is definitely not losing it as much as before."
-Jonesborough
Women's Hair Regrowth Treatment:
"My hair is finally growing back after chemo, but I still have some very thin spots. I purchased the Toppik spray about a week ago in hopes that it would help fill the spots in. I'm shocked to say that I can already see a difference! It's a very lightweight spray that you use twice a day. It doesn't really have a smell to it and it's light enough that you can use it along with your other styling products."
-Beauty Junkie
Limited Time Offer – Buy 2, Get 1 FREE!
If you're considering purchasing one of these hair growth products, take advantage of this limited time offer – when you buy 2 bottles of Toppik's clinically-proven Hair Regrowth Treatments, you'll get a 3rd bottle free!
Since this hair loss treatment for men and women usually takes 2-4 months of consistent use (2x/day) to show results, this 90-day supply is the perfect amount to start seeing hair regrowth and stop hair loss.
*Offer ends 5/31/15; enter code REGROWTH at checkout; customers may combine Men's Hair Regrowth Treatments and Women's Hair Regrowth Treatments in purchase; while supplies last; limit one order per customer; cannot be combined with other offers; not valid on auto-delivery purchases; valid only for orders shipping to US and Canada; codes can be redeemed only at Toppik.com or by calling Toppik customer service at 1-800-THICKEN – not valid anywhere else Toppik products are sold.
Are you ready to try one of these easy-to-use hair regrowth treatments? Tell us in the comments section below if you're going to purchase using this limited-time discount!
Stay In the Know
We hope you'll take advantage of this great offer, but if the hair regrowth treatments aren't a product you're able to use, we have a contest coming up next week for Toppik Hair Fibers, so stay tuned for details!
If you want to be the first to know about new posts to the Hair Toppiks Blog, sign up for the Toppik VIP list to receive an email a couple times per month or check us out on Facebook!