Spring Stock-Up Sale (Limited Time Offer!)
Spring has finally sprung and that means warmer weather, blooming flowers, turning the clocks forward and preparing for summer.
Springtime also tends to involve sales, as it is a time that evokes feelings of rejuvenation, renewal, and regrowth.
During this time, you may see a lot of sales in stores and online. Consumers usually try to take advantage of major sales, as they know it is the perfect time to stock up and save on their favorite products. If you already know what products you love, this is the perfect opportunity to invest in the products you use everyday while also saving yourself time and money.
Now that spring is upon us, we want to offer our customers something special, and although we've given out Toppik coupons and Toppik promo codes in the past, this time we want customers to feel like they can actually stock-up and save on the products they use everyday.
Whether you purchase Toppik products regularly, or you want to take advantage of this special offer and try something new, there's something for everyone with our spring stock-up sale!
Spring Stock-Up Sale Details
If you've been thinking about trying one of our new products, or have been interested in some of our other hair care and health products, but haven't been able to try them before, now is the time to use a Toppik promo code and save with the deals you've been waiting for.
Are you ready to use these Toppik coupons and start saving? The spring stock-up sale won't be around for long, so act now on this limited-time offer.
Fine Print: Offer ends 4/30/15; enter code at checkout based on total sale amount in cart – orders $50.00 – $89.99 must use code SPRING5, orders $90.00 – $124.99 must code SPRING10, orders $125.00 and over must use code SPRING15; while supplies last; limit one order per customer; cannot be combined with other offers; not valid on Theradome or auto-delivery purchases; valid only for orders shipping to US and Canada; codes can be redeemed only at Toppik.com or by calling Toppik customer service at 1-800-THICKEN – not valid anywhere else Toppik products are sold.
Recent Customer Feedback
If you're curious about what others are saying about Toppik and want to learn more before you buy, we have just the thing!
A couple of weeks ago we asked our customers to submit reviews for their favorite Toppik products, and the results truly validated not only the quality of Toppik products, but also the life-changing impact our products can have on an individual.
If you are debating shopping our spring stock-up sale, look no further than these Toppik reviews to help guide you toward what could be your new favorite hair product.

"I have been using Toppik products for almost 10 years. [Hair Building Fibers are] great and after applying it to my thinner hair, my hair looks much fuller and I look much younger too. I have also tried similar product by other manufacturers, but it works out the fiber is too fine as if I put some powder onto my hair. Toppik does not have this issue. It clings and touches and bonds with my existing thinner hair and will not easily be blown away by wind or washed away by rain."
-Alan
"I was first introduced to Toppik when I was appearing on a national television show and it was used to fill in gaps in my hair transplant. Since that time, I have been a regular user of Toppik and it appears so natural that often friends who know I've had a transplant ask me why it looks so full. It's easy to apply, neat, and unlike any other product I've ever tried, it looks very natural. I have begun to blend two different colors, my natural brown with grey, in order to give me a more honest look based upon my age. The blend works beautifully. I will remain a loyal Toppik customer forever."
-JeffP
"I have been using Toppik for a few years now and I must say it has made the biggest difference in my look and attitude. For the first time in my life, my hair started to thin in a few areas and I was devastated. You could see my scalp and I became so self-conscious and depressed. I searched the internet and am so grateful to learn about Toppik. It works!!!! My hair is thicker after the application and you cannot see my scalp. It last all day and really until I wash my hair. I buy the giant size because it's more cost effective. My confidence is back tenfold!!! If you have problems with thinning hair, I promise it will cover those areas and it looks natural!!!"
-RoseyK
"I have used Toppik for years to complement many hair transplants I had done over the years. I would need another one to complete my restoration objective but I don't want to go through the hassle of another procedure. Toppik helps me achieve the right amount of volume I need and takes only a few minutes to apply every morning. Try it, it will change your life forever!"
-Middleman
Toppik 3-in-1 Hair Renewal Shampoo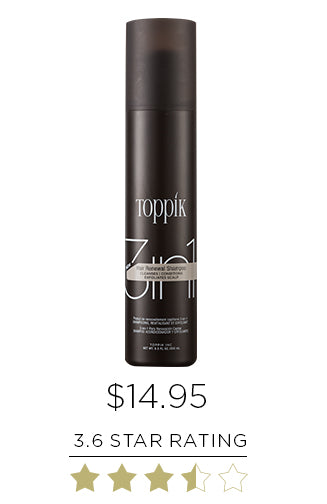 "I'm always skeptical about combo shampoo/conditioners but this product really delivers. I took it with me on a trip to Arizona (where the water is really hard and generally leaves my hair flat) and was pleasantly surprised by how full it left my hair."
-PMac
"I use this shampoo almost every day. I find it easy to use and it leaves my hair clean, shiny and manageable."
-Anton54
COUVRé Scalp Concealing Lotion

"Recently I started using COUVRé, it is the best product I have ever used for my thinning hair and it is so easy to apply to the scalp. My hairdresser even commented "I really like this much better than what we've been using.". Before you could see my scalp in several places, but now COUVRé blends so well it makes my hair look fuller and you can't see the "bald" areas (not total bald but just a very little hair in different spots). Also, it makes me feel much better about myself. Women love beautiful full hair. Thank you Toppik for this product."
-Mary A
"I've used the COUVRé scalp concealing lotion for over 10 years. It is an amazing product! My hairdresser remarks on how effective it is every time I go in for a haircut. After she washes my hair and the gray shows up, making her aware of how badly I need a color touch-up, she comments, "That stuff works great!" Friends that I choose to tell about using it are amazed that it could be so subtle."
-Noni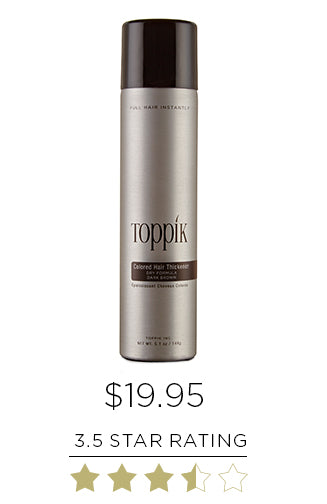 "I have thinning hair…this product is perfect to hide the skin show thru, but even better is the volume and hair spray hold! I was concerned about the "spray" and having it all over my bathroom, but it went right where I wanted it to. I am thrilled and will be ordering more."
-RV White
"I actually use this product to subtly blend my gray hairs with my brownish hairs, so I only need a few quick spurts each day on a few specific areas."
-BJSS
Are you ready to stock up and save? Who knows, your Toppik review might be featured next! Tell us in the comments section below what you're most looking forward to purchasing in our spring sale!
Stay In the Know
Next week we're taking a closer look at our newest Toppik products from 2015, in case you missed them!
If you want to be the first to know about new posts to the Hair Toppiks Blog, sign up for the Toppik VIP list to receive an email a couple times per month or check us out on Facebook!