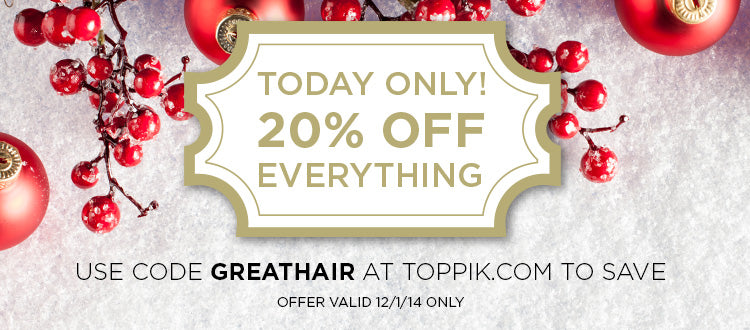 Shop 'til You Drop…our Cyber Monday Deal is Here!
Sit back and relax, our Cyber Monday promotion is the stress-free way to shop for you or a loved one this holiday season.
Cyber Monday: What is it and how do I take advantage?
Cyber Monday is the Monday following Thanksgiving, and has become the most popular day of the year for online shopping. The best part about this day is that it can be done from the comfort of your own home. Or office. Or favorite coffee shop – well, you get the idea.

Cyber Monday follows Black Friday, which, as you learned from our previous blog post, is the day most retailers start their big holiday promotions in-store. You can think of it as the inverse of Black Friday, as it is loved by anyone who prefers to avoid the chaos of the malls during the holiday shopping season.
Many major retailers will participate in Cyber Monday promotions, but their deals may not be as steep as what one might expect on Black Friday.
Lucky for you, Toppik has a pretty juicy promotion for Cyber Monday this year as well…
Toppik's Cyber Monday Promotion
Have you been considering trying Toppik's 2-in-1 Hair Nutrition Capsules for the first time? Maybe you've tried and loved our Hair Building Fibers and are ready to upgrade to the next product size up?
Whatever your reservations may have been, today is the day to try something new, grab a gift for a friend or family member, or simply stock up on the products you use every day.
Because for today only, everything on Toppik.com is 20% off, (yes, even your favorite shade and size of Toppik Hair Building Fibers)!
To enjoy this great deal, just enter the code GREATHAIR at checkout before midnight tonight PST.
Sometimes self-gifting gets in the way of gifting, and that's where we come in. Next week we're getting you camera-ready for the holidays with our Toppik Gift Guide. If you're thinking about your hair this holiday season, we've got you covered.
Stay In The Know
If you want to be the first to know about new posts to the Hair Toppiks Blog, sign up for our VIP list to receive an email a couple times per month or check us out on Facebook!