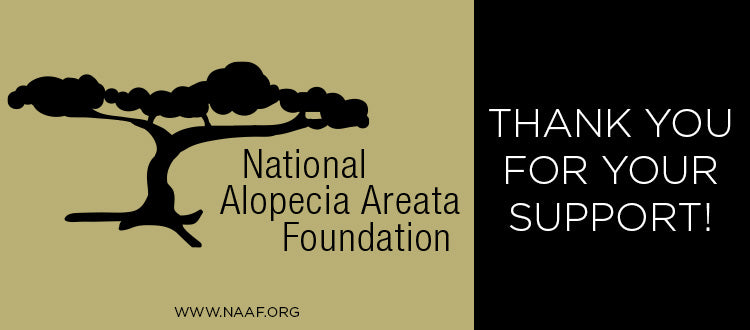 Shop For A Cause: Your Support Has Made A Difference
Alopecia areata affects more than 6.5 million people in the United States alone, approximately two percent of the population.
What is Alopecia Areata?
Alopecia areata is an autoimmune skin disease that results in hair loss on the scalp and elsewhere on the body. It occurs when your immune system mistakenly attacks hair follicles, which is where hair growth begins. It is not permanent, but experts do not know the cause of the attack on the hair follicles. Patients and doctors begin to notice when clumps of hair fall out, which causes small, round patches of visible and exposed scalp on top of the head.

There are two types of alopecia areata: alopecia totalis, total hair loss on the scalp, and alopecia universalis, complete body hair loss. It is unfortunately a highly unpredictable and cyclical disease. The disease is different for each person, and hair can grow back or fall out at any time.
One Group Making A Difference
The National Alopecia Areata Foundation, or NAAF, was established in 1981 as a way to offer support to those affected by alopecia areata. The three main types of support they offer include:
Supporting research to find a cure or acceptable treatment
Helping those with the disease
Educating the public about alopecia areata
Through this, NAAF has built a strong community and following over the years. It is widely regarded as the largest, most influential and most representative foundation associated with alopecia areata.
The NAAF Support Program, Message Boards, and Support Group Program are all ways that NAAF continues to help those living with alopecia areata.
A $10,000 Donation Because of You
September is National Alopecia Areata Awareness Month, and to honor and support those living with alopecia areata, Toppik set out to donate 5% of every purchase of Toppik Hair Building Fibers to the National Alopecia Awareness Foundation.
Because of your support, Toppik is happy to announce that we are donating $10,000 to the NAAF to help find a cure and support those suffering with alopecia areata.
We recently stopped by the NAAF Support Group in Los Angeles to present our check, (and cupcakes!)  and connect with members.
We are honored and humbled to help support something so aligned with the Toppik goal of helping to find solutions for thin, thinning, or fine hair. We want to take a minute to say thank you to everyone who supported Toppik during this campaign.
Stay Connected to the Cause
Between donations, Locks of Love, fundraising events, and community involvement, there a lot of different ways you can help make a difference. If you're interested in the ongoing efforts of the NAAF and want to get involved, click here to see how you can help support their research, programs, and services. If you would just like to learn more about alopecia areata and the National Alopecia Areata Foundation, visit their website.
Sometimes the most powerful way to make a difference is by sharing a story and letting others know they're not alone. If you have a time or story that you would like to share about alopecia areata, we encourage you to do so in the comments section of our blog, or you can share your story in an email to us.
Stay in the Know
We're so glad you checked in to read about our donation and learn more about alopecia areata. Get ready for next week's post, where we'll break down our tips for surviving Black Friday!
If you want to be the first to know about new posts to the Hair Toppiks Blog, sign up for our VIP list to receive an email a couple times per month or check us out on Facebook!