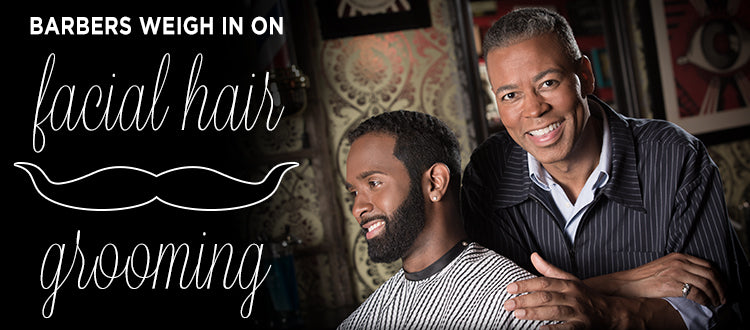 Professional Barber's Tips for Maintaining Your Facial Hair + Movember Contest!
How's your mustache coming along?
If you remember, earlier this month we announced our support for the Movember movement – check out the original post here. We've loved all the pictures that have been submitted so far, and we want to keep the momentum going!
For those that need a refresher, we decided to support Movember as a way to help raise awareness for men's health issues, and we asked our customers to help support the cause as well. We made a team, got the men in the office to grow out their 'staches, and asked the women to MOVE for Movember as well! As a way to say thank you to our customers, we're even giving three lucky participants FREE HAIR FIBERS FOR A YEAR when they upload a picture to Facebook, Twitter, or Instagram and hashtag #Toppik and #Movember. It's that easy!
With the month almost halfway over, we thought it might be beneficial for our customers to learn how to properly take care of their new mustache and facial hair. That's why we've enlisted some of our favorite barbers to give us some tips and tricks to help take care of any unruly facial hair, and how Toppik products can help in the process.
But first, let's revisit why we're all growing out 'staches in the first place, and if you're interested in participating in our Movember contest, skip down to the bottom to see how you can win FREE FIBERS!
What is Movember?
Movember was conceived by two friends at a bar in Australia who wanted to bring the mustache trend back, and found thirty friends willing to take up the challenge.
Although they didn't raise any money in their first year, since then they've raised over $649 million through over 4.5 million participants worldwide. The Foundation has also helped fund over 832 men's health projects since it was first started.
With these impressive numbers, the charity's main goal has always been to help men live a happier, healthier, longer life. By focusing on four major men's health issues: prostate cancer, testicular cancer, poor mental health, and physical inactivity, they're able to bring year-round awareness and support to these crucial topics.
To learn more about these important men's health issues, visit our first blog post on Movember.
For anyone looking to get involved with Movember, there are four main ways to help support the cause.
1. Growing out the 'stache
This is the most well-known and obvious way to participate in Movember. Even if you feel like you can't grow facial hair, you might be surprised by your 'stache on day thirty! Use your mustache as a way to spark conversation with others about men's health and how you're supporting the cause.
2. The MOVE challenge
This is a great way for women to get involved and support the men in their life! Anyone can sign up and pledge to MOVE for thirty days for Movember. Any kind of physical activity counts, and the more you move, the more you help to raise funds for men's health.
3. Industry challenges
The Movember Foundation created industry challenges as a way to bring companies together in a fun environment to compete against other Movember teams in the same industry, rewarding the highest fundraisers with awesome prizes. If this sounds like something your company might be interested in, read more about the Movember industry challenges.
4. Ways to donate
If growing out a patchy beard doesn't sound appealing to you, or pledging to MOVE for thirty days just isn't your style, another great way to get involved is to donate to the cause. You can donate to a specific team or person, the Foundation, or even set up a recurring monthly donation. Some companies will even match your donation, so make sure to ask your employer if Movember is something they would be interested in participating in.
As we mentioned earlier, we also started a Movember team here at Toppik! You can sign up by visiting our Toppik Movember Team page, or if you feel more comfortable, you can donate to Movember instead.
Day 1:

Middle of the Month:

End of the Month:
Now that everyone's facial hair is starting to get a little more visible, we thought it might be time to get some helpful advice from some trusted barbers…
Our Favorite Barbers Offer Advice on Maintaining a Polished Movember Look
We sought out some of our favorite barbers on Instagram to get their input on facial hair grooming and the products they use to complete every look.
James Smith
Premier Image Barbershop
1812 Pulaski Highway Ste K
Edgewood, MD 21040
Phone #: (410) 676-0588
Instagram: @jsmith530
Twitter: @jsmith53087
The beard is just as important as the rest of the haircut. When a client gets a cut, everything you do to their head you do to their beard. When you shampoo the client you also do a light shampoo on their beard. When a correct shampoo is used on a client, I find that the hair actually cuts a lot crisper and leaves a sharper line.
I use Toppik Hair Fibers on clients, and I find that using the right shampoo helps make the Hair Fibers less visible. After I have lined up the beard, I take a business card and place it against the line of the beard and use the Toppik Spray Applicator to mist along the line. I start closer to the line and the more I push the further from the face I pull away. If a client has a patchy beard, I place the tip of the Spray Applicator a few inches away from the face and slowly apply pressure to the Spray Applicator bubble. This helps to give depth. After I have applied Toppik Hair Fibers along the entire beard I use Toppik FiberHold Spray to help bond the Hair Fibers to the client's hair.
Mikhail Abrahams
Exquisite Haircuts and Designs
2817 Belco Dr.
Orlando Fl 32808
Instagram: @MackAceBoogie
Facebook: Mack Ysl Shaw
Styleseat: Mack Shaw
When my clients are growing out their hair or beard, I like to educate them on proper eating habits, their stress levels, and proper shampooing and conditioning, because all are major factors that determine the health of their hair. When clients are starting to grow out their beard, or if they have a patchy beard, I recommend Toppik to them. The Hair Fibers are safe enough to use on the face, and I like to use it on clients because of its ability to enhance details, fill in shallow areas and leave hair still looking natural. I use Toppik on clients who are balding, have dark and light spots on their head or beard caused from receding hairlines, or beards that can't quite seem to grow thicker. My clients especially love when I use Toppik products because depending on the upkeep, their new look can last anywhere from 2-4 days.
I make sure to keep a safe distance from the area I am targeting, usually about 1 ft away, when I apply Toppik Hair FIbers on clients. This allows the Fibers to be evenly distributed on the hair or beard. Once properly applied, I use Toppik FiberHold Spray to keep the Fibers safely in place.
Rob McCain
Elite Cuts 138
1073 Spur 138
Jonesboro GA 30236
Instagram: @bigenking
YouTube: Rob The Bigen King
Styleseat: Rob The Bigen King
I've been a barber for over 15 years, and one thing that a lot of male clients ask me is how can they get their beard or hair to grow thicker and fuller. For many years there wasn't anything on the market that could provide a natural, easy and cost-effective way to give them the hair they always wanted, until Toppik came along. Toppik Hair Fibers have revolutionized the barber and beauty industry. Now I can give clients the look they've always wanted, while making sure their hair still looks natural. Below are a few helpful tips I like to use on my clients to give them a thick, sharp and natural look when working around their beard or hairline. You can also use these tips if you are applying Toppik Hair Fibers at home.
1. Make sure you only use Toppik Hair Fibers that match your hair color. Natural is always better.
2. First complete the haircut, beard trim and a light line before application of product.
3. Spray an even amount of Toppik FiberHold Spray on the areas you want to fill in.
4. Apply the Hair Fibers on the desired area. Depending on your preferred method, you can either shake or spray the Hair Fibers into hair. I personally prefer to use an electronic Hair Fibers applicator.
5. Next is the part that most barbers miss. You need to blend the Hair Fibers into the client's hair and/or beard. I like to use the narrow side of a fine tooth comb and softly comb the Hair Fibers in until they blend perfectly.
6. Go back over and reline all of the areas that the Hair Fibers were applied to: beard, nape, hairline, etc.
7. As a finishing step, spray Toppik FiberHold Spray on the area again.
These barbers know what they're talking about, and your hair or beard will thank you for following their advice. Now if you want to win FREE HAIR FIBERS, keep reading….
THERE'S STILL TIME! WIN FREE HAIR FIBERS FOR A YEAR
If you're already growing out a 'stache or facial hair for Movember, now is the time for you to upload a photo!
All you have to do is upload a photo or video of yourself to Facebook, Twitter or Instagram supporting Movember, either by showing us the 'stache you're growing or by showing us your Movember MOVEs. We'll pick three lucky winners to receive free Hair Fibers for an ENTIRE YEAR. Make sure to upload a photo or video by 11/30/15 and add the hashtags #Toppik and #Movember to your image, and we'll pick the winners after Movember is over.
If you have any questions about our Movember contest, please email socialmedia@toppik.com and we'll be happy to answer them.
We can't wait to see more of your Movember photos!
CONTEST RULES: Entrants must upload a photo or video on Instagram or Twitter and include #Toppik and #Movember OR upload a photo or video to the Toppik Facebook page (no hashtags necessary) by 11/30/15 for a chance to win; only US residents eligible; winners will be sent a direct image/message on the social media platform they uploaded their image/video to by 12/4/15 and must confirm their prize via email by 12/11/15 by providing a valid email address or another winner will be selected; 3 winners will receive 3 Hair Building Fiber – Giant size in their color of choice as well as a Spray Applicator tool.
Do you have some great facial hair grooming tips of your own? Share them with us in the comments section below!
Stay In the Know
With Thanksgiving almost here, that means Christmas is right around the corner. Find out next week what we're hoping our stocking will be stuffed with!
If you want to be the first to know about new posts to the Hair Toppiks Blog, sign up for the Toppik VIP list to receive an email a couple times per month or check us out on Facebook!