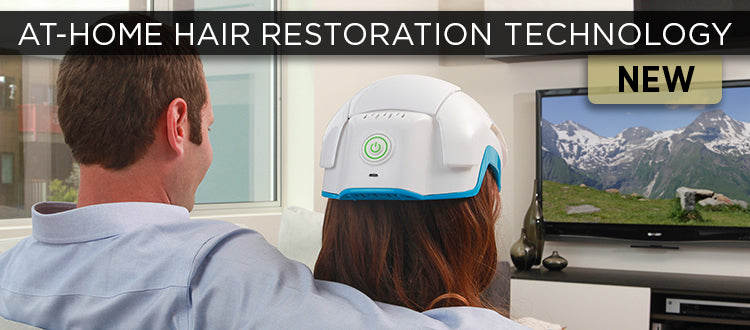 New Remedy for Hair Growth: Toppik Theradome
Everyone loses hair. In fact, for most it is normal to shed between 50-100 hairs every day.
But when does losing hair become hair loss?
If you are suffering from hair loss, you know it's not a strictly male or female problem. However, you should also know that there are many different forms of hair loss treatments and options.
At Toppik, we have products to conceal, strengthen, style, and repair hair, as well as regrowth treatments and natural hair growth remedies. One area that we have dedicated significant efforts to develop in recent years is a laser hair treatment option.
Toppik's newest product, Toppik Theradome™, is an at-home laser hair treatment device designed to grow new, healthy hair while also slowing down and stopping hair loss.
So how do you know if this product is for you? Read on to learn about different remedies for hair growth, and how Toppik Theradome can help you regrow thicker, healthier hair, all from the comfort of your own home.
Hair Loss Remedies and Options
If you are experiencing hair loss, you have probably looked into the many hair growth remedies that are available today.
There are four main options available to you if you are looking to regrow hair:
Finasteride drug
Hair replacement procedures
Minoxidil and Finasteride are the only FDA-approved drugs available to treat pattern baldness. For both treatments, continued use is necessary to maintain results. Once you stop using the product, hair will return to its original state.
Hair replacement procedures, such as hair transplantation methods (micro-grafting, slit grafting, punch grafting) and scalp reduction are another way to treat permanent hair loss. These procedures must be done in a dermatologist or doctor's office over the course of several sessions. After each session, a healing process of two to four months is usually recommended. Once the hair replacement procedure is complete, patients can expect to see new hair growth after six to nine months.
Laser hair treatment can be done in both a doctor's office and at home, depending on your preference. At a doctor's office, laser hair treatment can cost up to $4,000 each year, while many at-home devices will only cost around $500-$1,000 for a one-time purchase. In most laser hair treatments, a low-level laser light is absorbed by cells, which in turn, repairs and encourages hair regrowth.
Remedies for hair growth continue to improve as technology advances, and doctors and scientists become more knowledgeable in the field of hair loss. This is why we are excited to announce Toppik Theradome, and show you why it is the best treatment for hair loss and hair regrowth.
An Affordable At-Home Solution for Hair Loss
If you're looking for at-home hair growth remedies, Toppik Theradome is the first and only FDA-approved OTC (over the counter) cleared, wearable clinical strength laser treatment designed to:
Grow new, healthy hair
Double the follicle size of existing hair
Slow down and stop hair loss
You can purchase Toppik Theradome for $795, or take advantage of our affordable payment plan to start regrowing hair and treating hair loss from the comfort of your own home. With the payment plan option, you'll pay $265 once a month for three months.
How It Works
Toppik Theradome is not like other at-home laser hair treatments. It uses high efficiency lasers that deliver the maximum amount of light and cover 582 cm2 of the 720 cm2 total scalp area on the average human head. This is more coverage than was previously available with handheld laser devices.
The device works by reversing the miniaturization of follicles, the first step to getting your hair back, by stopping any further hair loss after the first 18-26 weeks of treatments.
The next stage is regrowing your hair, which happens around 28-52 weeks. Regrowth is possible because the device addresses three critical areas that can cause hair loss:
Increases blood flow to the scalp and hair follicles
Stimulates microcirculation, improves cellular metabolism and protein synthesis
Reduces the effects of protein blocking enzymes, promoting thickness and density
One of the most important and unique benefits of Toppik Theradome is that it can be used hands-free and at home. For just 20 minutes, two times a week, you can watch tv, be on the computer, clean the house, read, eat dinner – all while growing new, healthy hair!
The Results You Can Expect
There are certain hair growth remedies that seem too good to be true , but Toppik Theradome results speak for themselves.
After using the device for 18-24 weeks, you will begin to see the following:
Less hair fall out
Cleaner, more manageable hair
Improved luster and fuller body
Decreased oiliness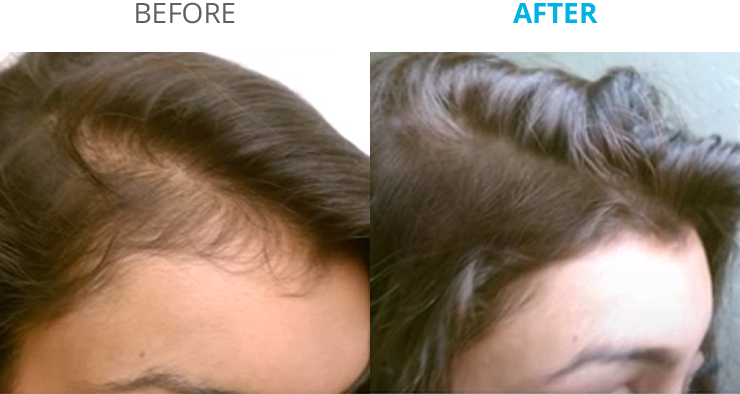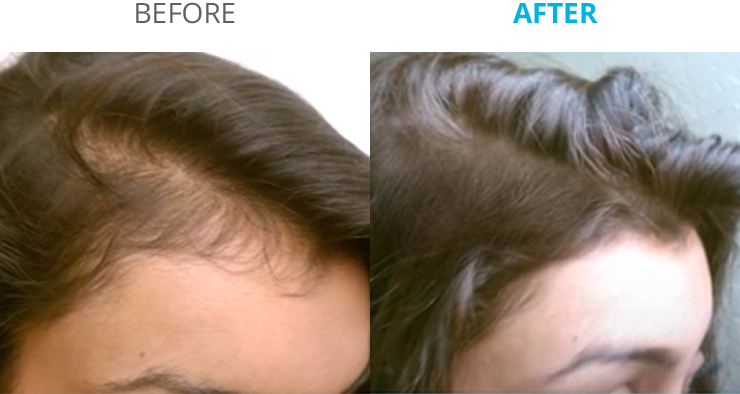 After using the device for 26-50 weeks, you can expect the following results:
Thicker, longer hair
Healthier scalp
Reduced scalp itching and irritation
Curly hair will hold its curl longer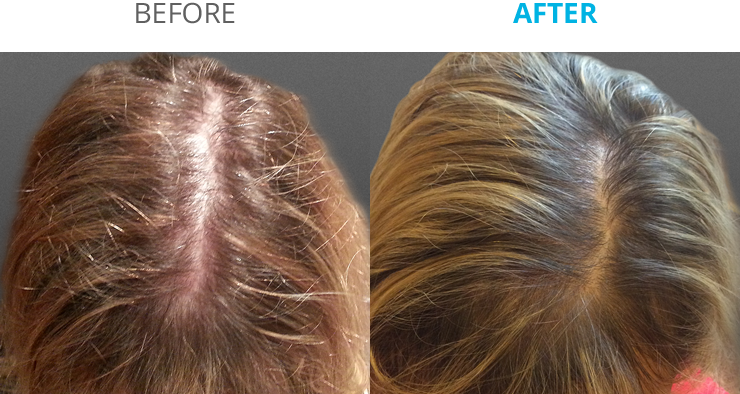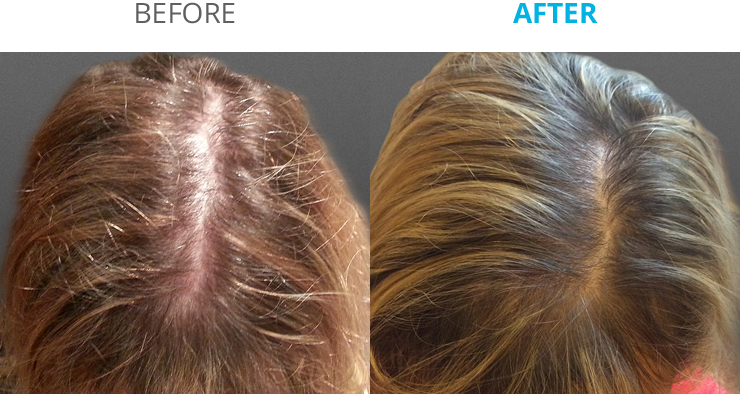 Toppik Theradome doesn't just regrow hair, it actually grows thicker, healthier hair. In clinical trials the device actually increased the diameter of the hair, which is a major development in the treatment of hair loss and one of the unique benefits of Toppik Theradome.
Toppik Theradome has been carefully tested and refined so that it is safe and reliable to use. The FDA has even verified that there are zero side effects to using this device.
If you think this hair growth remedy might be right for you, read on for FAQs and customer reviews on Toppik Theradome.
More Info
Here are a couple commonly asked questions regarding Toppik Theradome.
Q. How long will I need to continue treatment?
A. Laser hair therapy is similar to excercise, you have to keep it up to enjoy the benefits. Once you get the results you want, we recommend a slightly reduced treatment schedule every five days.
Q. How do I use Toppik Theradome?
A. It's very easy. The product has a simple one button operation and it uses audio commands to let you know if the battery is low, how many treatments you have completed since the purchase of your Toppik Theradome, how many minutes are left in each session, and if there are any technical issues.
To see more questions and answers, please see our FAQs section.
Toppik Theradome has worked for many hair loss sufferers. See what real Theradome users have to say about the device below.
"I was completely bald (male pattern baldness) on the top of my head. After using the device for a few months, I noticed the appearance of new hair growth in the area. Although the hair is very fine, I am pleased with the results and look forward to continued growth. The device is also very easy to use, convenient and gets results."
-E.F. Wexford, PA
"I have curly hair and noticed a pronounced improvement in curl style. Scalp is in good shape. Hair seems to grow fast, I noticed this because of frequency needed to recolor due to new growth. Device is the perfect size, very easy to operate and use doing other things. I like the 5 min timing and number of finished sessions spoken."
-C.F. Iowa City, IA
To read more reviews, please see our customer reviews section.
Are you ready to try Toppik Theradome? Tell us in the comments section below what you think about our newest product!
Stay In the Know
Now that we've introduced a new product to the Toppik family, next week we'll tell you about how you can earn 5% off your next order from Toppik.com!
If you want to be the first to know about new posts to the Hair Toppiks Blog, sign up for the Toppik VIP list to receive an email a couple times per month or check us out on Facebook!