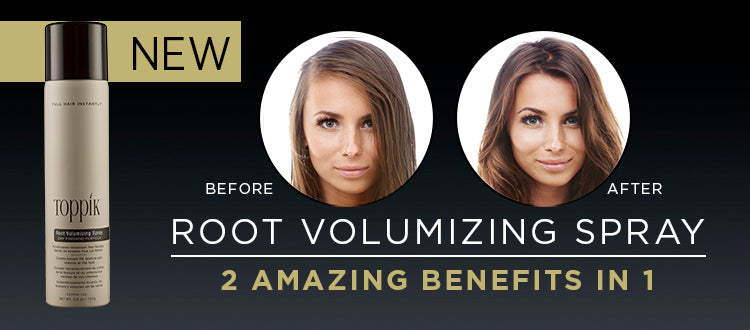 NEW FROM TOPPIK: Root Volumizing Spray with 2 Amazing Benefits!
Toppik's newest product has two amazing benefits in one: it gives hair volume and lift – we're confident you're going to love the effect it has on your hair – and works like a dry shampoo!
Introducing…
Toppik Root Volumizing Spray is the perfect addition to the Toppik line of products. Since we specialize in fine, thin, and thinning hair products, we want to offer a volumizing spray to our customers as well. While we have always had products that hide thinning hair and create the appearance of thicker-looking hair, this product actually builds body and gives thin hair a lift.
The benefits don't stop there, besides being a volumizing spray, Toppik's newest product also doubles as a dry shampoo.
So while your hair looks and feels more full, Toppik Root Volumizing Spray is also working to get rid of any excess oil in between washes.
Sounds like a win-win to us!
Want to know more? Keep reading…
What It Is
Toppik Root Volumizing Spray is an invisible, lightweight dry finishing formula that gives hair volume and thicker-looking hair.
The volumizing spray is colorless and should be sprayed near the roots, to help build body and lift. Once you have sprayed the product into hair, gently pump up hair with your fingertips or lightly comb so that hair gets that full, volumized look.
This versatile spray also doubles as a dry shampoo by absorbing excess oils at the root. Since it is soaking up oil, the product leaves a matte finish without a sticky or powdery feel.
This is a key benefit of our formula, as a lot of dry shampoo products leave a residue or feel similar to baby powder once applied to hair. Some dry shampoo products come in white or another color. Toppik Root Volumizing Spray is completely clear!
Not sure how to use a dry shampoo? Watch this dry shampoo tutorial to see how to apply, and for extra tips on different ways you can use this type of product if you have fine or thin hair.
Our favorite tip is spraying dry shampoo on your finished hairstyle for extra volume and hold!
What makes this product unique is that it gives hair volume and lift while also keeping hair looking and feeling clean.
Not many products do both!
Amazing Benefits
Toppik Root Volumizing Spray has two amazing benefits in one, not only does it add lift to thin or thinning hair, it also works just like a dry shampoo.
Dry shampoos are essential to your daily hair care routine for two reasons…
You can get away with not having to shampoo everyday!
If you have naturally oily hair, you can use this product to help control the oiliness and prevent hair from looking dirty.
This particular dry shampoo contains a blend of salt and starch derivatives that absorb oil, odors and product buildup.
Whether you're trying to keep hair looking clean in between showers or you have specific needs for your hair type, Toppik Root Volumizing Spray is the dry shampoo your hair care routine has been missing.
If you've been feeling like your hair has been dull or lifeless lately, or you have naturally thin or thinning hair, Toppik Root Volumizing Spray also adds body and lift to hair right at the roots.
Styling powder ingredients provide long-lasting volume and texture while hydrolyzed keratin gives hair a soft and natural appearance.
Your hair will feel fuller, but still maintain its smooth, silky texture. It also helps that this volumizing spray contains pro-vitamin B, which adds extra moisture and bounce to hair.
Our favorite feature from this new product? It's completely safe for everyday use, even on color-treated hair.
Who Should Use Root Volumizing Spray
Toppik Root Volumizing Spray can be used by anyone, but it is especially ideal for certain hair types and styles more than others.
As we've mentioned, Toppik Root Volumizing Spray is great for anyone with fine, thin, or thinning hair, since it helps to create body and thicker-looking hair. Just spray on roots and pump up hair with fingertips or a comb and watch as your hair goes from dull to va-va voom!
This volumizing spray also works well if you want to create an updo and you have fine or thinning hair. By spraying the product on hair first and creating volume before you put your hair up, your updo will look fuller and have added texture once your hairstyle is finished.
Post-workout is also a great time to use this volumizing spray as a dry shampoo. If you don't have time to shower or do your hair after your workout, all you have to do is apply the spray to your hair and let it soak up the excess oil. It's great if you have somewhere to be after and you need to get there quickly!
Lastly, if you've decided to stop washing your hair everyday, or you don't want to wash everyday because of the type of hair you have, using this dry shampoo in between washes is a great way to keep hair clean and looking and smelling fresh! You can use the dry shampoo as often as needed, and it won't clog pores or cause product to build-up on the scalp.
Toppik Root Volumizing Spray can also be safely used with other Toppik products to create a long-lasting, finished look…
Root Volumizing Spray Works Great With…
Most of the products within the Toppik line are designed to be used together, and Toppik Root Volumizing Spray is no exception!
If you use Toppik Hair Building Fibers, now you can cover any thin or thinning areas while also adding volume and body to your hair.
These two products are designed to work perfectly together.
To use these two products together, we recommend first applying the volumizing spray to hair and styling so that it has a fuller look and feel. Once your hair is set, then you would sprinkle or spray Toppik Hair Fibers into hair, to help cover any thin or thinning areas where there may be scalp show-through.
The last step of your hair care routine is often the most important, as this is what sets your hair for the rest of the day, or even added days after that. Finishing your hair care routine with Toppik Root Volumizing Spray, after using Toppik Hair Building Shampoo and Conditioner, is a great way to continue building volume and body past the shower stage of your routine.
Used collectively, these three products are the building blocks for stronger, thicker, and healthier looking hair.
Are you ready to try this new product, either as a dry shampoo, or to add volume and lift to your hair? Tell us in the comments section below how you're planning to use Toppik Root Volumizing Spray!
Stay In the Know
We hope you're excited to try Toppik's newest product! Check back with us next week because there is a pretty sweet deal headed your way!
If you want to be the first to know about new posts to the Hair Toppiks Blog, sign up for the Toppik VIP list to receive an email a couple times per month or check us out on Facebook!