This article was originally published on December 17, 2020.
Menopause is a normal and natural part of life. However, menopause can have unwanted side effects like hot flashes, weight fluctuation, stress, and hair thinning. 
It can be disheartening to experience hair loss when going through a physical change like menopause. Some people use HRT to help ease their menopausal symptoms and help with hair regrowth1. However, some may experience HRT-related hair loss, which can be even more frustrating.
We'll help you understand why you might be experiencing HRT hair loss and how HRT hair regrowth is possible. We'll also give you some tips for managing hair loss during menopause.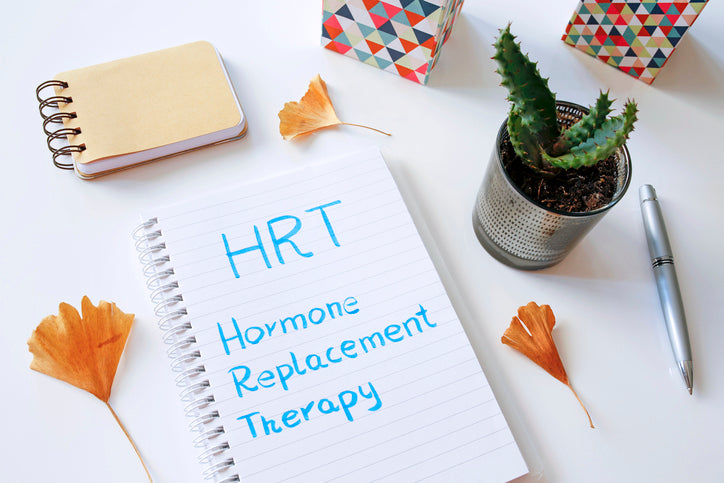 What Is HRT?
HRT is a hormone replacement therapy for those going through menopause. Menopause is when the body stops producing estrogen and progesterone. Its symptoms include hot flashes, decreased libido, sleep disruption, and stress. HRT can help ease these symptoms by replacing lost estrogen.
HRT comes in many forms such as pills, skin patches, gels, or creams, each with varying dosages depending on your body's estrogen loss. HRT may also not be necessary, so it's a good idea to speak with your doctor about methods for managing menopause.
Can HRT Cause Hair Loss?
Sometimes HRT may cause hair loss depending on the type taken. Doctors will sometimes prescribe HRT with testosterone to help improve their patients' libidos2. Unfortunately, testosterone can affect your hair follicles and cause androgenic alopecia. If your doctor has prescribed testosterone, you may want to consult them about HRT hair loss.
Some may take non-testosterone HRT but find their hair loss worsens. This can be due to many factors other than the HRT. If you are experiencing HRT hair loss but are not on testosterone, consult your doctor on other factors that could be causing hair loss.
Luckily, there have been links to HRT and hair regrowth, which may help if you suffer from hair loss related to menopause.
HRT and Hair Regrowth
Estrogen and progesterone are hormones that aid in healthy hair growth, so when your body stops producing these, it can cause hair loss. Taking HRT can help prevent this loss and may even help regrow hair. In fact, some trans women with androgen alopecia who underwent HRT saw hair regrowth3.
The best HRT for hair loss is usually a combination therapy of estrogen and progesterone, with limited amounts of testosterone, or DHT.
Managing Hormonal Hair Loss
Taking HRT is a decision to make with your doctor, and you may find that HRT is not right for you. Below are other methods of managing hair loss while going through menopause.
Use Toppik Hair Building Fibers – Experiencing hair loss can have a major impact on self-esteem, but luckily hair fibers can help conceal! Toppik Hair Building Fibers are made with premium, naturally derived keratin proteins almost identical to human hair. They blend with existing hair strands, instantly concealing hair loss and making hair look thick and full.
Stress Management – Stress is a common symptom of menopause, and has been linked to hair loss in women4. Stress management techniques can help; low impact exercise, a balanced diet, dedication to improving sleep quality, and meditation can help temper anxiety and stress.
Practice Hair Protecting Techniques – Stopping hair loss entirely can be tricky, but there are things you can do to protect against further hair loss. Avoid tight hairstyles, heat tools, and anything that puts mechanical stress on your hair. Also, try using silk or satin pillowcases and hair accessories.
Talk to your Doctor – If HRT is not for you, your doctor may be able to prescribe other hair loss prevention and menopausal management medication.
– – –
What is your experience with HRT and hair loss? Do you have tips for managing menopausal hair loss? Tell us about it in the comments below!
1Hu, H. M., Zhang, S. B., Lei, X. H., Deng, Z. L., Guo, W. X., Qiu, Z. F., Liu, S., Wang, X. Y., Zhang, H., & Duan, E. K. (2012). Estrogen leads to reversible hair cycle retardation through inducing premature catagen and maintaining telogen. PloS one, 7(7), e40124. https://doi.org/10.1371/journal.pone.0040124
2Scott, A., & Newson, L. (2020). Should we be prescribing testosterone to perimenopausal and menopausal women? A guide to prescribing testosterone for women in primary care. The British journal of general practice : the journal of the Royal College of General Practitioners, 70(693), 203–204. https://doi.org/10.3399/bjgp20X709265
3Stevenson, M. O., Wixon, N., & Safer, J. D. (2016). Scalp Hair Regrowth in Hormone-Treated Transgender Woman. Transgender health, 1(1), 202–204. https://doi.org/10.1089/trgh.2016.0022
4U.S. Department of Health and Human Services. (2021, April 20). How stress causes hair loss. National Institutes of Health. Retrieved June 23, 2022, from https://www.nih.gov/news-events/nih-research-matters/how-stress-causes-hair-loss