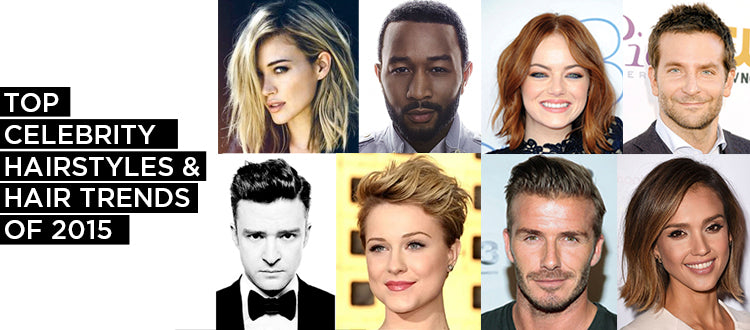 Hollywood's Celebrity Hairstyles We Loved This Year
We know that we're not alone when we admit that one of our favorite guilty pleasures is keeping up with celebrity hairstyles and trends.
With hairstylists readily on speed dial, hollywood stars only have to lift a finger, and their hair can be cut, dyed, shaved, or chopped in a matter of hours. And if they decide to go bold by making a drastic chop or color change, nearly every magazine and gossip website will take notice.
For instance, remember when Taylor Swift got bangs, or Jared Leto deputed the man bun? What about when Kim Kardashian dyed her hair blonde? Whether we love it or hate it, we notice and remember celebrity hairstyles, and we slowly start to see the new trends they create in magazines, on our friends and family, or even in TV shows and movies after a new look is revealed.
With the new year around the corner, and new trends already emerging, (hair contouring is a thing now, in case you haven't heard) it's only fair for us to pay homage to the Hollywood hairstyles and trends we admired, coveted, and tried to emulate in 2015.
Let's start with the ladies…
Top Female Celebrity Hairstyles of 2015
The women really outdid themselves this year.
From colors and cuts, to just plain hairstyles, these female celebrities had the right dream team behind them to inspire major hair envy in us all.
Jennifer Lawrence

Credit: Carlos Alvarez/Getty Images

Credit: Luca Teuchmann/WireImage.com

Credit: Danny Martindale/WireImage.com
She's gone from blonde to brown and back again, and this year she chopped it all off and went for a platinum blonde bob. The sultry look has gotten its approval from men and women alike, and the effortless short waves she creates had us yearning to visit our hairstylist. Not only did she do something daring, but her hairstylist has also been able to create lots of on trend looks with just the length of her bob.
Chrissy Teigen

Credit: Jeffrey Mayer/WireImage
The ever-changing haircuts and hair colors on this Hollywood celeb are what make her hairstyles highly covetable. Whether she had dark brown locks or caramel highlights this year, she proved she can master any color like a pro. She's also not afraid to cut her hair, (or take out her extensions) and go for a shorter, edgier look, like in the picture above, which was taken in April of this year.
Zendaya

Credit: Jon Kopaloff/FilmMagic

Credit: Helga Esteb / Shutterstock.com
A younger actress, Zendaya made headlines this year when she wore dreadlocks to the Oscars. While her look unfortunately centered around a lot of controversy, we thought it was one of the best looks we'd seen in a long time. She changes her hairstyle at almost every red carpet event, which is why we put her on our list. Whether her hair is curly, short, or straight, the actress knows what she's doing in the Hollywood hair department.
Dakota Johnson

Credit: Christopher Peterson/Splash News
Dakota has become a big star thanks to her role in, "50 Shades of Grey," but as soon as the movie was done filming, she cut her medium length hair and turned it into a bob. The look is chic, mature, and has garnered her a lot of attention in its own right. Her sleek bob is on trend, and we like that she took the plunge as soon as she could. We're looking forward to seeing what she's going to do in the new year.
While the ladies undoubtedly made waves (sometimes literally – a la 'Victoria's Secret waves'), the men also had some great looks and hairstyles that we took note of.
Top Male Celebrity Hairstyles of 2015
Let's just take a minute to appreciate the men who know how to rock a great hairstyle or cut.
These Hollywood celebs have always had great hair, but 2015 seemed to be the year we took extra notice.
Chris Hemsworth

Credit: Jon Kopaloff/FilmMagic

Credit: Thomas Janssen/PacificCoastNews
Having long hair for the past six years, he finally decided this was the year to make a change. He went from shaggy locks to a buzz cut, and we have to admit that the new look suits him well. It looks well-kept, mature, and easy to manage – we approve of this new 'do!
Sam Smith

Credit: RICHARD SHOTWELL/INVISION/AP

Credit: http://coolmenshair.com/
Sam Smith's retro short hairstyle admittedly only works on some men, so we appreciate it more that he can actually pull off this Hollywood hairstyle. It's sophisticated, outside of the box, and makes him stand out, so we hope he continues this on trend fade into the new year.
Bradley Cooper

Credit: Jeff Kravitz/FilmMagic
What can we say, the man has great hair! Whether his hair was slicked back, cropped short, longer and flowing, or messy like he just got out of bed, his hair could do no wrong this year. He seems to change it frequently for whatever movie he is working on at the moment, and we've learned to admire the subtle changes. Classic and polished, we always look forward to seeing what hair color and hairstyle he'll have next.
While we enjoyed these trendy celebrity hairstyles this year, the real winners of 2015 are below…
2015 Toppik Hair Awards
Whatever these celebrities are doing, we want them to keep doing it.
Most Improved – Leonardo DiCaprio
He did it. Leo finally shaved off his beard and cut his man bun, and for that, he gets the Most Improved award. Presumably he cut and shaved because he's just finished filming his newest movie, but whatever the reason, we're happy to see his face again, along with a sleeker, more age-appropriate haircut.
MVP – Lupita Nyong'o

Credit: Patrick Demarchelier/Lucky / Kevin Mazur/Getty

Credit: Image Source: Getty / Lester Cohen
Do we need to say anything after seeing these pictures? Lupita is stunning, no matter what hairstyle she is currently rocking. There was no question that she deserved the MVP award this year for all of the versatile hairstyles she was able to pull off. We're eagerly awaiting the next award show to see what gorgeous new look her and her team will put together.
Biggest Risk Taker – Rose McGowan
This woman has no fear. She gets Biggest Risk Taker award for shaving off her pixie cut. She even captioned her Instagram picture showing off her new hair with, "No hair, don't care. Honestly, it feels liberating." Kudos to her.
Best Chameleon – Kerry Washington
Kerry Washington knows that an outfit and great hairstyle go hand in hand. She's able to consistently change her hairstyle each time she's on the red carpet to reflect the outfit she's wearing, and for that reason we gave her the Best Chameleon award.
Most Refreshing Change – Emma Watson
Emma's had her hair short before, but has spent the past couple of years growing it out again. That's why we were surprised to see that she recently cut it, but this time into an edgy bob. We love that more and more women are taking the plunge and cutting their hair short, which is why we gave her the Most Refreshing Change award.
As we start to look out for the newest trends coming in 2016, we're taking one final look back at the biggest hair trends that we saw this year…
The Biggest Hair Trends of 2015
So much hair, so little time.
The biggest hair color of 2015 was the bronde, or tortoiseshell hair color. Seen on celebrities like Jessica Alba, Blake Lively, Chrissy Teigen, and Gisele Bündchen, the color is the perfect combination of golden blondes, caramels, chestnuts and chocolates.

Credit: Rob Kim/Getty Images / Axelle/Bauer-Griffin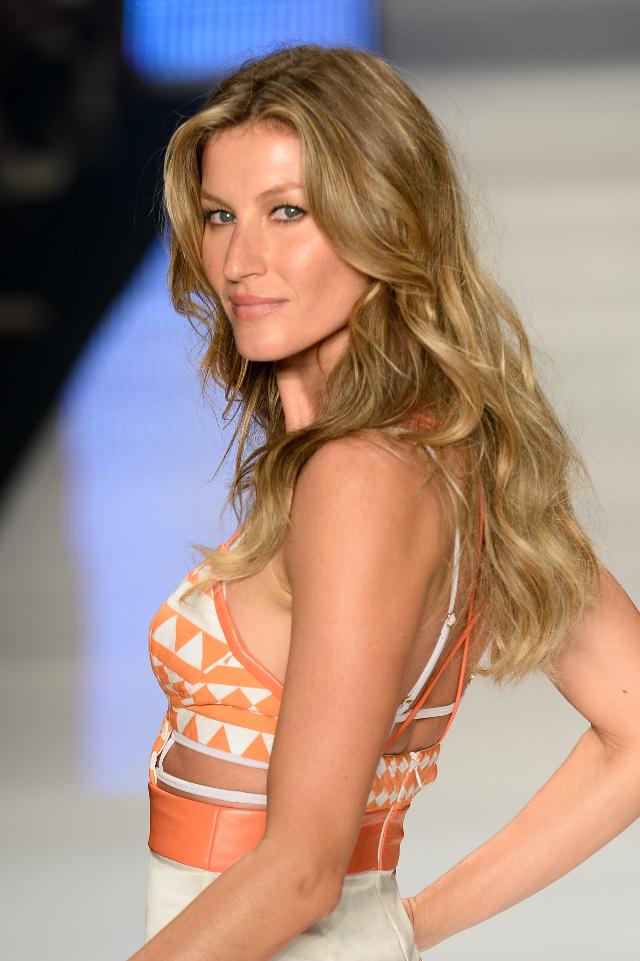 Credit: Fernanda Calfat/Getty Images
Pastel hair color was also surprisingly big this year, with Kate Hudson, Kelly Ripa, Katy Perry, and January Jones all dying their hair a barely there pink. The color is unexpected and whimsical, and other celebs and trendsetters just had to give it a try.
In men's haircuts this year, a big trend we saw was longer hair up top with shorter hair everywhere else. This helps any man who has a receding hairline, because the cut gives the illusion of a fuller head of hair. You can see this cut on Justin Timberlake, Alexander Skarsgard, and Channing Tatum, to name just a few.

Credit: Evan Agostini/Invision/AP

Credit: IMDb.com & Skarsgard Gallery
In women's haircuts, the lob and bob were the two most popular trends we saw this year. The trend of continuing to cut hair shorter and shorter is still very popular, with more and more actresses ready to chop off their long locks. These ladies were ready to try something shorter and more daring this year: Rosie Huntington-Whiteley, Hilary Duff, Sarah Hyland, and Emilia Clarke.

Credit: Getty Images / Jason Merritt/Getty Images
What was your favorite hair trend in 2015? Tell us in the comments section below what trend you think will be big in 2016!
Stay In the Know
Ready to take on 2016? Check back with us next week as we give a special holiday message to all of you!
If you want to be the first to know about new posts to the Hair Toppiks blog, sign up for the Toppik VIP list to receive an email a couple times per month or check us out on Facebook!