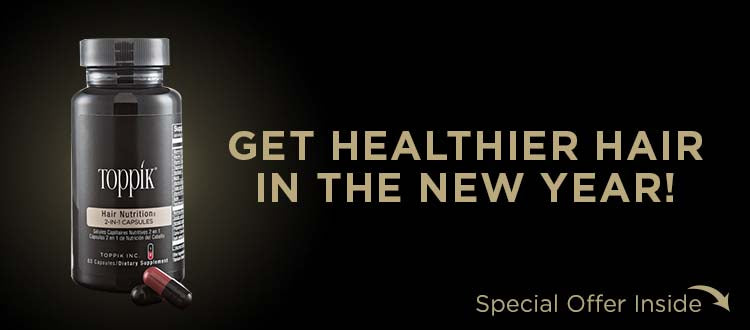 Healthy Hair Guide + Holiday Special Offer!
Dry skin, chapped lips, dull hair…winter is upon us and its brought various conditions with it that make us long for warmer days.
While we can dream about summer days all through the winter months, it won't change the fact that we need to adjust our hair routine when it comes to this colder period. Having split ends, a dry or brittle texture, or a dull hair color are all signs that your hair could use some TLC.
So what can you do to fight off the damage and keep hair healthy and strong during the winter?
Start by knowing the basics. What type of damaged hair do you have? Answering this question will allow you to properly treat your hair and take care of it. From there, you can decide how you want to repair your hair, whether it's by taking a hair loss vitamin, doing a deep conditioning hair treatment once per week, getting a regular haircut, or a combination of all three.
Regardless, we want you to start the new year off right, so let's take a look at the different ways you can get healthy, beautiful hair all season long.
How to Know if Your Hair is Healthy or Damaged
Damaged hair can be harder to spot than you might think.
For instance, dry hair can look like damaged hair but it doesn't technically mean it's damaged. If you're thinking it might be hard to know the difference if you're not a stylist or hair expert, we hear you. That's why we found this simple test that you can try out at home to find out your hair's durability.
Take one strand of wet hair from your head and gently pull the hair at either end, if your hair stretches by about one third before returning to its original length then your hair is healthy. If the strand of hair doesn't stretch or it stretches a small amount before breaking, then you know your hair is damaged. If the hair stretches but doesn't return to it's original length, then most likely the hair is dry instead of damaged.
If dry hair is your problem, you'll want to try products that moisturize and hydrate the hair, but if hair is damaged, you'll want to find products that can repair and restructure the hair shaft, (more on that in a little bit!).
Another test you can try is dropping hair in a bowl or container of water. If hair is healthy, it will stay at the top and float, whereas you'll see damaged hair absorb water and sink because it's porous.
Lastly, if you see little white dots sprinkled throughout your hair, those are most likely split ends. Split ends signal damaged hair, and can occur from excessive use of heat styling products, too much dye or coloring, overly brushing hair, or harsh shampoos. Once you have split ends, they are almost impossible to get rid of without cutting the hair, so take preventative measures by getting a trim every six weeks.
Other ways to spot damaged hair is if hair is rough in texture, overly porous, brittle, has no elasticity, becomes "spongy" or matted when wet, or if color fades too quickly. Healthy hair on the other hand will be vibrant, shiny, and smooth to the touch.
If you're giving your hair the side glance in the mirror, don't fret! We're covering the best ways to get healthy, strong hair in the section below.
Ways to Get Healthier Hair
Healthier hair have no fear!
If you're experiencing damaged hair this season, you now know the way to restore it is by repairing the hair shaft. While a good trim and deep conditioning treatment can do wonders, we also believe the best way to promote healthy hair growth is from within.
That means taking a healthy hair supplement that contains biotin and other powerhouse ingredients to help nourish and strengthen the hair. It's important to know what a hair loss vitamin contains though, which is why we suggest reading our blog post on the best vitamins for hair growth. There are a lot of myths surrounding vitamins and supplements, and we've laid out the facts and done the research so you don't have to.
Our Hair Nutrition 2-in-1 Capsules are vitamins for hair loss that will do wonders for your hair. Made with essential ingredients to promote healthy hair growth, like biotin, keratin protein, red palm oil, and camu camu, these Capsules support thin, thinning, or damaged hair.
Because we want your hair to look its best, we're even offering a great deal on our Hair Nutrition Capsules for a limited time only this holiday season.
Save 20% on Hair Vitamins (makes a great stocking stuffer!)
Pick some up for yourself, a friend, your parents, or a co-worker, because this is the gift that will keep on giving.
Now through 12/31/15, you can get 20% off these vitamins for hair loss. That means shiny, radiant hair for only $15.96! Just enter the promo code HAIRHEALTH at checkout to save on these Hair Nutrition Capsules.
Our customers also love these vitamins, and reading their reviews below will tell you why they think these are the best vitamins for hair growth:
"This stuff is awesome, and better than Hairfinity. The price is great and has really helped my hair grow healthier."
-Carribeanista
"If you want thinning or falling out hair to become stronger, thicker and more manageable…this is the product for you. Not only does it make your hair stronger and softer, but it makes your skin look amazing! This product does what it says it will do!!"
-Milli
"I was skeptical about buying these but went ahead and bought a 2 month supply because I thought it would be in the second month before i saw results. I was wrong. I have been taking these between two and three weeks (I don't remember an exact date but i know it's been more than two weeks and less than three) and can tell a significant difference. I colored my hair 10 days ago and already have 1/4 of an inch of roots showing. in just TEN days! I had dyed my hair with eSalon color and the developer was too strong for my hair which shut down my follicles and my hair growth rate was half of what it normally was and coming out very rapidly so going from that to double what it normally is is AMAZING!"
-Akd3
"Doctors told me my hair was thinning because I have been a yo yo dieter and enough vitamins weren't getting to my hair during high school years. I had looked into surgery and everything…..but it looked very painful and the hair could fall out again. When my mom told me about this product I tried it once….and never stopped using it!"
-TaleneK
"Thank you so much for releasing the hair nutrition vitamins!!! I recently allowed my stylist to perm my hair. What a horrible decision. My hair became so severely damaged and fried. I've been taking the vitamins for 2 months now and I must say I see a big improvement. My hair is more manageable and healthier!"
-Jazzy
Offer ends 12/31/15; enter code HAIRHEALTH at checkout; must have Hair Nutrition Capsules in cart; while supplies last; limit one order per customer; cannot be combined with other offers; not valid on auto-delivery purchases; valid only for orders shipping to US and Canada; code can be redeemed only at Toppik.com or by calling Toppik customer service at 1-800-THICKEN – not valid anywhere else Toppik products are sold.
How are you going to take care of your hair this winter? Share with us in the comments section below if you have any cold weather tricks!
Stay In the Know
Don't forget to purchase these vitamins so you can have healthier hair in the new year! Next week we're taking a look back at the best celebrity hairstyles and trends of 2015.
If you want to be the first to know about new posts to the Hair Toppiks Blog, sign up for the Toppik VIP list to receive an email a couple times per month or check us out on Facebook!