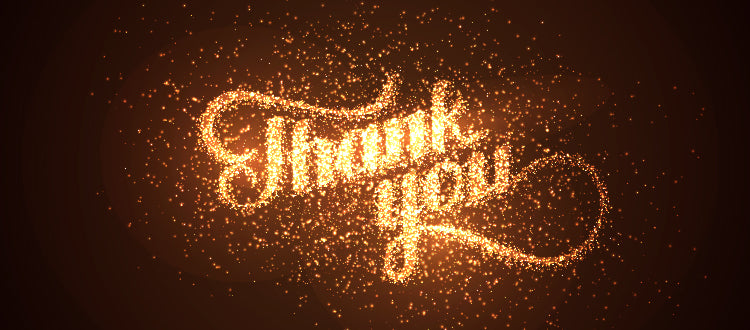 Happy Holidays from Toppik
While we're already in full 2016 mode – ready to bring you new products, make it easier for you to navigate through our website, find our products in more retail stores, and get your products shipped to you faster, (to name just a few things we want to accomplish next year!) – we thought we should take a step back and appreciate the amazing year we had in 2015.
Of course, our customers continue to humble us and remind us of why we work for a company like Toppik in the first place. We're in the business of helping people, and that matters to us. The phone calls, letters, and stories on social media, over the phone and through our website that you share with us truly brighten our days.
We want to offer you a sincere thank you for being a part of the Toppik family this year. Our team is touched every day by your personal stories of how Toppik products impact your life.
You are the reason why we celebrate this holiday season!
Looking Back on 2015
A lot happened at Toppik in 2015, but the most exciting part were the new additions to the Toppik product line-up.
This year we introduced three new products to the Toppik line: Colored Hair Thickener, Root Volumizing Spray, and the Brow Building Fibers Set– all meant to help make sure your hair and brows look flawless, thick, and full.
Toppik Colored Hair Thickener was a relaunch of our beloved Fullmore product, but with a new and improved spray delivery system. It is the same trusted formula our loyal Fullmore customers love and have come to rely on, but as we try to create a more cohesive line of thinning hair products, we felt this was the right time to bring this innovator under the Toppik brand name.
This product is best used on men and women who have larger areas of thinning hair or hair loss, and who would prefer to use a spray formula rather than Hair Fibers. The difference it can make for a person's hair is best seen in the video below.
Next we introduced Root Volumizing Spray, to help give hair volume and lift. A product that has been well-received by many of our customers, this hair product is great at giving hair extra volume and shine. We even recommend using it after a trip to the gym or in-between washes. The benefit of this product having a colorless spray is that it works with any hair color!
Lastly, we created an entirely new product for Toppik, and stepped into the world of cosmetics with the Brow Building Fibers Set. A 3-piece set that comes with Brow Building Fibers, Conditioning Wax, and a Dual-End Brush, this product makes even the thinnest brows instantly thick, full, and natural-looking. Available in three versatile shades, we have been excited to further expand the Toppik line and come up with creative products that can help our customers with a range of thinning hair issues.
Enough looking back though, now it's time to look ahead to what next year will bring…
Looking Ahead to 2016
While we can't give everything away, we do have some exciting news that we can share with our customers.
As we mentioned above, we're going to be working on lots of ways we can conveniently and effortlessly bring Toppik products to you in the new year. That means more availability at retail stores, a better online shopping experience, more benefits for our autoship program, and most excitedly, NEW PRODUCTS!
To give you a small hint, (we can't help ourselves), our next new product will be for your hair, and will have a range of five shades. It can be used to touch up areas, but other than that teaser, our lips are sealed!
We'll also be bringing you the latest hair trends, whether it's the newest cut that's taking Hollywood by storm, or the hairstyles we're seeing on the runways and red carpets, and featuring them on the Hair Toppiks blog. The blog will continue to be your source for all things hair, and a resource for you to learn more about our products, and how they relate to the trends we're seeing throughout the year.
In the meantime, we want to thank you again for being a loyal Toppik customer this year, and we're excited to show you what the new year will bring.
Cheers to warm wishes of family, friends and fun this holiday season.
Stay In the Know
We hope you have a great holiday, and check back with us next week to see some hair inspiration for the new year!
If you want to be the first to know about new posts to the Hair Toppiks Blog, sign up for the Toppik VIP list to receive an email a couple times per month or check us out on Facebook!