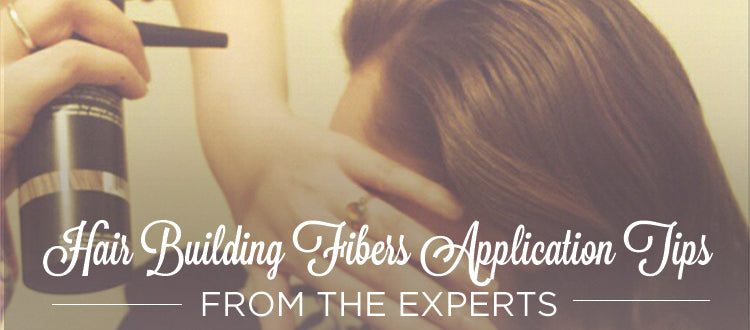 Hair Building Fibers Application Tips from the Experts
Give yourself a pat on the back, because you've just found what will become your new favorite hair product!
Toppik Hair Building Fibers will give you the look and feel of a full head of hair within seconds. No more thinning parts, fine hair, or thin areas around the crown or hairline – Toppik Hair Fibers will give your hair natural-looking thickness while lasting throughout the day.
If you've always wondered how to get thicker hair, you will not regret the decision to try Toppik Hair Building Fibers. Our product is made with the highest grade of keratin hair fibers, and blends seamlessly with your existing hair to create a completely natural look.
Now that you have Toppik Hair Building Fibers, we want to make sure you have everything you need to achieve thicker, fuller hair instantly. Getting thicker hair has never been easier, and we have many tips and tricks that we've learned or perfected over the years from customers, stylists, employees, and our founders to help make sure you know all the insider secrets.
Read on to learn how to apply Toppik Hair Building Fibers and the tips that will transform your look and your confidence…
Why Your New Toppik Hair Building Fibers are Different From the Rest
Toppik Hair Building Fibers have been around for over 30 years, and were the first of its kind in the cosmetic and hair industries.
Our Hair Fibers are the most recognized and preferred because of the type of hair fibers we use. While other companies use synthetic or low-grade keratin hair fibers made from fish bones, nails, or hooves, Toppik uses keratin hair fibers made from only the highest quality. This means using premium keratin hair fibers from a natural wool source.
The natural keratin that we use separates us from our competitors because it ensures that our hair fibers cling to the hair on the head with an innate static charge that the natural keratin hair fibers hold. Other hair fibers that might be produced from cotton, plant-based materials, or rayon do not have the innate static charge, and therefore are not long-lasting because they do not adhere to a person's hair.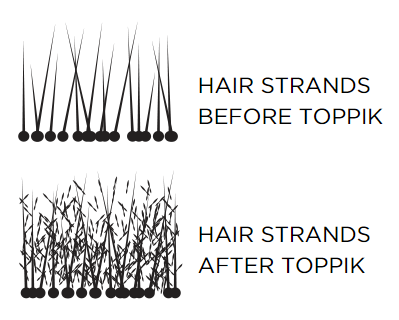 Using a premium wool source for our keratin hair fibers also means that you are getting the most natural look and feel when using a hair concealing product. Our keratin hair fibers are nearly identical to human hair because of the wool that we use.
Now that you know what makes us stand apart from our competitors, next we'll show you the right way to apply Toppik Hair Building Fibers, along with some tutorial videos from our customers…
Tutorial Videos and "How-To" Application Tips for Using Hair Building Fibers
There isn't necessarily a wrong way to apply Toppik Hair Building Fibers, but there are some useful tips and tricks to ensure you are getting the best use of your Hair Fibers bottle.
There are essentially two ways we recommend applying Toppik Hair Fibers. The first is using the built-in sifter cap, and gently sprinkling the Hair Fibers into any thin or thinning areas by shaking the bottle. It is best to use this method when you have larger areas of thin or thinning hair, since the Hair Fibers easily cover wider areas when dispensed from the bottle.
Watch as Jonathan demonstrates this application technique:
The second way to apply Toppik Hair Fibers is by using the Toppik Spray Applicator. By removing the sifter cap on the Hair Fibers bottle and replacing it with our patented Spray Applicator, you now have a more precise way to target specific areas of thinning. The Spray Applicator works well for hard to reach places, part lines, and hairlines, and easily screws on and off to accommodate your specific needs.
Watch as Melina demonstrates this application technique:
Toppik Hair Fibers also work great on natural hair, thinning edges, and can even be used to cover up extension tracks! Our Hair Fibers aren't limited to men and women with thin and thinning hair either; there are many different ways to use and apply this dynamic product.
To see more interesting ways to apply Toppik Hair Fibers, keep reading…
Hair Building Fibers Application Tips from Celebrity and Top Hairstylists
Hairstylists know how to make hair thicker for their clients, and their secret is often Toppik Hair Building Fibers.
As the final finishing touch, it's a great way to show clients how they can get fuller, thicker hair every single day.
Whether they're covering up thinning hair, giving hair a thicker look and feel, or concealing a receding hairline, these hairstylists keep Toppik Hair Fibers in their back pocket because they know how well this secret weapon works.
The key to successfully applying your Hair Fibers is knowing which tools to use, and when and where you should be using them…
Precision Application Tools to get the Most from your Hair Building Fibers
Toppik Hair Building Fibers are easy to apply, but with these application tools, you'll get the most flawless and long-lasting results using Hair Fibers.
If you plan on using Hair Fibers closer to the hairline, a great tool is our Toppik Hairline Optimizer. Made of plastic with an irregular teeth pattern, this tool mimics your actual hairline, so you can apply Hair Fibers and still get a natural, even hairline. The Hairline Optimizer means there is no mess or spilled Hair Fibers along your hairline and forehead!
Our most popular application tool, the Toppik Spray Applicator, is great to use in combination with the Hairline Optimizer because it helps fill in specific areas of thin or thinning hair. It works well along the hairline, and can also be used on your part line, to access harder to reach places, or to help fill in any smaller areas that need extra attention.
If both of these products appeal to you, the Toppik Hair Perfecting Tool Kit might be your best answer for how to make hair thicker. This kit includes one Toppik Hairline Optimizer, one Toppik Spray Applicator, and one travel-size Toppik FiberHold Spray. If you're looking for even longer-lasting results, using Toppik FiberHold Spray is a must. This spray actually strengthens the bond between Hair Fibers and your hair, making sure your Hair Fibers stay in place for as long as you need them to.
We've got a couple more tips to make sure you get the best use of your Hair Fibers…
Other Helpful Tips
Over the years we've found some of the below tips to be very useful and time-saving for our customers.
Tip #1:
We offer nine Hair Fibers colors that match almost any hair color, but if for some reason you can't find your exact match, the best thing to do is mix more than one shade to create your exact color. One option is to pour both colors into a bowl, and mix until you get your desired color. You can then pour the contents back into a Hair Fibers bottle and apply as you normally would. Another way to mix colors together is to pour one of the colors into the second Hair Fibers bottle until you achieve the color you are looking for.
Tip #2:
If your hair has two different colors in it, you can mix and match like we stated in Tip #1, or you can apply different Hair Fibers colors directly to your hair. Always make sure you apply the darker color first, then the lighter color. For two-toned hair colors, we suggest following the Hair Fibers colors as they are listed below:
Salt & Pepper: Black and White
Platinum Blonde: Light Blonde and White
Strawberry Blonde: Auburn and Medium Blonde
Tip #3:
Toppik Hair Building Fibers can also be used on eyebrows! To make eyebrows thicker, we recommend using the Toppik Spray Applicator to help with a more precise application and to avoid making a mess. If you have a small eyebrow brush, you can also dip this into the Hair Fibers bottle and apply directly to your eyebrows.
Tip #4:
If you're always on the go, we make the perfect travel-size Hair Fibers bottle, so you're never without this hair-perfecting product. Slip into your purse or carry-on and enjoy touch-ups whenever they're needed!
Do you have any special tips that you use for applying Hair Building Fibers? Or want to ask more questions? Comment in the section below and we'll answer them!
Stay In the Know
We hope you'll use some of these helpful tips with your new Hair Fibers purchase and become a pro yourself in applying Hair Building Fibers. Check back next week because we're giving dads some love for Father's Day!
If you want to be the first to know about new posts to the Hair Toppiks Blog, sign up for the Toppik VIP list to receive an email a couple times per month or check us out on Facebook!