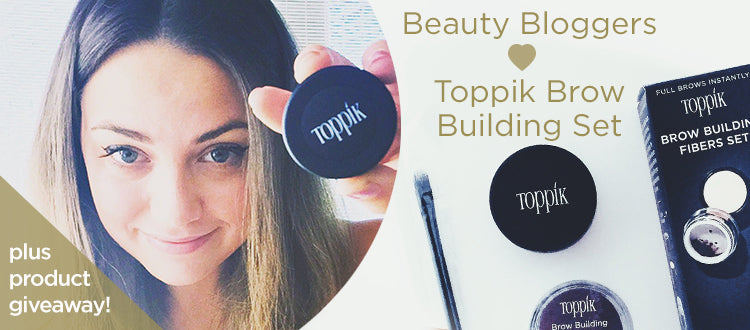 Guest Beauty Blogger Lauren Reviews the Toppik Brow Building Fibers Set
Hi Toppik! My name is Lauren Grisso, and I am the Editor-in-Chief of Her Closet Image Blog, where I share affordable, quality, and innovative items that I find useful on a daily basis. Many of my item recommendations in retail and beauty are purchased because I find them unique amongst their competition. My goal is to highlight items that are not only inspiring, but also products where you can get the most bang for your buck when you don't have time to do the research yourself.
I was so happy when Toppik reached out to me because I've been searching for the perfect brow product, and was eager to get my hands on one of their first samples. The Toppik Brow Building Fibers Set does not disappoint, but before I get into why I liked the product so much, let me tell you about some of my own brow woes.
My Brow Burden
I normally like my eyebrows to look symmetrical, natural, and filled in (who doesn't?). While I have fairly thick eyebrows, they are actually slightly lighter than my natural hair color, so they don't flatter my face unless they are filled in. That's why I've been on the lookout for a brow product that I can easily apply and that won't take a lot of time, and one that will last all day.
Luckily, the new Toppik Brow Building Fibers Set does just that. I can put it on in the morning, and I have natural-looking, full brows for the entire day. Did I mention I don't like to spend time on my brows? This product makes it easy for me to fill-in and go!
Toppik Brow Building Fibers Set
The Toppik Brow Building Fibers Set is a 3-piece set that includes Brow Building Fibers, a Brow Conditioning Wax (so that the fibers stay in place), and a custom Dual-End Brush. The Brow Building Fibers Set comes in 3 versatile shades, Light Brown, Medium Brown, and Dark Brown, and works with nearly all brow colors. The Brow Conditioning Wax is made with nourishing Mango, Shea and Cocoa Butters to condition the skin and brow follicles. Avocado and Jojoba Oils also add moisture and help tame unruly brows, so your brows are never out of place.
The Brow Building Fibers are made of colored keratin protein, the same type of protein that is found in your hair. They have a natural static charge that binds the Brow Building Fibers to your existing brow hairs, creating a completely natural look and feel.
If you have sparse areas of hair in your brows like I do, or you just want to have a more dramatic shape, this product is the way to go. It's also quick and easy to apply and the Brow Building Fibers help create clear definition and symmetry for your brows. Overall, I like to keep my makeup natural-looking, and this product is the perfect finish to my everyday look.
What makes the Toppik Brow Building Fibers Set Different?
Most other brow filling products on the market right now lack natural ingredients, and because of that, I find that they don't work very well for me. They also tend to not last very long on brows before you have to reapply, (a pet peeve of mine!), which did not happen to me when I used the Brow Building Fibers Set. While the Brow Building Fibers create a natural appearance, other products tend to make eyebrows look fake, and are not consistent with how real eyebrows look.
My Experience
Before:
After:
As you can see from the before and after photos, the set works wonders! I chose the color "Medium Brown," which seems to match my natural hair color perfectly. My brows look filled-in, and it didn't feel like I had a lot of product on my brows either. The product also left my brows looking defined, natural, and symmetrical. The whole process took 1 minute (!!!) and I didn't even have to use a lot of the Brow Building Fibers. The function of this set is so easy, and it will definitely save you time while still producing great results.
In the before photos you can see that my brows are thinning in some areas. I mostly focused on using this product on the bottom line of my brows while filling in the thinning spots. This product truly brought my brows back to life, and I have received so many compliments since using the Brow Building Fibers Set. Everyone tells me how natural my eyebrows look, and I've since thrown away my other eyebrow powders and gels in favor of only using this brow product.
How to Win the Set
Because I'm so in love with this new product, I'm giving one lucky reader the chance to win this awesome Brow Building Fibers Set!
To win, simply follow me on Instagram at @La_Lovi by 9/30/15 and I will pick one winner at random! I will reach out to you via direct message by 10/9/15 and ask for your brow color and shipping address.
I can't wait to see who wins!
Thanks for reading my post, and I hope to see you over on my blog Her Closet Image in the future! Comment in the section below and let me know if you have any questions about how I used the Brow Building Fibers Set!
-Lauren Grisso