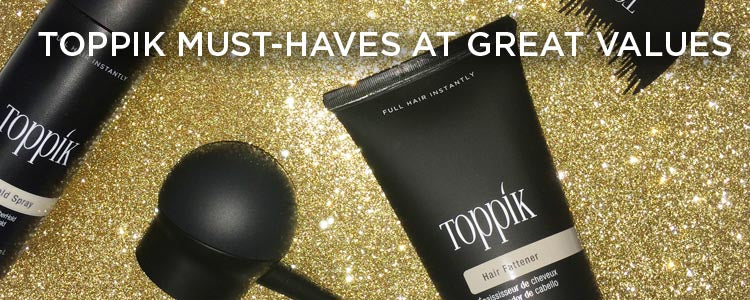 Great Value on Hair Products Exclusively Available at Toppik.com
We all love a good deal, especially when it involves our favorite products.
Who doesn't like to find out that the product they've been wanting to try is now on sale, or a promo code is now available for them to use on their favorite brand?
It can be these little things that keep us coming back to a brand time after time, and appreciating the fact that they know what their customer wants.
While we wish we could give away Toppik coupons all the time, we're very happy that we're able to offer our customers a variety of special offers and deals 365 days a year. If you're new to Toppik.com, or haven't visited our Toppik Offers page in awhile, you might be pleasantly surprised to find that we try to offer our customers some type of Toppik promo code or coupon for ordering through our website.
It's not just Toppik coupons that make our website unique though, we also offer exclusive value sets that our customers can't find anywhere else, in-store or online.
With all these great ways for our customers to save on their favorite Toppik products, it's time for us to take a closer look at the great values you can't find anywhere else.
Find Great Values & Special Offers at Toppik.com
Looking for the next Toppik promo code? Or maybe you want to be the first to know about new products from Toppik. Either way, you can find everything you need on our Toppik Offers page.
For instance, with every order we offer free shipping to the continental U.S., no matter how small your order. And if you need your products sooner than our 5-7 day delivery window, you can choose to receive your items faster, even overnight!
We also offer a 10% discount off every order, (with free shipping included!) anytime you decide to sign up for auto-delivery. So if you know you need your Toppik hair product every 60 days, we'll take care of the hassle for you, and give you a discount each and every time. You can also cancel at any point, which makes this service convenient and easy to use for all of our customers.
We hope our customers order a product they love the first time, but we understand this isn't always how things work. If you have to return your product for any reason, whether you need a different color, weren't completely satisfied, or just want to try a different Toppik hair product, we offer a 30-day money back guarantee, no questions asked. So try out our Toppik Hair Fibers for the first time, or buy that new hair product you've been eyeing, because you can't beat our excellent customer service.
While we offer the above promotions all of the time, if you're interested in specific Toppik coupons, or want to learn more about any of our products, our Toppik VIP list is always the first to know when we're having a sale or promotion. Sign up by submitting your email on the Toppik Offers page, and discover why our customers love getting emails from us!
Toppik Value Sets
With two out of three of our value sets only available on Toppik.com, we've made sure that our customers are getting the best possible deals when it comes to our products.
Hair Perfecting Tool Kit
Toppik Hair Fibers are our best-selling product, so we made the Toppik Hair Perfecting Tool Kit, which contains the accessories needed to give you that flawless finish everytime, to use with your Hair Fibers.
The Tool Kit contains 3 essential tools that will help you apply Hair Fibers while also helping to set your hair, making sure your hair has longer-lasting thickness and fullness. The 3-piece Tool Kit contains:
Toppik Spray Applicator: This patented tool attaches to Regular and Economy size Hair Fibers bottles and allows you to easily target specific areas of thinning hair with the Hair Fibers.
Toppik Hairline Optimizer: With its irregular design, this tool helps you mimic a natural hairline when applying Hair Fibers to the front of your hair.
Toppik FiberHold Spray: This fine mist is designed to strengthen the bond between Hair Fibers and your hair, creating long-lasting hold and shine.
These products add up to a total of $34.85, but when you purchase the Hair Perfecting Tool Kit, you're getting all of these necessary accessories for $24.95, saving you almost $10! We like to think that is money well-saved.
Our Hair Perfecting Tool Kit isn't the only bundle we offer, we also have two exclusive value sets available only on Toppik.com…
Toppik Hair Building Shampoo and Conditioner Pack
We encourage our customers to use our Hair Building Shampoo and Conditioner together, which is why we offer these two products in an exclusive pack.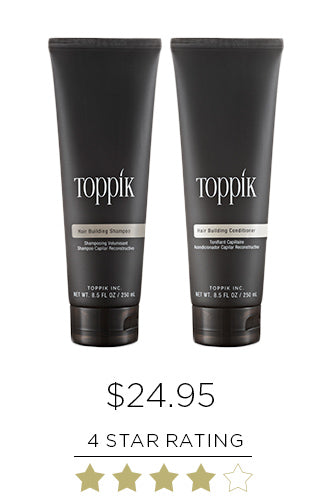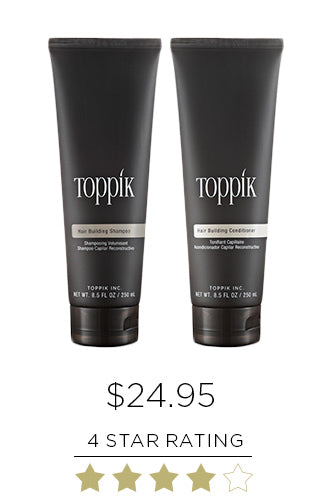 The Toppik Hair Building Shampoo and Conditioner Pack comes with our best-selling hair-thickening shampoo and moisturizing conditioner. The Hair Building Shampoo is formulated with keratin proteins and antioxidants to help strengthen, repair, and revitalize thin, thinning, or damaged hair. The Hair Building Conditioner is meant to nourish and support a healthy hair and scalp with keratin proteins and aloe. Together, these products are the perfect duo to make sure damaged hair is restored and transformed to its original, healthy state.
It also helps that these two products are paraben and sulfate-free, so anyone who has color-treated hair can rest assured that their color won't lose any of its luster. Available for $16.95 each, or $33.90 for the two, the Shampoo and Conditioner Pack is offered at $24.95, and is sold exclusively on Toppik.com.
With so many ways to take advantage of Toppik promotions and discounts, where are you going to start? Tell us in the comments section below why you love shopping at Toppik.com!
Stay In the Know
There are a lot of ways to save on Toppik products, and we hope you're intrigued by some of these great value sets and deals. Check back with us next week as we get in the Halloween spirit and talk about some haircut horror stories!
If you want to be the first to know about new posts to the Hair Toppiks Blog, sign up for the Toppik VIP list to receive an email a couple times per month or check us out on Facebook!