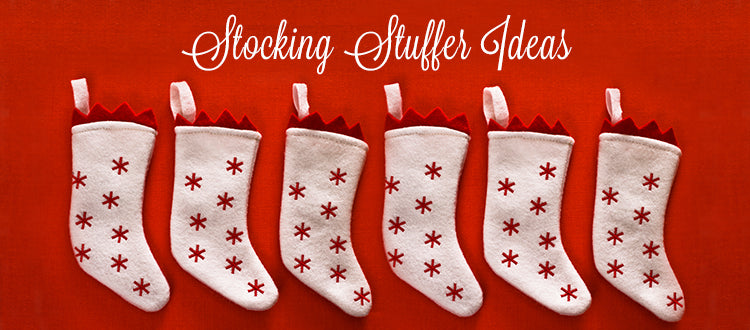 Give the Gift of Thicker, Fuller Hair
With satisfied stomachs coming off of Thanksgiving, and leftovers safely tucked away, everyone knows the best part of the holidays is right around the corner…
Leaving cookies and milk out for Santa, going caroling in your neighborhood, gathering with friends and family for festive parties, watching loved ones open your gifts you spent hours trying to find… these are just a few of the reasons why we wish the holidays would never end. The holidays evoke a sense of nostalgia and innocence that we can't quite put our finger on, but we know we miss it when it's gone.
With the holidays quickly approaching, you want to be careful you don't get stuck doing any last minute shopping. This can cause unnecessary stress, and put a damper on the days leading up to Christmas and the holidays. Because we don't want anyone to become the Grinch, we want to make sure your holidays are as relaxing as possible.
Coincidentally, beauty and hair care products make the best stocking stuffers (in our opinion!), so if you're shopping for your mom, husband, son, sister, grandma, or even yourself, we think we know what they might want to see in their stocking this year.
Who doesn't want the gift of thicker, fuller hair?
GIFT IDEAS FOR HER
Whoever "she" is, we bet she can be a little difficult to shop for from time to time, (who are we kidding, we all can be).
Surprise her this holiday season by giving her the gifts she didn't know she was missing. Two of the biggest beauty trends right now are bold brows and voluminous hair, and Toppik has products guaranteed to do both. They also both happen to fit perfectly in that stocking you have hanging by the fireplace…
Toppik Brow Building Fibers Set
Bold brows are in, and the trend isn't stopping any time soon. Brows are a great way to compliment and shape the face, and Harper's Bazaar even goes as far as to say that brows are the most important facial feature. Picking the right brow product can be hard though – do you get a pencil, gel, shadow, or filler? Eliminate the possibilities and go with the one that will make her brows look the most natural, like Toppik's Brow Building Fibers Set. The Brow Set includes an angled brush, conditioning wax, and Brow Building Fibers, so you can set, shape, and fill in brows all at the same time. We're guessing you'll get brownie points for this stocking stuffer!
Hair can get a little dry and brittle due to the harsher weather during the holidays, which can cause it to look flat and lifeless. One way to fix that problem is to use a volumizing product on the roots, like Toppik Root Volumizing Spray, Giving hair instant volume and lift for family photos and holiday parties will make her feel confident about her hairstyle, and in turn make you the hair hero of the day. She'll be thanking you when everyone is asking her how her hair got that extra bounce and shine, winking at you as she tells them about her new secret hair product.
These two products are sure to be a hit this holiday season. They'll enhance without looking overdone, which is why we like them so much, and why we know she will too.
Ready to tackle gift ideas for him? Keep reading…
GIFT IDEAS FOR HIM
Men sometimes don't know what they want until it's right in front of them.
They may think that their hair and morning routine is just fine, when in reality it could use a little upgrade. That's where you come in. Once you introduce these two new products to him, he'll be wondering what he's been doing this whole time.
Toppik 3-in-1 Hair Renewal Shampoo
For the guy on the go, this is the perfect stocking stuffer. This gift is ideal for the guy that cares about his hair, but let's face it, tends to get a little tired of washing it everyday. Toppik 3-in-1 Hair Renewal Shampoo is an all-in-one product that adds body, shine, and density to hair. It's a quick wash that cleanses, conditions, and exfoliates all at the same time to remove build-up and encourage healthy hair growth. When he learns how easy it is to get all of these things out of one product, you can bet he'll be using this all year round (and thanking you for the introduction!).
Men's hair tends to get thinner as they age, but what they probably don't know is that there are styling products out there that can help them create volume and thickness. Drop this styling serum in his stocking, and he'll be eternally grateful. Toppik Hair Fattener contains a unique blend of keratin proteins and nutrients to nourish and coat the hair shaft for healthy, strong hair. All he has to do is use a dime sized amount on wet hair, and his hair will be looking thicker and fuller this holiday season.
The men in your life will love receiving these must-have hair products, and we know you'll have just as much fun giving these gifts to them.
Sometimes it's also helpful to have some gifts in your back pocket that you can give to anyone, which is why we're suggesting the below in case you need a couple more gift ideas.
GIFT IDEAS THAT WORK FOR ANYONE!
For presents that truly give the gift of thicker, fuller hair, look no further than these two perfectly-matched products below.
Great for covering up part lines, hairlines, filling in updos and braids, and covering up any thin or thinning areas, Toppik Hair Building Fibers are a one-of-a-kind product that many people can benefit from. Made of keratin protein, these Hair Fibers blend in seamlessly with your hair, giving the look of fuller, thicker-looking hair. They're a temporary, cosmetic product, so anyone can test out how they look in their hair and then decide if they like them, (but we're guessing they will!). Toppik Hair Fibers make a fun gift that can also play an important part in the way someone's hair looks everyday.
Toppik Hair Perfecting Tool Kit
Along with Toppik Hair Fibers, give the gift of perfect-looking hair with the Toppik Hair Perfecting Tool Kit. The Tool Kit complements the Hair Building Fibers by allowing for a more precise application. Made up of some of Toppik's best-selling products, the Hairline Optimizer, Spray Applicator, and FiberHold Spray, your gift means their hair will never be out of place.
Now that you know what to get the men and women in your life, we thought it might be helpful to give you some quick shopping tips, so that you can be sipping your eggnog peacefully instead of running around last minute at the mall….
HOLIDAY SHOPPING TIPS
You deserve to relax this holiday season, and that means getting ahead of your holiday shopping.
Whether you love or hate it, it's that time, so start by taking a look at our helpful guide to ensure your holiday shopping is as stress-free as possible.
1. Make a List
Do this first. Make a list of everyone you plan on buying gifts for and write gift ideas next to each name. It's also helpful to include the maximum amount you want to spend per person, so that you don't have to second guess yourself when you go to buy his or her present. Don't forget to include any tips you might be giving out for the holidays as well, for instance to your babysitter, doorman, housekeeper, etc.
2. Do Online Research
If you have an idea in mind, but aren't sure what brand, size, make, edition, etc. to get someone, the best thing to do is research beforehand. If you're looking for the best headphones for example, don't wait until you get to the store, research articles featuring the top five or ten, and narrow it down from there. This will save you the stress of being overwhelmed when you get into a store.
3. Get Free Shipping
If you have to do any last minute shopping, or you forgot your second cousin twice removed was coming over for the holidays this year, take advantage of December 18th, which is now recognized as "free shipping day." All of the companies featured on the website offer delivery by Christmas Eve!
4. DIY Projects
There's always someone in the family who "doesn't need anything" or who already has everything, and for those people we suggest making a fun do-it-yourself gift! You can find tons of ideas on Pinterest, and it ends up making the present even more endearing and personal.
For more holiday shopping tips and gift ideas, visit our blog post on "Holiday Shopping in the Beauty Aisle."
Have you started your holiday shopping yet? Tell us in the comments section below what you think of our stocking stuffer gift list!
Stay In the Know
We hope we've given you some helpful gift ideas and valuable shopping tips in this blog post, and make sure to check back with us next week for an insider discount!
If you want to be the first to know about new posts to the Hair Toppiks Blog, sign up for the Toppik VIP list to receive an email a couple times per month or check us out on Facebook!