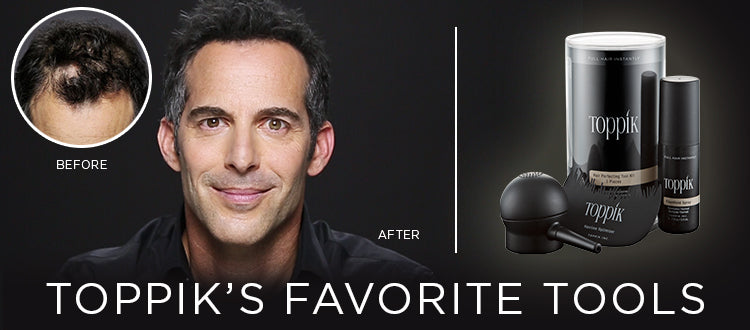 Get Thicker-Looking Hair with these Tools and Products
Most products work great on their own, but occasionally products will work even better when paired with tools that can enhance or offer more complete results.
This is the case for Toppik Hair Fibers. While the Hair Fibers work to give you fuller, thicker hair on their own, we offer many tools that complement the Hair Fibers and also help make sure you are getting the longest-lasting results possible.
For example, you may use Hair Fibers around the hairline to ensure that your hairline looks natural, and we have a tool to help with that. You might realize that the crown of your head is where you need Hair Fibers the most, which unfortunately can sometimes be a harder place to reach. Don't worry though, because we have a tool to help with that. If you're running around outside all day and notice your hair doesn't seem to look as thick by the end of the day, we also have a product to help with that.
The point is, while Hair Fibers are a stand-alone product that you can always use on their own, it helps to know that we offer a wide range of tools to help make sure you have the best-looking hair possible. Having these tools to help create fuller, thicker hair is what sets us apart from our competitors. Not only do our customers love having the option to use these helpful tools, but hairstylists also love being able to use these tools on their clients. When clients ask them how to get thicker hair, they love being able to show off these Toppik tools and products.
If you're ready to get a perfect application every time, keep reading to see why these Toppik tools are a fan favorite…
FiberHold Spray
Think of Toppik FiberHold Spray as if it is your Hair Fibers' right-hand man. One needs the other in order to properly do its job.
Toppik FiberHold Spray is designed to strengthen the bond between Hair Fibers and your existing hair, giving you thicker-looking hair longer. This means fewer touch-ups and less time spent worrying about how your hair looks or if the Hair Fibers will stay in place throughout the day. With Toppik FiberHold Spray, your hair looks naturally fuller all day long.
The magnetic attraction between the Hair Fibers and your hair is created by the naturally derived ingredients in the FiberHold Spray. The ingredients seal in the Hair Fibers without leaving a sticky residue, so you don't have to worry about your hair feeling stiff after using this product. It's important to use the FiberHold Spray as your finishing step so you don't have to reapply any Hair Fibers. The best part is that no one will be able to tell that you have thin or thinning hair and you'll be amazed by the longer-lasting results.
Toppik FiberHold Spray is the product that helps Toppik Hair Fibers stay in place, but Toppik's other tools make sure you never have to worry about how and where to properly apply Hair Fibers…
Spray Applicator
Toppik's patented Spray Applicator is your go-to tool when you need a more precise, targeted application of Hair Fibers.
If you're trying to use Hair Fibers on a hard to reach place, like the crown or near the hairline, the Spray Applicator allows you to spray the Hair Fibers exactly and only where you need them. It's usually ideal for smaller areas of thin or thinning hair, since you can target the Hair Fibers into a specific area. It also works well to disguise parts, cover up root regrowth, or blend hair extensions.
The Spray Applicator is easy to attach, but just keep in mind that it only works with the Regular size (12g) and Economy size (27.5g) Hair Fibers bottles. To attach the Spray Applicator, simply remove the sifter cap from the Hair Fibers bottle and screw on the Spray Applicator. Voila! You'll have instantly thicker hair in 3 easy steps!
The Spray Applicator works well on smaller areas, but for help along the hairline, we recommend using another tool in combination with the Spray Applicator to help get the most natural-looking front hairline…
Hairline Optimizer
The Toppik Hairline Optimizer is the most effective tool you can use when applying Hair Fibers to your hair.
If you've ever tried to apply Hair Fibers near the hairline before, you will appreciate this product. Even when using the Spray Applicator near the hairline, it can sometimes cause the Hair Fibers to get on your forehead, or it can create an unnatural hairline that doesn't look quite right. Toppik designed the Hairline Optimizer as a way to make sure that the hairline looks natural, even when you're applying Hair Fibers.
The irregular teeth slide easily along the hairline to help mimic a normal hairline, and the finished result is a soft, natural look. We recommend this tool to anyone who has thinning areas around the hairline, or for anyone experiencing a recessive or receding hairline.

If all of these tools sound like something your Hair Fibers application has been missing, you're in luck, because we created a kit with these specific products in mind!
Hair Perfecting Tool Kit
Together, these powerhouse tools are your answer for how to get thicker hair instantly.
The Toppik Hair Perfecting Tool Kit helps you achieve precision application every time, and each product works with the other to give you a complete hair makeover. Whether you choose to use all three products at the same time, or you want to pick and choose, the 3-piece Tool Kit enhances and complements your hair when using the Hair Fibers. If you're looking for fuller, thicker hair and longer-lasting results, look no further than the Hair Perfecting Tool Kit.
Do you use any of these tools with your Hair Fibers? Tell us in the comments section below why you can't live without these helpful Toppik products!
Stay In the Know
Toppik's impressive tools are the best way to give your hair added thickness and fullness when using Hair Fibers. Stay tuned next week as we release a game-changing new product for your eyes…
If you want to be the first to know about new posts to the Hair Toppiks Blog, sign up for the Toppik VIP list to receive an email a couple times per month or check us out on Facebook!