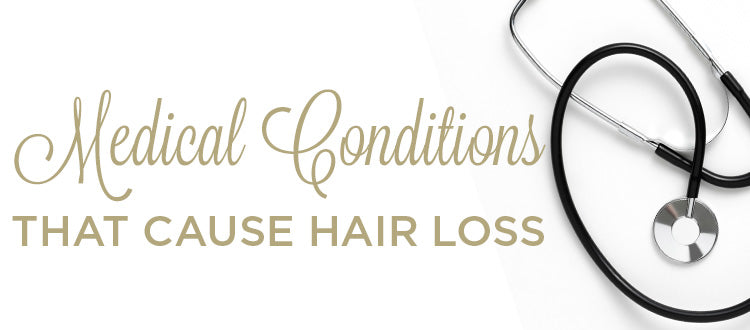 Find Out Why You Could be Losing Your Hair
Most of the time hair loss happens because our genetics predetermine when we will start to lose our hair.
But what if there is a more serious reason for why you're losing your hair?
Losing hair is upsetting enough, but when we don't know the reason behind it, it can become even more unnerving.
While hair loss can happen for a number of different reasons, it's important to know if it is happening because of a medical condition. Knowing this will allow you to not only just take care of your hair, but your body and overall health as well.
Hair loss can be your body's way of telling you that something is not right, and that there are other issues that need to be addressed. If hair follicles are uniform in size, or if the hair loss is sudden, it is most likely caused by something other than hereditary hair loss.
(To see if your hair follicles are uniform, ask your doctor to take a closer look at your scalp under magnification.)
Seeing a doctor is going to be your best offense and defense to figuring out what your body is trying to tell you, and for taking care of the issue.
If you're dealing with sudden hair loss, or think something else may be the culprit as to why you're losing your hair, we want to help you understand possible reasons for what's going on. A woman's medical condition related to hair loss can be entirely different than a man's medical condition, so it's important to know the different conditions that could be affecting men and women, or both.
Let's take a look below at possible medical-related causes for hair loss in both men and women…
Medical Conditions that Cause Hair Loss in Men
Treating hair loss is a serious issue, and it is even more important to understand men's medical conditions that could cause hair loss.
Thyroid Disease
Hair loss can be an unfortunate side effect of a thyroid disorder. Thyroid problems happen from either an underactive thyroid gland (hypothyroidism) or an overactive thyroid gland (hyperthyroidism). Since hair growth depends on the proper functioning of the thyroid gland, abnormal levels of the thyroid hormone can result in hair changes. If you begin to experience changes in mood, weight, or your hair starts to become fine or thin, you may want to see a doctor so that they can check your thyroid hormone levels.
Alopecia
If your hair is falling out in clumps, you may have a disorder known as alopecia areata. Alopecia areata is an autoimmune disease that occurs when your immune system mistakenly attacks your own hair follicles. The area of hair loss is usually smooth and round, and you may notice that your hair is falling out in patches. Luckily, new hair usually grows back in a few months, but it is best to consult with a doctor on treatment that may help the hair grow back faster.
Scalp Infections
There are a number of infectious agents and conditions that can contribute to hair loss, but the most common one is ringworm. Ringworm is a fungal infection that can occur anywhere on the body, but if it develops on the scalp, it can cause patches of hair loss. It typically begins as a small pimple that progressively expands in size, and eventually latches on to hair follicles. These hair follicles then become weak and brittle, causing them to break off and leave behind bald patches of skin. Sometimes the infection will go away on its own with no treatment, but normally an anti-fungal is used. If you notice any scaly patches of skin around your hair, it would be best to consult with a doctor about what could be happening.
Cancer Treatment
As you're likely aware, different chemotherapy drugs related to cancer can cause hair to fall out. The hair loss occurs when the chemotherapy drugs damage the hair follicles, which leads the hair to fall out. You may lose all or only some of your hair, but most often it will come out during shampooing or brushing. Hair often starts to grow back before treatment ends, and there are luckily a number of different options for covering up the hair loss while it is happening.
To read more about men's hair loss, the causes, and different treatment options, visit our blog post on men's hair loss.
Medical Conditions that Cause Hair Loss in Women
The above medical conditions can also affect women, but there are also specific women's medical issues that can trigger hair loss.
Pregnancy
Telogen effluvium is the excessive shedding of hair that can occur one to five months following pregnancy. It is not uncommon, in fact it happens to 40-50% of women after they give birth. The condition is not serious enough to cause bald spots or permanent hair loss, but you will see thinning hair due to hormone levels returning to their normal state. There is nothing to worry about, and it is not a condition where you need to see your doctor, unless you suspect there may be another reason contributing to the hair loss.
Menopause
On the other side of the spectrum is menopause. While you may expect hot flashes and mood swings, another common side effect is hair loss. In fact, after menopause, about 40% of women will experience hair thinning. Like hair loss during pregnancy, hormonal changes are what causes women to lose their hair during menopause. A smaller ponytail, a wider part line, or excessive shedding are all tell-tale signs of hair loss occurring during menopause. Unfortunately there isn't much that can be done to stop this process, but there are ways to conceal the thinning hair.
To read more about women's hair loss, the causes, and different treatment options, visit our blog post on women's hair loss.
Hair Loss Solutions
You didn't think we were going to tell you about these medical conditions without giving you any solutions, did you?
While hair loss related to medical issues can be both alarming and shocking, there are ways to cover and treat different types of hair loss.
Hair Building Fibers
For hair loss or hair thinning related to thyroid disorders, scalp infections, cancer treatment, pregnancy, and menopause, Toppik's Hair Building Fibers will cover and hide any of the areas of hair loss. Toppik Hair Building Fibers cling to a person's natural hair and fill in any thinning areas. They'll stay intertwined with hair until they are washed out with shampoo, and look completely natural, even up close. They are a great way to "fake it" until hair has returned back to its original state, or they can be used every day to help make hair look thicker and fuller.
2-in-1 Hair Nutrition Capsules
For post-pregnancy and menopause related hair loss issues, Toppik Hair Nutrition 2-in-1 Capsules are a great supplement to help hair grow back healthier and stronger. Made with essential nutrients like keratin protein, biotin, camu camu, and red palm oil, hair follicles are supported and strengthened from within. They are a great way to make sure hair is nourished and fortified, so that hair has the best chance at healthy hair growth.
Hair loss solutions are only one way to help cope with thinning hair and hair loss issues though, there are also many support groups and online resources to help you get through this emotional topic.
Hair Loss Support & Resources
Hair loss affects over 35 million men and over 21 million women in the United States.
The bottom line? You are not alone.
If you feel like you may be losing hair due to one of the medical conditions listed above, the first thing you should do is consult with your doctor or healthcare professional. The best thing you can do for yourself is find out why the hair loss is occurring, and begin to treat the issue. Your doctor or healthcare professional will be able to help guide you with any issues affecting your hair and body.
If you are looking for support and others to talk with about your hair loss concerns, there are many online communities, forums, and non-profits designed to help answer any questions you may have regarding hair loss. We've created a small list of our favorites to help you take the first step:
We also want to encourage you to ask questions here, on the Hair Toppiks blog. This blog was created to provide a safe place for people to ask questions, get answers related to hair and hair loss, and for others to share stories of their own hair struggles and inspirational stories. If you feel comfortable, you can always come back to the blog to share your own experience.
Leave a comment in the section below and let us know if you've struggled with any of the above medical conditions, and what you're doing to overcome these hair issues.
Stay In the Know
We hope we were able to provide you with more information related to hair loss in this blog post. Check back with us next week as we talk about the damage hair extensions and other products can do to your hair.
If you want to be the first to know about new posts to the Hair Toppiks Blog, sign up for the Toppik VIP list to receive an email a couple times per month or check us out on Facebook!